If you are in a hurry and want to know right away:
I choose Bully's Pitbull Collar as the best collar for Pitbulls.
Anyway, you may want to read the full article because you can find useful information and tips there.
It is natural for us to buy a collar for our dogs. The selection is extremely wide. When it comes to Pitbulls, we can't be satisfied with standard collars. In this article, I tried to collect and analyze the best collars for Pitbulls. My writing will also include a buying guide. This will help you know what to look for before choosing a product. In the end, you can find more useful information in the FAQ section.
Let's start!
Product table for the best Pitbull collars
[wptb id=3232]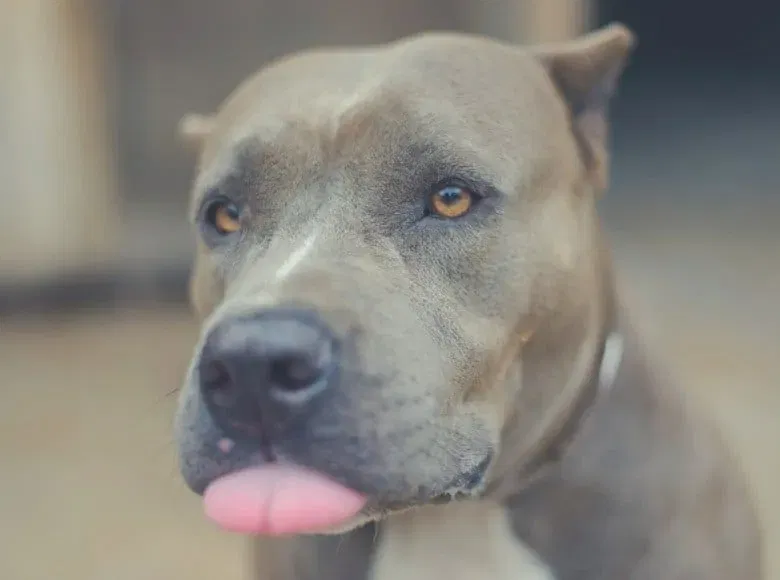 Why does my Pitbull need a special collar?
You may rightly be wondering why a plain collar is not good for Pitbulls. After all, it is immediately apparent that Pitbull collars are more expensive than a plain collar. I would like to put the answer funny. Pit bulls are not "plain" dogs either.
A standard collar will not withstand the load that an average Pitbull can mean. That is, you can spend even more money in the long run because you keep buying collars of worse or worse quality for your Pit. Not to mention that Pitbull collars are usually much more comfortable as well.
Let's face it: Pitbulls are very strong, muscular animals with some aggression. If they start pulling at the leash, weak collars will soon break down. They are also powerful chewers. This means that you have to choose a product that can withstand this kind of "training" as well.
By the way, harnesses are also especially good for walking the Pitbulls. I also wrote an article about this, which you can find here. And for extra safety, you can also buy a muzzle for your Pit.
Features to consider when choosing a collar for Pitbulls
I think it has become clearer now that if you have a Pitbull, you need to buy accessories for such a dog. A Pitbull collar is a perfect choice. However, there is a lot of variation within this as well. Let's see what you need to pay attention to when you buy a product.
Material: There are many materials that can be considered. Nylon can be good because it is breathable, lightweight, and if thick enough, durable.

Collars made of leather are very durable and look good. However, they can be a bit rigid, which makes them uncomfortable. Of course, this is not true for all products. By reading reviews and taking careful measurements, you can choose a leather collar that will be comfortable for your dog.

An interesting option is chain-collar. Of course, this is the most durable variety. Many don't like it because it is considered rude. But in the right hands, that can also be good.


Durability: Of course, this is closely related to the material. Yet, any collar can be poor or of good quality, no matter what material it is made of.

Notice the small details. Double stitching is always better than single. All parts of the collar must be strong and durable. Here, too, I can tell you to read the reviews.


Size and fit: The fit of the collar is a very important aspect. Make sure the product you choose is properly adjustable. If it has many eyelets, that's a good sign. This way, even if the collar fits perfectly on your dog, you still have some leeway for adjustment.

Make sure the brand provides multiple sizes for a single product. Also, pay attention to what measurable numbers are associated with each size chart. This will give you an idea of ​​what size collar to buy for your own dog.


Price: As I have already written, these collars cost more than an ordinary collar. However, you will get along better with them in the long run. You don't have to buy the most expensive one. But don't even decide based on the price tag. In my article, I tried to select the best quality and best value collars.
What types of collars are there for Pitbulls
There are some options to choose from. Each has its advantages, so different situations may require different collars. Let's look at these types!
Flat collars
Probably this kind comes to mind first. This collar is great for everyday use. Simple, comfortable, durable, and easy to clean. It is usually made of some woven material. Many times it features some ring where tags or other IDs can be kept.
Martingale collars
Martingale collars (also known as no-slip collars) slightly tighten when your dog pulls. These collars are most often used in conjunction with harnesses. The safety mechanism they have helps prevent your dog from drowning. For very strong puller or aggressive Pitbulls, this is a good choice.
Electric collars
This type is also called e-collar, shock collar, or bark collar. By the way, I also wrote an article about this recently, which you can find here. You can use a remote control to give different signals to your dog. This is a great way to conduct behavior training.
Prong collars
I only recommend this type if an expert deals with your dog. This is because this collar can cause serious injuries to your dog. In my article, these will not be among the reviewed products.
My choices for the best Pitbull collars
As I wrote above, there are several types of collars. I put together a few pieces of these types. In the end, I will describe which one is the most sympathetic to me. Of course, your circumstances may require a different collar.
These reviews will be a little shorter than average, as I have already described all the relevant information about the types in my article. All the advantages and disadvantages of these types are included in the products.
Let's look at my list!
---
This collar is both very durable and though, at the same time sporty and playful.
It is made of very strong nylon. The many notches allow it to be perfectly adjusted around the neck of your Pitbull. You can choose from six colors, all of which are very good.
The double buckle is also high quality, and the reinforced holes provide additional help for a perfect fit. Not to mention that the putting on is also very simple. The metal parts of the product are made of stainless steel, so they are not only sturdy but also rust-free.
Pros
Durable nylon
Washable
Lightweight
Stainless steel parts
Wide range of colors
Extra security
Cons
There can be sizing issues if you don't measure your Pit's neck properly
>>Check the latest price on Amazon<<
---
The product is extremely good quality, durable, and last but not least, cheap.
This collar is very well adjustable thanks to the five points that can be used for this. And you can easily attach a leash to the heavy-duty metal D-ring.
With a hook-and-loop panel, you can customize this collar. You can attach a patch or any ID. For this reason, this product is suitable even for police dogs. This is one of my favorite collars in this price range.
Pros
Great quality and sturdy
Hook-and-loop panel
Paddings for comfort
Double buckle holes
Washable
Cons
Not the best adjustability
Sometimes the end comes out of the loop
>>Check the latest price on Amazon<<
---
It consists of 1000D extra durable nylon belt and soft padding. Not only the nylon material but also the metal bucket of the collar is very durable.
Available in M, ​​L, and XL sizes, which is definitely good for Pitbulls' necks. For extra control, a handle was also placed on the belt. You can attach a leash to the D-ring on the back.
This collar allows for customization and identification. You can attach IDs and patches to it.
Pros
Sturdy nylon material
Comfortable padding
Handle for controlling
Wide range of sizes
Great colors
Washable
Cons
It can be too thick for some dogs
Some customers reported that the color fades
>>Check the latest price on Amazon<<
---
The material is PU leather, which is not only durable but also eco friendly. Although black is my favorite, this product is available in four other colors.
The buckle and separated D-ring are good quality and also quite durable.
Pros
Wide range of sizes
Durable leather
Eco friendly material
Affordable
Available in different colors
Cons
You can't attach ID-s
Not the most durable collar
Some don't like this design
>>Check the latest price on Amazon<<
---
It is made of stainless steel, so you don't have to worry about rust. As well as saying that it may not be durable enough.
Of course, this product is primarily for training. So not suitable for everyday use. It is also not advisable to wear that for a long time.
Pros
Looks great
Rust-free material
Affordable
Wide range of sizes
Durable
Cons
You can't attach ID-s
Only for training purposes
>>Check the latest price on Amazon<<
---
The product consists of two parts. The major part is durable nylon. And the cinch part is made from iron-chain. The combination of the two results in a very effective training collar.
On this collar there is a reflective stitching. With this, night training won't be impossible for you and your dog.
This collar provides an effective yet gently training.
Pros
Durable and safe
Affordable
There is a stop to prevent damage
Great for training
Reflective stitching
Cons
There could be sizing issues
>>Check the latest price on Amazon<<
---
My favorite Pitbull collar
My favorite from my list is Bully's Pitbull Collar. Not because, by its name, it was made specifically for Pitbulls. But because it is one of the best quality collars I have studied. If you make sure you measure the neck of your Pitbull properly, sizing issues will not occur. And the fantastic design and colors make it look even better.
Click here to get one for your Pit.
---
Frequently asked questions about Pitbull collars
How can I know the right size for my Pit?
Pitbulls are not only different from other dogs in their strength and mentality. Their body structure is also different. Their necks are thick, so average collars with average sizing are not good for them.
Measure the circumference of your Pitbull's neck. The collar needs to be a little bigger to fit two more fingers. That way it won't be too tight or too loose. Anyway, a 16-18 inch collar for an average Pitbull's neck is good.
Do I have to buy a collar for my Pitbull?
What the rules are in different places varies. Look for these in the place where you live or where you go on a trip. Anyway, I think you should definitely buy a collar for your Pitbull. The perception of these dogs is unfortunately quite negative. If you go out in public, people will be afraid of your puppy without a collar.
What about a leash on a collar?
This is a very sensitive issue. If your dog has learned to properly walk on a leash, then this can also be a good idea. However, if your dog is a very strong puller, a leash on the collar can be very dangerous for him. However, you can use Martingale collars with a harness.
---