If you want to know it, I can tell you now:
I chose Casfuy Dog Nail Grinder Upgraded as the best dog nail grinder.
Anyway, I put some useful tips in this article so you might want to read it.
Keeping a dog is one of the most special feelings. But let's not forget that it's not just about playing with them. Equally important is proper feeding and grooming. For the latter, I highly recommend purchasing a dog nail grinder. In my article, I selected the best products on the market. You will also find a buying guide and some useful tips.
Let's start!
Product table for the best dog nail grinders
[wptb id=3390]
What is a dog nail grinder?
Simply put, a nail grinder is a grooming tool. It can be an alternative to the nail clipper, as there are dogs who hate that.
One of the most famous nail grinder manufacturing companies is Dremel. Hence the other name for nail grinding activity, "dremeling". Of course, there are other brands that make such products, they will be discussed in this article.
This tool doesn't just simply cut off dogs' nails. Instead, a rounded, motor-powered grinder grinds them down. It is made of a similar material as sandpaper.
This solution is often less stressful than traditional nail trimming.
Why dog nail grinders are good?
It's less scary
As I mentioned above, most dogs don't like nail trimming. This is no wonder, as it is easy enough to have a bad experience with trimming. Grinding is much less intimidating and easier to endure even for the most scared dogs.
Precise
Accidents can happen with traditional trimming. For example, cutting too much of nails. With a nail grinder, you can be much more precise. And you don't have to be a professional to do that.
Nice Nails
With these tools, you can make round and smooth nails for your dog. Using clippers tend to result in jagged nails, which is not very aesthetic.
Healthy nails
This, of course, is closely related to the previous point. Rounded nails are not only prettier but also healthier. In addition, there is less risk of nail fractures.
Are there any problems with nail grinders?
Of course, like most things in life, nail grinders also have negatives. Let's look at these.
Replacement
It is enough to buy a good quality clipper once. You can use it for decades afterward. A nail grinder won't last that long. Of course, if you buy good quality (with a warranty) it will definitely work for a few years.
Sound
Although the experience has shown that dogs prefer nail grinders rather than clippers, their voices can be quite distracting. However, with proper positive training, this problem can be easily overcome. This will be discussed later.
Grinders can get hot
Friction can cause your dog's nails and grinder to become very hot. Of course, this will not make these tools bad yet. You just have to pay more attention and learn to use them correctly.
How to find the best nail grinder for your dog?
There are several things to consider before choosing the right product. The buyer guide below will help you make a decision.
Battery: A grinder can run on electricity or a rechargeable battery. For the latter, you may want to look at the charging speed.

Power: Every grinder has a different power. It's simple. The more powerful a product you choose, the sooner the session will end. And it will be easier for both your dog and you.

Noise level: If your dog is afraid of such noises, try to choose a grinder that is quieter.

Accessories: A grinder with different types of grinding drums can be a good choice. Especially if you have more than one pet.

Material: Nail grinders are usually made of plastic. You can find out how good this material is from the product description.

Warranty: Warranty is always an important aspect for me. This is because it guarantees that the manufacturer is responsible for its product.
My top choices
It is very important that you choose an excellent product. In my article, I selected the best nail grinders on the market. At the end of the review section, I will select my favorite one.
The grinder is safe and has a two-speed switch on it. You don't have to worry about cutting your dog's nails too quickly. And the slower speed also results in a finer sound. Because of this, beginner dogs will tolerate this better.
The device is portable and cordless. It comes with a rechargeable battery. The battery lasts for two hours. That's not much, but if you recharge it before each session, it will be enough.
It comes with a lifetime replacement warranty.
Pros
Replacement warranty
Gentle and safe
Quiet
Two-speed switch
Perfect for beginner and scared dogs
Cons
The battery only lasts for two hours
>>Check the latest price on Amazon<<
---
The nails should be placed in one of the three size ports. You can be sure they won't be cut too quickly. Noise and vibration levels are also very low for this product.
The covering is easy to remove and that' why the grinder tool is easy to clean.
It comes with a rechargeable battery that you can charge with USB. This product also has two-speed levels. However, experience has shown that it is not ideal for very tough nails.
Pros
Safe and quiet
Rechargeable battery with USB
Easy to clean
Three-size ports
Cons
Not the best choice for tough nails
>>Check the latest price on Amazon<<
---
You can choose from two speeds according to the circumstances. Thanks to the three different sized ports, this product is excellent for all kinds of dogs.
Noise and vibration are also low with this product, so you can use it for scared or novice dogs. The grinder is completely portable and very easy to clean.
The rechargeable battery lasts for five hours.
Pros
Safe and quiet
Easy to clean
Portable
Powerful
Cons
Not the best for large pets
>>Check the latest price on Amazon<<
---
The included safety guard makes sure you don't cut your dog's nails too short. And the product's catch system is responsible for mess-free grinding.
This product is also capable of two speeds and you get some band variations with it as well. So this nail grinder is great for many types of dogs, cats, and other pets.
Pros
Quiet and safe
Two speed
Great for long nails
Cons
Not the best for tough nails
Little bit bulky
>>Check the latest price on Amazon<<
---
It has two speed-levels on it. The lower grade is for beginners and softer nailed dogs. With a higher grade, Dremel easily grinds even the hardest nails. You can work with it at least as fast as with a clipper, but it's much safer.
It comes with a fully portable and rechargeable battery. This makes it easy to use while traveling.
And if all that wasn't convincing enough, this grinder is very quiet. It will not scare your dog. Not the cheapest product on my list, but for such quality, it is a very affordable price.
It comes with a two-year warranty.
Pros
Safe
Two-year warranty
Silent
Easily replaceable parts
Portable and with a rechargeable battery
Two-speed option
Cons
Not the cheapest one on the list (but still ok)
>>Check the latest price on Amazon<<
---
My pick for the best dog nail grinder
There were a number of excellent products on my list. However, my favorite is the Casfuy Dog Nail Grinder Upgraded. With the exception of not too long battery life, this grinder was the most compelling.
Click here to get one for your pup.
How to teach your dog to tolerate nail grinding?
Although this is a more gentle method than trimming, dogs may be afraid of it at first. I have some tips to overcome this.
Treat: This is a very important step. Your dog needs to connect grinding in his head with something very positive. Choose the finest treat. You can also use a clicker for an even better effect.

Start gently stroking your dog's feet. Go down slowly. Once you reach for his paw, use the clicker, and reward him with a treat.

If your dog pulls his paw, it's not a problem. You're probably moving too fast. Try at least four or five times until he allows you to hold your hand on his paw for at least 10 seconds before clicking and treating.

Adding some pressure: Once you have completed the previous step, you can start to add some pressure (gently). This is important because while grinding, you need to press your dog's paw to get the nails out of place.

Here too, the use of the clicker and the rewards are very important. The latter can happen with a treat, but praise is also important.

Slowly increase the duration. The goal is that your dog lets you hold his paw in your hand.

Hold your dog's paw and add some pressure: The previous step can be made one step harder. Namely, so that when you hold your dog's paw in your hand, put a little pressure on it.

The goal here too should be 10 seconds.

Introduce the nail grinder: This step is the last and most difficult. Here it is very important that you prepare with the finest treats.

First, just introduce the tool to your dog. Then place the treats next to the grinder. Of course, your dog will be there next to the grinder as well. And that is why you must praise him.

You do not need to proceed with this step. Keep making progress only the next day. The next day it's time to turn on the grinder. If your dog doesn't like its sound, turn it off.

The next step should be to reward (and praise) your dog when the grinder is turned on. It will be an extra motivation for him to love this tool.

After a while, you may even get to the point where your puppy will wait for you to turn on the grinder.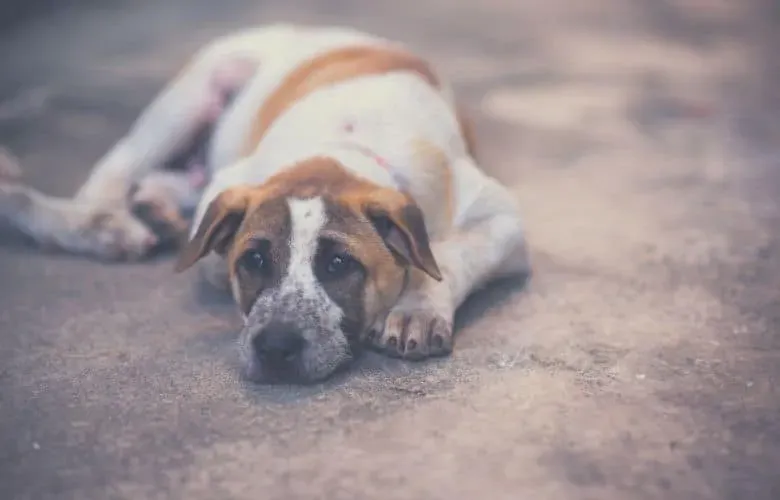 Bonus tips for nail grind training
Treats play a key role in the whole thing. You really need to give your dog something he rarely gets and would do anything for it.

Praise is just as important. Many times dogs appreciate this more than any delicacy.

Don't rush the progression and be very patient. If necessary, go back one step.

Don't wait until your dog wants to stop training. You always have to finish a little earlier. I know it's very hard to make sense of this, but if you pay attention to the signs of your canine friend, it shouldn't be a problem.
The nail grinding procedure
The video below is my favorite on this topic. It details how to grind your dog's nails.
---