Providing dogs with an adequate amount of water is at least as important as providing them with food. Although the drinking habits of some dogs can make our lives quite difficult. If you don't want the floor around the drinking bowl to turn into a nightmare, you'll need a splash-proof or spill-proof bowl. I want to help you choose the right product.
Let's start!
Product table for the best Splash-Proof dog water bowls
[wptb id=3111]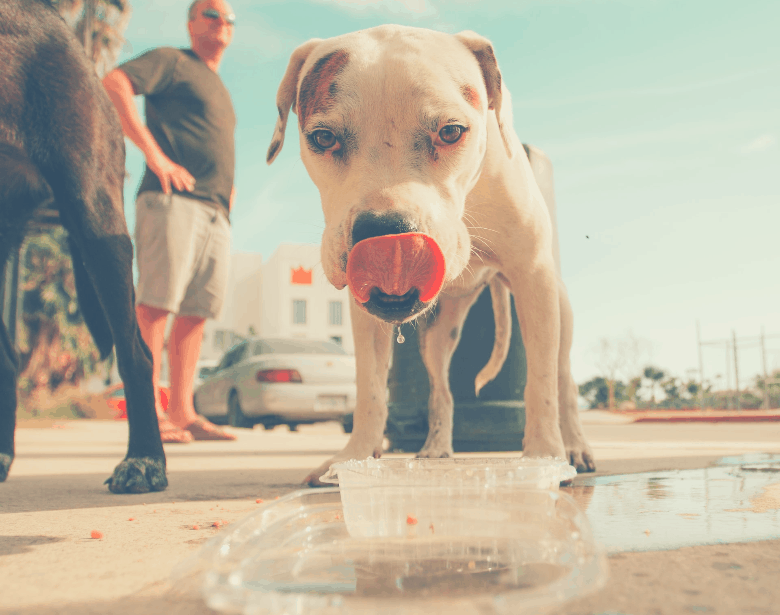 When do you need a splash-proof or no-spill water bowls?
Of course, hydration is also important for dogs. However, it is not uncommon for the entire area of ​​the water bowl to become messy after drinking. Dogs use their tongues when drinking, and this gulping often splashes water. On the one hand, this drinking process is more difficult than in humans. The situation is even worse if the dog drinks even sloppier than average. The splash-proof water bowls prevent these splashes.
Not only can the area around the bowl be filled with water because of such drinking habits. The dog's face, nose, and ears can also be wet. Splash-proof bowls prevent such dripping.
An overly vehement drinking habit can easily upset a normal bowl. In this case, all the water may spill out, and this can again be a big mess. No spill bowls can be useful in these situations.
So, for these types of dogs below, you may need a bowl like this:
Dogs who gulp heatedly
If your dog gets too fast for the water bowl, you will definitely need the accessory mentioned above. Such dogs take a huge dose of water with each sip. This drinking habit is bad not only because of watering the floor. In a worse case, it can lead to vomiting, hiccups, and excessive gas. Most splash proof bowls prevent all water from being available to dogs at once. This will slow down your dog a bit while drinking.
Dogs who splash everything with their paws
There are dogs who cannot drink properly from the water bowl. They also enter the water with their paws. This can happen by accident, but it is not uncommon for puppies to do it directly. There can be many reasons for this, but the point is that you need to prevent it with such a bowl.
Face digger dogs
These dogs also do not know how to drink properly. There can be various reasons for this as well. But because of this, their whole face will be wet, and your entire kitchen will be splashed in the same way.
Types of these helpful bowls
If you need such a bowl because of the above options, you need to look into the types. Three main categories can be distinguished. Of course, there are products that fit into several categories. Choose your product based on your dog's drinking habits.
Spill-proof bowls
These water bowls are designed to prevent water from spilling if the bowl turns or flips over. They usually consist of two or three parts. The water reservoir and the ring or lid prevent water spillage.
Splash-proof bowls
These drinking bowls provide the dog with a small amount of water at a time. Because of this, splashing will also be less. This is achieved in two ways. One is to reduce the size of the opening through which the dog can drink. The other is to limit the amount of water dispensed at one time.
Drinking stations and mats
These were invented to prevent spilled or splashing water from spreading to the floor. Feel free to use it with the previous two solutions as well. There are also some that work with food (wet or dry).
Other considerations
In addition to the varieties discussed above, there are a few more factors to consider. After all, every dog ​​breed and every life situation is different. Because of this, you have to make decisions based on different aspects.
Material
If you have what purpose you want to buy the splash-proof bowl for, then this aspect follows. Water bowls can be made of several materials. Stainless steel products are very good choices. They are very sturdy, resistant, and durable. They are also dishwasher safe, so there isn't much trouble cleaning them. This material will not be moldy, so it won't stink. Nor do you have to worry about harmful plastic chemicals getting into the water.
In plastic water bowls, great care must be taken to ensure that they are free of BPA, PVC, and Phthalate. Of course, all of the products listed in my article are like this. The good quality plastic water bowls are durable, dishwasher safe, and at the same time lightweight. You don't have to worry because all of the plastic products listed here are safe. However, if you have a dog who chews on everything all the time, it is better to choose the stainless steel version.
There are also water bowls made of silicone. They are also very safe and portable due to their weight.
Ceramic water bowls are very heavy, but that's why they're really stable. In addition, they are very durable and safe to use. These ceramic bowls keep the contents cool, as this material is ideal for this purpose. They are dishwasher and microwave safe and also chew-proof. However, the price of these products is quite high. And because of their weight, they are not the most optimal choice for travel.
Capacity
The size and capacity of the water bowl is also an important thing to consider. Proper hydration is extremely important for dogs. They can drink 20 to 40 milliliters a day per pound of body weight. Therefore, it is very important that the bowl can hold enough water. Especially when you leave home for a half or even one day.
Cleaning, refilling, maintenance
I don't think I need to say that all types of water bowls need to be cleaned regularly. Mold, bacteria, and other pathogens quickly settle in the bowl if you don't pay attention.
However, there are types that are easier, some that are harder to clean. The no-spill and splash-proof bowls consist of several parts. For this reason, they usually need to be disassembled before washing them. Most bowls are dishwasher safe, but it is sometimes advisable to wash them by hand.
Breed
The same water bowl will fit a completely different way for different breeds of dogs. For a short-nosed dog like the Pug, don't buy a small-splash-proof bowl.
Additional factors
Of course color is not the most important aspect. However, if everything else is right, why not choose a splash-proof water bowl that you like in color?
Some products come with other accessories. For example, stands and replacement parts.
There is another very important thing that most people forget to consider. This is the warranty and customer support for the product. You can find out more about them in the reviews if you are interested.
If you take all these factors into account, chances are you can choose the most perfect splash-proof water bowl for your dog.
Other tips
It is a wise decision to buy your dog a no-mess dog bowl. However, I have some more advice.
Elevate the bowl
This is one of the oldest tricks. By elevating the bowl, your dog will have less access to water. Because of this, less head dunking and splashing will occur. Do not take it too far. A few inches elevation will suffice.
Water level
Many no-mess bowls use this trick. However, you can do this with any bowl. Keeping the water level in the bowl low will lead to less clutter.
Mats
It is a good idea to use these as they will cover the floor. If you use a mat with a splashing bowl, you can really insure yourself with them.
My top choices
We have seen that it will depend on several things which will be the ideal choice for us. I have listed six products below. They are all great quality. In the end, I will choose my personal favorite.
This makes LumoLeaf an ideal choice for medium or small dogs or cats. Due to its size and weight, it is also perfect for travel.
This splash-proof bowl consists of three pieces: a water bowl, a fixed border, and a floating disc. As the water level changes in the bowl, the disc also moves with it. The paw-shaped hole in the middle allows only a small amount of water to pass through. Because of this, your dog will not be able to splash water.
You don't have to worry about the disc not staying in place. This is provided by a stationary border which also prevents spillage.
The bowl is dishwasher safe, although it is not easy to remove the right parts. Thanks to the rubberized legs, it stays stable on the floor.
Pros
Great design
Travel friendly
Travel friendly
BPA free
Keeps your floor clear
Dishwasher safe
Cons
Being made of plastic, it is not suitable for aggressive chewing dogs.
It is difficult to disassemble for washing dishes
Not the best choice for large dogs
>>Check the latest price on Amazon<<
---
The Slopper Stopper Dripless Water Bowl consists of a stainless steel bowl and a lid. The lid is made of BPA-free Eastman Tritan Copolyester plastic. It is completely safe, non-toxic, and durable.
Bowls of different sizes contain the same stainless steel bowl. However, the inner opening varies depending on the size of doggie you want to buy the product for. This way you can use the same bowl for several breeds of dogs, all you have to do is change the lid (you can buy it separately from the manufacturer).
The lid automatically replenishes the water and keeps it at the same level. It is very easy to refill the water into the bowl by removing the lid. The product is not chewable, so you can buy it for more aggressive dogs. In short, it meets all conditions, it is excellent in preventing splashes and spills.
Pros
High-quality construction
Stainless steel and BPA free plastic materials
Greatly reduces splashes and spills
Reduce drinking speed
Available in five sizes
Warranty
Cons
Pricey
Some dogs have a very hard time getting used to it
>>Check the latest price on Amazon<<
---
The base is a tapered bowl, and in the middle there is a floating disc. And at the top, there is a spill-proof border rim.
The product is very safe. It consists of BPA-free hardened plastic, which is non-toxic. All parts of the bowl are dishwasher safe.
The unique design of the Road Refresher allows water to flow continuously. At the same time, it prevents immediate spills when sudden braking or other movements occur while traveling. The Road Refresher's features guarantee that this product is spill and splash proof. With its Velcro base you can fix it to carpets.
This bowl is available in three sizes: 22 fl.oz., 47 fl.oz. or 54 fl.oz. Because of this, it is not so ideal for very large breed dogs, but it is absolutely perfect for travel.
Pros
BPA free non-toxic durable plastic material
Works for home and travel use
Easy to assemble and disassemble
Velcro base and fixing pads
Satisfaction guarantee by the manufacturer
Cons
The water level is not easily visible
54 fl.oz. is the maximum capacity
>>Check the latest price on Amazon<<
---
The product works by collecting spilled food in the upper reservoir and spilled water in the lower reservoir. This way, spilled water and food are collected in a separate place and can be reused. In addition, the product elevates the height from which your pet can drink or eat.
The product is very easy to clean and dishwasher safe.
Pros
Cool design
Spilled food and water can be reused
Easy to clean
Cons
The bowls are relatively small
Bowls are too close together
Bowls are not fixed to the base
The base is not heavy enough
>>Check the latest price on Amazon<<
---
This splash-proof dog bowl is made of silicone. This makes it very lightweight, and foldable, making it even easier to travel. It is also easy to clean and dishwasher safe. It is suitable for all dog breeds and you can put kibble in it too.
So if you're looking for a cheap, lightweight and comfortable dog bowl for your trip, this can be a good choice.
Pros
Car seat angle
Inexpensive
Dishwasher safe
Edges reduce spills
Cons
Can be knocked over
Does not prevent wet mouth
>>Check the latest price on Amazon<<
---
Petmate is a reliable company that always uses high-quality materials to make its products. It's no different with this no-spill bowl either. It's made of safe and non-toxic BPA free plastic. In addition, it is easy to clean and dishwasher safe.
Although the size of the product is not too large (it can store 48 fl. Oz of liquid), its opening is wide enough to suit all dog breeds. Thanks to its design, it reduces runoff by more than half. Even if we turn it upside down.
Pros
Affordable no-spill bowl
A great choice for travel
Prevents water spill well
BPA-free sturdy plastic material
Cons
Not suitable for large breeds at home
It doesn't have a non-skid base
>>Check the latest price on Amazon<<
---
My choice
Hopefully you have got a full picture of the criteria for choosing a splash-proof or spill-proof water bowl. It would have been very difficult for me to choose a single product as the best, as they are all excellent. That's why I chose two. The first is Slopper Stopwatch Dripless Water Bowl. Although it's not cheap, I still consider it to be the highest quality bowl listed here. Excellent for reducing spillage and splashing. If you're not specifically looking for a bowl for travel, this will be the best investment (otherwise, it can be used for travel, but there are more suitable product on the list for that purpose).
Click here to get one for your dog.
The other product is Road Refresher No Slobber, No Spill Dog Water Bowl. This is a much more affordable product than the previous one. It performs excellently both when traveling and at home.
Click here to get one for your dog.
---