If you are in a hurry and want to know right away:
I choose DOG CARE – Dog training collar as the best shock collar for small dogs.
Anyway, you might want to read the full article because I put together some useful tips.
Shock collars are very useful gadgets. After all, they can be used widely. Whatever the training, they produce fast and effective results. However, it's extremely important which one you choose. In my article, I have selected the best products on the market. In addition, I gathered what to look for when shopping. And at the end of the article, there will also be a FAQ section on shock collars.
Let's start!
Product table for the best shock collars for small dogs
[wptb id=3171]
What are shock collars and how do they work?
Shock collars (also known as remote training collars, e-collars, or electronic collars) are used for training. This training is often referred to as behavior modification.
These devices were invented more than 50 years ago. They were used to train hunting dogs at the time. However, shock collars have evolved a lot since then.
Shock collars for hunting dogs still exist today. But products made for home dogs are completely harmless. This is because such collars today help with learning with vibration and beeping.
Therefore, it can be used safely for smaller dogs. In essence, these are more of a signal to your dogs if they are doing something wrong.
A common recommendation is that before you begin this type of behavior training, your dogs should know the basic words beforehand. If the "sit", "stay" and "stop" commands are learned, everything will be easier. After all, they can deduce what they do well and what they don't.
That is, if they know the word "sit" but don't sit, they'll understand why you're using the shock collar. Without it, they wouldn't understand the whole thing. You would just torture them unnecessarily.
Of course, you can use these accessories for much more than that. Shock collars are suitable for both small and large dogs. I will write in detail below about what shock collars can be used for.
Why you may need a shock collar for your small dog?
Many are protesting against shock collars. Animal rights activists and other organizations believe this is a torturous solution. I think following the rules, it is a safe solution. Nor should it be forgotten that it is a completely legal and widely used training method in America.
If you choose the right product and set it up well, your pet will not feel uncomfortable. As I have already written, it will be a signal to him if he is not doing something well.
Now let's look at the possible uses for a shock collar.
Adherence to borders
If your puppies live with you indoors, there may be areas in the house where you don't want them to go. In this case, a shock collar can help you. There are invisible electric fence systems that can be combined with these collars to perfect this method.
The collar delivers the stimulus when the dogs approach the area. This is a very convenient method for you as you do not have to physically barricade any room in the house.
Bark control
This is another popular use for shock collars. If your dog is barking, all you have to do is press a button. Because of the stimulus, after a while, he learns not to bark.
Some more expensive, premium quality shock collars (bark collars) are able to detect when your dog is barking. You don't even have to press any buttons. They usually even notice when another dog is barking. This is important so that your dog does not get the stimulus because of the barking of another dog.
Training, behavior modification
Dog trainers usually use these devices to teach commands. Dogs learn to pay attention to signs and instructions and follow them more easily.
At the same time, these products also help to correct existing behaviors. An example is an aggressive behavior.
You need to know that these training collars do not eliminate the real cause of the problem. So your dog will not be less aggressive about this. You can only dampen his momentary aggressive behavior. Be sure to consult a professional if your dog is overly combative.
Safety training
Many dogs need to be trained to behave appropriately in an emergency. For example, to prevent a hunting dog from going there to dangerous animals. But it's also considered safety training if you don't want your dog to run around everywhere when he is not on a leash.
Types of shock collars for small dogs
There are four types of shock collars. I will list these four types below.
Training collars
This is the simplest type of shock collars. It is also quite affordable. Training collars significantly reduce behavior training time. After all, you can achieve results without such devices, only much more slowly.
Instead of several weeks of training, you can even see immediate changes. And that's enough to practice just a few minutes every day. You can also use these products for off-leash training. The best training collars can range from 300 to 800 yards.
Bark collars
It can be quite uncomfortable if your dog finds some reason to bark. Most owners get up and yell at their dogs at this time. However, with an anti-bark collar, all you have to do is press one button.
As I wrote above, there are bark collars that you don't even have to press a button for.
Fence collars
I have already mentioned this above. With an invisible fencing system developed for this purpose and a compatible collar, you can prevent your dog from entering places that are not allowed for him.
GPS collars
This can be an important tool for the hunters mentioned earlier. This is because our dog can wander while hunting, and it can be very difficult to find at that time. These types of collars help with this.
Features to consider before buying a shock collar
I've talked in a few words about what makes a shock collar good. However, here is a more detailed list of features you should look out for when shopping.
Range
Different products offer different ranges. Because of this, the purpose may be different too. For home use, a shorter range collar may be sufficient. Yet, when it comes to hunting, it is worth choosing the product with the longest range.
Sounds and beeps
This can be a useful feature if used properly. There are products that emit different sounds. If you use these beeps in conjunction with the "stop" command, your dog will associate the two later. If you practice enough, you won't have to say the command.
Vibration
This is the next warning level for shock collars. It's basically harmless, but it's worth checking to see if the intensity is adjustable.
Shock
This is the strongest warning level. Although it is also worth checking the adjustable strength here. Training for different purposes may require different intensities.
Scents
Some shock emits collar bad odors as an indication. It sounds good at first, but it really has little use.
Waterproof
You may want to choose a product that is waterproof. This way, you don't have to interrupt the training if it starts to rain. And in some situations, there is a need for direct training that requires a lot of water. Waterproof ability can vary. For home use, a shock collar that can withstand the rain will suffice.
Price and warranty
I always try to choose the best value for money products. But you shouldn't decide on a price range for such an important product. The goal should determine which one you are going to buy.
As with all electronic products, you should check the warranty here. After all, the guarantee also means the right quality.
My top choices for the best shock collars for small dogs
Below I recommend seven excellent products. Some may have other features too. But for home use, all are suitable. At the end of this part, I describe what is my favorite.
The intensity of the vibrations and shock is very well adjustable. These were defined by the manufacturer on a scale of 0-99. There are separate keys for the tone of the beep, vibrations, and shocks.
You can train up to nine dogs with this device, but you need to buy the collars separately for each dog. The product is IPX7 waterproof. Unlike many shock collars, it withstands exposure to water very well.
The product has built-in rechargeable batteries. It is also in the receiver and the remote controller. Thanks to USB, you can even charge them from a laptop or power bank. The battery of the remote controller lasts for 45 days and that of the receiver lasts for 15 days.
This shock collar is perfect for small, medium, and even large dogs. The material is very good quality, durable and strong. The control range is medium. The range is about 990 ft. For average home use, it's perfect, but 990 ft isn't that little. I can also imagine other uses.
And the one-year warranty is just a plus, making you even more confident that this product is a good choice.
Pros
The intensity level ranges on a wide scale
It is also good for small, medium and large dogs
Waterproof
You can train up to 9 dog
High battery life
One year warranty
Durable fabric
Lock feature for preventing additional shocks
Cons
You need to purchase additional collars for training more than one dog
>>Check the latest price on Amazon<<
---
The batteries in the product last for 15-20 days, which is good. With the quick charge function, the collar can be used in 2-3 hours. The TBI Pro dog collar is also IPX7 waterproof rated. It works great even after pool training.
The range of this shock collar is very convincing. It also operates from a distance of about 1600 ft. If you have a large plot, this is a very good choice.
This collar fits dogs between 10-100 lbs. The product receives very good ratings for its effectiveness and durability. And the one-year warranty is also very convincing.
Pros
It is also good for small, medium and large dogs
Amazing control range (1600 ft)
Waterproof
Durable and efficient
Adjustable intensity
One year warranty
Cons
It doesn't have a lock control feature
It's for only up to two dogs
>>Check the latest price on Amazon<<
---
Its range is about 2,500 ft, which is quite amazing. The vibration and shock intensity can also be set between 0-99 for this collar. There is also a beeping warning function.
Based on the customers' experience, this product is very reliable and durable. It also comes with a two-year warranty. The product is powered by a battery that lasts for 15-20 days.
Pros
It is also good for small, medium and large dogs
Adjustable intensity level
Amazing distance (2500ft)
The battery lasts for 15-20 days
For up to 3 dogs
2-year warranty
Cons
Shock levels can be too strong
Some customers complained that the remote stops working after a few months
>>Check the latest price on Amazon<<
---
Many trainers recommend this product for its reliability. The 1200 ft range is not the most prominent on the list, but it is perfect for training at home or in other open areas.
Warning signs can be set between 1-100 intensity levels. I really like the blue LCD display because night training isn't impossible that way either. The shock collar comes with a lifetime warranty. Customer support is very good based on the customer experience.
The auto-protect feature helps to extend the battery's life. Thus, the lithium battery in the product will last long.
Due to the lifetime warranty, this can be a very likable product if you are looking for a shock collar for your little dog.
Pros
Waterproof
Adjustable intensity level
Built in power-saving mode
Great LCD display
Lifetime warranty
1200 ft range
Different colors
Cons
Shocks can be harmful with this product
No locking feature to prevent unwanted shocks
>>Check the latest price on Amazon<<
---
The intensity of stimulation ranges from 1-100. And what is incredible, it can be boosted with an additional 1-60 range.
When shopping, you can choose between 1 or 2 dog options. Unfortunately, you can't use it on more dogs than that. However, if you have one or two dogs, this is an excellent choice.
Instead of vibrations, this tool uses what is called a tapping sensation. This is considered by many to be more effective than standard vibrations.
The collar has a range of half a mile. In addition, it is also worth knowing that this product fits for any dogs above five lbs. In addition, it is waterproof and works with excellent lithium batteries.
If you have a larger budget for a shock collar, feel free to consider the Educator E-Collar Remote Dog Training Collar.
Pros
Six colors
Suitable for small, medium and large dogs
Tapping sensation instead of vibrations
Additional boost for stimulation range
Long lasting batteries
Locking feature
Cons
Only for one or two dogs
Pricey
Not the best control range
>>Check the latest price on Amazon<<
---
This can be accomplished as long as it provides a range of 500 yards. Of course, it is also excellent for home use.
The remote control can be connected to three collars. You will need to purchase these separately if you want to use the product with more than one dog.
The collar fits for any dogs above eight lbs. While using the collar, you have the option to choose momentary or continuous static stimulation.
The water-resistance of this shock collar is excellent. The manufacturer says it can also withstand water 25 feet deep. So if you're looking for a training collar for this type of workout, this is the best thing you can buy.
What is still very sympathetic to me is that I have a low battery indicator. That way, you don't have to worry about the battery suddenly running low and you have to interrupt your training with your dog. You can prepare in time.
In this price range, this was my favorite shock collar for small dogs.
Pros
Excellent waterproof ability
Low battery indicator
500 yards range
Suitable for small, medium and large dogs
Option for momentary or continuous static stimulation
Cons
>>Check the latest price on Amazon<<
---
My pick
The shock collars on my list are all excellent. However, I choose one as the best. And this is nothing but the DOG CARE – Dog training collar. Despite its medium-range, it has all the features you need for a good shock collar for your small pup. And which is also important, the price is also excellent compared to the more expensive products on the list.
Click here to get one for your canine.
---
Frequently asked questions about shock collars for small dogs
At what intensity should I start using the shock collar?
Most shock collars actually have adjustable intensity. In small dogs or puppies, it is recommended to start with a very weak shock. If they learn and understand the signal, then vibration or other sound effects will be enough.
How fast are the training results?
Most owners and trainers report quick results. Usually, three or four shock warnings are enough for dogs to understand if one specific behavior is bad. After this, it is sufficient to use the vibrations.
How much time should I spend training with my dog?
It obviously depends on a lot of things. However, in general, 10-15 minutes a day can be effective. Don't want too much at once. There are situations when you should start with a few minutes a day. It is important that if you leave your dog alone for a few hours, you should not have a training collar on him.
Some of these products are not cheap. Is it worth buying one of them?
A dog trainer can charge you a multiple of the price of the most expensive shock collar. Plus, you don't even have to buy the most expensive product. Believe me, you will definitely find one on my list that meets your needs.
What if my dog ​​will hate shock collar?
Believe me, your dog will hate it. No one and no living thing likes the punishment. If you use shock collar well, it is harmless. However, even the beep is a kind of "punishment" so it is unlikely that any dog ​​will love it. But it will only be an added motivation for your canine to learn what he needs. Over time, beep won't be needed too.
There are tricks you can use to make your dog like the training collar. The video below can be helpful:
What size dogs can I buy shock collars for?
Shock collars are made for dogs of all sizes. In this article, I reviewed products for small dogs or puppies. Manufacturers usually describe in detail the recommended weight and sizes for their products.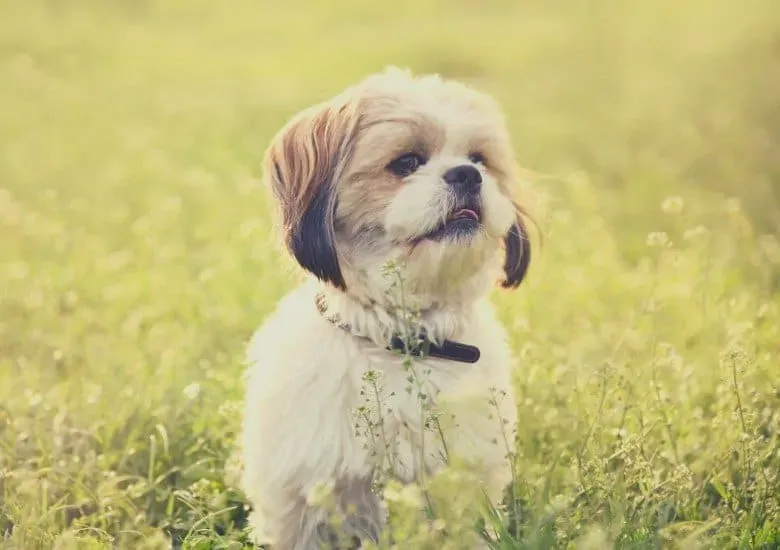 Are shock collars safe?
I don't want to claim untrue things. The shock warning of shock collars works with the static current. This can be dangerous. Therefore, I suggest that you switch to vibration or beep as soon as possible. And always start the shock with the lowest intensity. If you find that your dog is in pain while using the collar, stop immediately. The same is true if you notice burn marks or other damage on him after using the collar. If you are careful, there can be no problem with your beloved puppy.
---