If you are in a hurry and want to know right away:
I choose K9 Sport Sack as the best dog backpack carrier.
Anyway, you may want to read the full article because I have some useful tips in it.
Do you like hiking? Or travel? Maybe your dog also loves something like that? In this case, buying a dog backpack carrier can be a good idea. In my article, I have collected eight backpack carriers that I think are the best. I've also written down a few things you need to pay attention to before you buy such a backpack.
Let's start!
Product table for the best dog backpack carriers
[wptb id=3285]
Why you may need a dog backpack carrier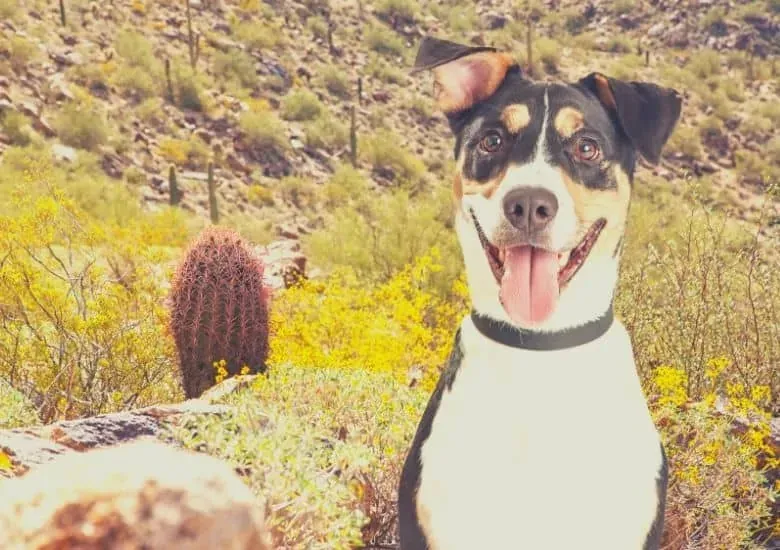 There can be several reasons for this, of course. The main reason is comfort. For you and your dog, too. A backpack carrier can make any kind of trip more comfortable with your puppy.
There are dogs that are very strong pullers. With them, a longer trip on a leash can be very tiring and boring. If you get a backpack carrier, you can get rid of a lot of frustration.
Smaller dogs are harder to cover the same distance than larger ones. They get tired sooner. If that happens, all we have to do is put them in the backpack carrier and they can already continue the journey with us.
A backpack carrier can also be useful if your dog has some health problems. Older dogs can no longer cope as fast as younger ones. This is especially true if they may have some trouble with their backs or hips. It is not very good to hike in this condition. Still, they probably want to enjoy these experiences.
If you have a dog backpack carrier, you can prepare for these possibilities.
What should you consider before buying a dog backpack carrier?
As I wrote, a good dog backpack carrier can make your life easier. However, there are things you should pay attention to. These will be discussed now.
Your dog's body
There are plenty of breeds of dogs and their physiques can all be different. Some are elongated, some are shorter. But obviously there can be a lot of variation in size as well. Which backpack carrier is right for one dog may not be good for the other.
For very small dogs, a carrier that they can sit inside is ideal. Such carriers usually have a mesh window through which dogs can lookout. For long dogs, I prefer a backpack carrier from which they can stick their heads out. There are carriers that allow puppies to stick their legs and head out.
Adjustability
The openings of a good backpack carrier should be adjustable properly. Especially at the head and feet openings. If they are too tight, that is extremely uncomfortable and your dog may not get air. If there is too much room, it is against security.
Breathable
Obviously, you don't always want to hike with your puppy in the coldest weather conditions. Make sure the material of your backpack carrier is breathable. You shouldn't want your dog to overheat.
Water resistant
If you want to hike with your dog even in rainy weather, you need to be prepared for it. It is worth choosing a waterproof product in this case.
Storage
You may want to consider purchasing a carrier that has extra storage. This is practical in many ways. For example, you can also take care of other important accessories. For example a poop bag.
Other features
There are backpack carriers that have even more features. For example, ID tags or travel bowls. Although not vital, they can make hiking easier and more comfortable.
How long can your dog ​​stay in the carrier?
This, of course, depends on several factors. On the other hand, as a starting point, I can say that you take your dog out of the backpack carrier at least every hour. This way he will have the opportunity to stretch his legs.
Check your pup often to make sure he is breathing properly. Of course, if you've been traveling with the chosen backpack carrier for a long time, you'll need this step less often. After all, if the product you have chosen is proven and works perfectly, you can be sure that your dog will feel good in it.
My top choices
With a dog backpack carrier, it is clear what good products are. However, there are plenty of brands and choices. And let's not forget that there are different dog breeds to which different carrier types will fit. Below I have collected the products I like the most. And in the end, I pick my favorite.
Let's see them!
The product is available in black and red. It's not a large selection of colors, but I personally don't even need it. The product is perfectly adjustable because it also has eight adjustment points.
The fabric is of very good quality. The top is waterproof so your dog won't get wet in the rain. The bottom is also perfectly waterproof, so you can safely put it on the ground. Moisture does not leak inside the bag.
This backpack carrier is well ventilated and padded for maximum comfort. It is approved for Airlines so you can take your dog on a flight if you want. You don't have to worry about it.
What I really like about this backpack is that the manufacturer gives it with a lifetime warranty. This somewhat makes me forget the fact that this product is not cheap. Plus the warranty always means premium quality to me.
Pros
Great quality
Waterproof fabric
Ventilated
Comfortable and safe
Airlines approved
Lifetime warranty
Perfectly adjustable
Cons
>>Check the latest price on Amazon<<
---
But it's definitely positive if you can use them with a larger-bodied dog.
This backpack carrier is suitable for any outdoor activity. Whether it is biking, hiking or camping, this product is a good choice.
The product has wide pressure-reducing straps and padded back for your comfort. And mesh sides allow for proper ventilation. This and five different safety fail-safe measures will result in complete protection for your dog.
The 20mm bottom rest pad and neoprene-lined leg holes give dogs extra comfort. And even better, the backpack has side storage pockets where you can put other gears.
Pros
Not just for small breeds
Mesh sides for ventilation
Comfortable for you and your dog
Safe
Side storage pockets
Cons
Some customers complain that zippers are not the best
>>Check the latest price on Amazon<<
---
The product is very comfortable for you and your dog. The straps, the back, and the bottom layer are padded. Therefore, dogs can be in it for a long time and it also will spare your shoulder.
The product is made of very lightweight material. Because of the mesh sides, there is enough airflow, but the nylon panels provide water resistance. Your dog will feel comfortable, safe, and dry.
This product is not the most stable, but in the affordable price range, it is a good choice for smaller dogs.
Pros
Affordable
Lightweight
Ventilation
Water resistant
Comfortable
Front carrier option
Cons
There are some sizing issues
Not stable
>>Check the latest price on Amazon<<
---
It is comfortable and lightweight. It is made of perfectly breathable mesh and canvas. This makes it very convenient.
Elastic leg openings, velcro, and zipper provide comfort. On the end of the straps are buckles. This makes adjustment easy and fast.
The design allows you to wear this carrier both front and back.
Pros
Legs out design
Lightweight
Affordable
Breathable
You can wear it front and backside
Great adjustability
Cons
Only for small dogs (under 15.5 lbs)
Not comfortable for dogs with long legs
>>Check the latest price on Amazon<<
---
This backpack carrier is ideal for small dogs (under 22 lbs). Dogs tend to enjoy being safe, yet they see everything from the outside world. Placing them in is very easy and the adjustability is also good.
Pros
Safe
Dogs see everything
You can wear it front and back too
Comfortable
Legs-out design
Placing in is easy
Affordable
Cons
Sizing issues
There aren't any shoulder padding
>>Check the latest price on Amazon<<
---
It was invented for smaller dogs (under 15.5 lbs). The carrier has an opening on the head, through which your dog can look at the outside world.
There are a safety interior rope and buckle that will prevent your dog from falling out. The product is made of canvas, which is extremely durable. However, it is also properly breathable so that your dog will not get hot.
The straps are well adjustable. The carrier contains an attachment inside. To do this, you can attach your dog's harness for maximum safety.
Pros
Cool design
Front and back wear
Safe
Durable
Affordable
Breathable
Cons
Only suitable for dogs under 15.5 lbs
Getting out the dog is not so easy
>>Check the latest price on Amazon<<
---
On the other hand, you don't necessarily have to carry it on your back with your dog. Because it has wheels, making it easier to transport. The backpack can be used in several ways. Not just a dog carrier, but a backpack, dog car seat, and a tote.
The product has a telescopic handle. The sides can be expanded by 3-3 inches if your dog needs more space.
You can attach your dog's harness to an inner tether for safety. In addition, there is an inner mat that makes your dog comfortable to travel with. This mat is removable and easy to wash.
In the two side storage you can store some important things that are essential for traveling.
Pros
Wide range of uses
Handle
Large space for your canine
Safe
Comfortable
Plus storage
Cons
Little bit robust and pricey
Scaling does not refer to internal space. Pay attention to this when choosing.
>>Check the latest price on Amazon<<
---
There is a mesh window on three sides of the carrier through which your pet can look everywhere. And last but not least, it allows for proper airflow.
It is very easy to put your dog in the backpack. Then all you have to do is zip the mesh window. Convenient and safe. There are a safety strap and buckle in the bag. The firm structure is for added security and a sense of security.
The thick padding on the shoulder and back straps and the chest and waist buckles provide extra comfort for you.
Pros
Affordable
Convenient and safe
Breathable
Available in several colors
Sturdy and well constructed
You can place your pet's ID on it
Extra pockets
Cons
Sizing issues, measure carefully
>>Check the latest price on Amazon<<
---
My choice for the best dog backpack carrier
All the products on my list were excellent. We have also seen that some products are good in different situations. Still, I chose one as the best. My favorite is the K9 Sport Sack. It is an extremely versatile and high-quality product. It can also be used for small and medium dogs. In addition, the price is not bad either.
Click here to get one.
---