Do you want to find the best dog food for Pomeranians? Then check out this fully updated 2022 guide!
Pomeranians are really tiny dogs, but thanks to their personality, they are loved by many people. As responsible pet parents, our job is to provide the best possible diet for our dogs.
But what is the best dog food for your Pomeranian? In my article, I have collected 10 recipes for you. Of these, my favorite is the Wellness CORE Grain-Free Small Breed Turkey & Chicken Recipe. But of course, the other options are also an absolutely ideal choice.
By the end of my article, I hope you will be perfectly aware of what Pomeranians are eating and which products of dog food brands you should choose.
Let's start!
10 Best dog food for Pomeranians
It is not easy to find the best diet for your Pomeranian. However, don't worry, you're in the right place. I collected the best products. Each of these recipes complies with the AAFCO nutrient profile guidelines for dogs. At the end of my article, of course, I will select my favorite. And later you can find out all the important details about the nutrition of the Pomeranians.
If you are looking for great food for Pomeranians, you should try this dry dog ​​food. The Wellness CORE Grain-Free Small Breed Turkey & Chicken Recipe contains all the nutrients that dogs need. Plus, small and toy breeds won't have a problem chewing because of the small kibble size.
But what really matters is the quality of the ingredients.
The impressive 36% protein content is provided by real meat and meat meals. These are Deboned Turkey, Turkey Meal, and Chicken Meal. Each of these contains the essential amino acids needed to build and maintain muscle in dogs.
Also, meat meals are excellent sources of glucosamine and chondroitin. This mainly has a good effect on the joints.
The product contains complex carbohydrates such as Lentils, Peas, and Dried Ground Potatoes. So this diet is especially ideal for dogs whose stomachs are sensitive to grains. But of course, I recommend this Wellness product in all other cases as well.
The main sources of fat are Chicken Fat and Flaxseed. These give the recipe a maximally balanced omega fatty acid profile. This is important so that you can be sure that the health of your dog's skin and coat, as well as his brain, will be maximized.
And the added vegetables, fruits, vitamins, and minerals are guaranteed to underpin the functioning of every canine's immune system.
---
Young dogs have completely different nutritional needs than adults. Therefore, you need to find the best among puppy foods. You don't have to research any more as this member of my list will be a perfect fit for you.
This Wellness Puppy Formula contains everything a growing young dog may need. The main protein sources are Deboned Turkey, Chicken Meal, Salmon Meal, and Menhaden Fish Meal. So you can see that there will be no problem with the amino acids needed for growth at all.
Also, fish meals contain omega fatty acids as well as glucosamine and chondroitin. The former is responsible for skin and coat, the latter for joint health and mobility.
The product contains grains, but you don't have to be afraid of that. If your dog is not sensitive to them, then wholesome complex grains are the best possible carbs.
Oatmeal, Barley, Ground Brown Rice, and Oats not only energize your pup but also contain a lot of fiber, vitamins, and minerals.
The product has a relatively high-fat content of 19% given by Chicken Fat and Salmon Oil. This is not only healthy but makes the recipe irresistibly delicious for puppies.
With this Wellness product, you don't have to worry about your dog's health either. Ingredients include fresh fruits, vegetables, vitamins, minerals, amino acids, and prebiotics. The latter contributes greatly to your dog's digestion and, with it, to your overall health.
---
Key features:
The first 5 ingredients are Deboned Chicken, Chicken Meal, Brown Rice, Barley, Oatmeal

Contains Calcium, phosphorus, and essential vitamins

Features glucosamine and chondroitin for joint health

Free of corn, wheat, soy, and by-product meals

Features vitamins, chelated minerals, and antioxidants
After puppy food, we also need to think about their Pomeranians. Senior dogs' metabolism slows down, which is why they need fewer calories. Because of this, senior formulas have a low fat and carbohydrate content and a higher fiber content.
Plus, it would help if you support the joints of old dogs. Ingredients containing glucosamine and chondroitin are best for this. You will soon see that the Blue Buffalo Life Protection Formula Small Breed Senior Chicken & Brown Rice Recipe meets these conditions to the maximum.
The main protein sources are Deboned Chicken and Chicken Meal. They contain all the necessary amino acids needed to maintain the muscle mass of old dogs. The meal contains the valuable glucosamine and chondroitin mentioned above.
The product contains carbohydrate sources such as Brown Rice, Barley, Oatmeal, Peas, and Pea Starch. They are very digestible, complex, and nutritious ingredients. Also, they have a high fiber content, which favors the bodyweight of older Poms. Incidentally, the formula also contains added fibers, such as Pea Fiber, Alfalfa Meal.
This dry dog ​​food is not very high in fat. It has fat sources like Flaxseed and Chicken Fat. This makes the recipe really tasty and healthy as well as rich in omega fatty acids.
And that's not all. The added vitamins and minerals ensure the proper functioning of the senior Pomeranian immune system. Highly recommended product!
---
Key features:
The first 5 ingredients are Venison, Lamb Meal, Garbanzo Beans, Peas, Lentils

Formulated for small breeds

Contains added vitamins and powerful antioxidants from real fruits and vegetables

Features omega-3 and omega-6 fatty acids

Free of grains, corn, wheat, filler, and artificial ingredients
I really like Taste of the Wild because their dog food is affordable yet, premium quality. This small breed formula provides maximum nutrition for all toy breed dogs. Therefore, it is a perfect choice if you have a Pomeranian.
The protein content of the product is 32%, which is outstanding among dry dog ​​food. The main protein sources are extraordinary: Venison and Lamb Meal are red meats that are very nutritious and do not cause sensitivities or allergic reactions.
There is also Pea Protein among the ingredients, which, although not considered a high-quality protein, is an excellent addition to the meats listed above.
Garbanzo Beans, Peas, and Lentils are legumes that provide slowly absorbed carbohydrates, fiber, and other beneficial nutrients.
The fat source in the recipe is mainly Canola Oil, which is vegetable oil with a high omega fatty acid content. You don't have to worry; the real meat content of the product also gives your Pomeranians animal fats.
If you choose this Taste of the Wild product, your dog's immune system will also be properly supported. This is mainly due to the added fruits, vegetables, vitamins, minerals, and prebiotics.
---
If you want the best for your little Pomeranian, be sure to consider Merrick Lil 'Plates Grain-Free dog food. It does not contain grains, so it was developed for small breed pups with a susceptible stomach.
Ingredients include high-quality protein sources such as Deboned Chicken, Chicken Meal, and Turkey Meal. Not only are these well-digestible poultry, but they also have excellent glucosamine and chondroitin content.
Sweet Potatoes, Potatoes, and Peas are slowly absorbed complex carbohydrates. Also, they contain a lot of fiber, vitamins, and minerals.
We must not forget about omega fatty acids either. This is because they support the health of dogs' brains, skin, and coats. That's why I definitely want to mention Chicken Fat, Flaxseed, and Sunflower Oil as the main sources of fat. They not only make the recipe tasty but also healthy for your Pom.
The added vitamins, minerals, and probiotics perfectly underpin the functioning of any canine's immune system.
---
I really like The Honest Kitchen brand products as they are all human-grade food. Besides, the ingredients in this product preserve all nutrients in dehydrated form. So let's see what protein, carbs, and fat sources are in the recipe.
The main source of protein is Beef, which is extremely tasty and nutritious meat. There will certainly be no problem with your pup getting all the essential amino acids.
The carbohydrate sources are Oats, Barles, and Potatoes. They are complex, wholesome, and nutritious ingredients, rich in fiber, vitamins, and minerals.
The product will be really balanced due to the added fruits, vegetables, vitamins, and minerals. From the above, it is obvious that you should consider this recipe for your Pomeranian.
---
This product of Blue Buffalo is suitable to provide the Pomeranians with all the necessary nutrients. The main protein sources are Deboned Chicken and Chicken Meal.
Chicken is of outstanding quality and easily digestible meat, which is also very tasty. The meal also contains glucosamine and chondroitin, which is good news for Your pup's joints. Also, we find Menhaden Fish Meal among the ingredients, which is very beneficial for your dog's skin and coat due to its omega 3 content.
The carbohydrate sources are Brown Rice, Oatmeal, and Barley, which are complex and wholesome grains. They are also well digestible, nutritious, and their fiber content contributes to your dog's perfect digestion.
Chicken Fat and Flaxseed make the diet balanced as their omega 3, and 6 content is very beneficial for dogs.
There are plenty of other great sources of nutrients in this recipe. But the most important are the added vegetables, fruits, vitamins, and minerals. This is because they have an excellent effect on the health of your dog's overalls. And prebiotics improves digestion.
So you can see that you might want to consider this Blue Buffalo dry dog ​​food.
---
I really like Purina dog foods. All recipes (mainly from the Pro Plan product line) have been developed with veterinarians and other experts. It's no different with the dry dog ​​food currently reviewed. While I'm not happy with all of the ingredients, overall, it's a good quality recipe. Let's see the details:
The main source of protein is chicken, which is, of course, excellent quality meat. It helps to build and maintain muscle, plus it is easily digestible.
Another source of protein is Poultry By-product Meal. Well, that's not considered a premium quality ingredient. But in this case, I disregard that, as it is not the main source of protein.
However, since this Poultry By-product Meal is unnamed, you need to make sure your dog is not allergic to any poultry. This is because the exact quality and origin of unnamed ingredients are uncontrollable.
The main source of carbohydrates is Rice. It is a complex and wholesome grain, full of vitamins, fiber, and minerals.
Other carbohydrate sources can also be found, such as Corn or Wheat. The latter can cause problems with gluten, so make sure your dog is not allergic to it.
The added vitamins and minerals make the recipe really complete and balanced. Thanks to this, you can be sure that your dog is getting a healthy diet.
---
This dry dog ​​food contains amazing ingredients! The main protein sources are Duck Meal, Turkey Meal, and Salmon Meal. They maximally support muscle building; their glucosamine and chondroitin content contribute to Pomeranian joints' support.
The recipe is nutritious and contains valuable ingredients such as Dried Kelp, Dried Tomato, Almonds, Dried Chicory Root, Dried carrots, and Dried Apple. They contain plenty of vitamins and minerals that contribute to the functioning of your dog's immune system. And the added prebiotics support perfect digestion.
This product is highly recommended!
---
Last but not least, the tenth member on my list is a Nature's Recipe product. Based on the ingredients, you can clearly see why I recommend this dry dog ​​food.
Ingredients include protein sources such as Chicken and Chicken Meal. You have already read in several places in my article how valuable these meats are. Not only are their nutrients, but their digestibility is excellent.
This grain-free recipe contains ideal carbohydrate sources for dogs with sensitive stomachs. These include Garbanzo Beans, Peas, Pea Starch, Sweet Potatoes, and Pumpkin.
Not only is Poultry Fat delicious, but it also contains plenty of omega 3 and 6 fatty acids, supporting dogs' skin and coat.
And what's also important: the added vitamins and minerals make this product a really healthy alternative.
---
Finding the best diet for your dog is not easy. You have to consider several aspects, e.g., activity, breed, age, health condition, etc. If you want to make the best decision possible, check out my comprehensive guide on how to choose the best dog food.
What to consider when choosing the best dog food for Pomeranians?
Finding the best dog food is not an easy task. Especially if you want a recipe for a specific breed, we must first and foremost know the basic nutritional needs of these dogs. I'll detail these below, plus, there are other aspects you should pay attention to.
High-quality protein sources
Proteins are the most important ingredients for any dog. They help build and maintain lean muscle mass, and other tissues, help with regeneration, and are involved in many other bodily processes. A low protein diet can cause very severe malnutrition.
AAFCO guidelines say that the minimum acceptable amount of protein is 18%. I suggest a larger amount. Because Pomeranians have tiny stomachs, they can't eat much at once. For this reason, a food with a minimum of 20-25% protein may be a good idea for them.
Not only quantity is important but also quality. Dogs are omnivores, meaning they can digest plant food as well. Nevertheless, the most natural and healthiest ingredients are animal resources for them.
Plant proteins do not contain adequate amounts of essential amino acids and are more difficult to digest for dogs.
Choose dog food whose first ingredient is real meat or meat meal. The latter is a ground-up and dehydrated version that also contains the cartilage of the animals. Therefore, it is an equally good source of nutrients and even contains glucosamine and chondroitin. These two compounds play a critical role in maintaining joint health.
The best animal proteins are real meats (chicken, turkey, lamb, beef, fish), meat meals, internal organs, or eggs.
Fats
Fats are necessary for dogs in several ways. They are very good sources of energy, help with vitamin absorption, and their fatty acid content is essential for overall health. In addition, they can make the food quite tasty.
Omega 3 and 6 fatty acids have good effects on skin, coat, and brain health. Plus, they have an anti-inflammatory effect. Both animal and vegetable ingredients contain fats. However, like proteins, here you should prefer animal sources. The best options are chicken fat or fish oil.
Carbs
Carbohydrates are not vital for Pomeranians. However, it would be best if you did not even avoid them from your dog's diet. After all, these ingredients can contain many useful nutrients. Examples are vitamins, minerals, or fiber.
The most common issue with dog food and carbohydrates is the grain-inclusive or grain-free diet. Well, whole grains are extremely valuable sources of nutrients. A good choice is a brown rice, oatmeal, or barley.
However, if your dog is allergic to grains, you may want to prefer grain-free diets. These include carbohydrate sources such as potatoes, sweet potatoes, beans, lentils, peas, or other legumes.
Vitamins, minerals, and other micronutrients
If you want to provide a balanced diet for your Pom, you definitely need to consider different micronutrients. Vitamins, minerals, and antioxidants support dogs' immune systems, skin and coat, eyes, and essentially their overall health.
The best sources of vitamins, minerals, and antioxidants are fresh fruits and vegetables. Therefore, you should look for dog food brands that include these nutritious plants in their recipes.
However, in many cases, this is not necessarily enough; therefore, many manufacturers add vitamin and mineral supplements to their recipes. These are mostly developed with the help of veterinarians and nutritionists.
You should know that contrary to beliefs, these are not "bad vitamins". They can be just as valuable in your dog's diet as vitamins from natural sources. You can safely give recipes containing these to your Pomeranian.
You probably hear a lot about the term "chelated" when it comes to minerals. Chelated minerals bind more efficiently to dog food proteins. This will greatly facilitate absorption, and the result will positively affect the health of your pooch.
Probiotics
Probiotics are beneficial bacteria that make digestion and nutrient absorption more efficient. This will make your dog healthier. There is so-called prebiotics that creates the right environment in the gut to grow these bacteria. So it would be best if you were looking for dog food that contains probiotics or prebiotics.
Allergies
By definition, you should look for dog food that does not contain an ingredient to which Pom may be allergic. Dog food allergies can develop in all breeds, and you may want to rule out the possibility of this with the help of a veterinarian. Only then can you choose food for your dog with complete safety.
Kibble size
Small dogs, such as Pomeranians, need small kibbles. This is because they can easily chew on such dry dog ​​food. Moreover, even these small size kibbles are useful for removing and preventing plaque and tartar.
Pomeranians dietary requirements
The packaging of dog food usually contains various macronutrients expressed as a percentage. These are protein, fat, and fiber. (Unfortunately, manufacturers are not required to indicate the carbohydrate content on the packaging.)
All ages have an ideal nutritional need that you should follow. An excellent guide for this is the AAFCO nutrient profile, which shows the minimum levels of these nutrients.
These are: puppies need 22% protein, 8% fat, and 5% fiber. Adult dogs need 18% protein, 5% fat, and 5% fiber. And senior dogs need 18% protein, 5% fat, and 5% fiber. Protein and fat may be higher for all three age groups.
Diet Related health conditions in Pomeranians dogs
Overall, Pomeranians can be considered healthy dogs. However, there are health conditions that can threaten them as well. One of my main principles is that with the help of proper nutrition, we are able to establish the health of our dogs. Below, I have collected health issues related to nutrition in some way and are often specific to Pomeranians.
Obesity
If you've ever had a dog, you know for sure: these animals love to eat. For small dogs, this can be dangerous in several ways. Because of their small stomachs, they don't know how much food is right for them. You have to determine and control this every day.
Excessive caloric intake can lead to overweight or obesity in the long run. This is not only aesthetically negative but also health. This is because excess body fat (as in humans) can cause additional problems in dogs. Prevent your Pomeranian from becoming obese.
Dental problems
Different dental problems can develop in all breeds but are even more common in small dogs. That's why you need to pay attention to treating your Pom's teeth. Tartar and plaque formation is quite common in these dogs.
In turn, these conditions can be exacerbated and cause inflammation of the gums and gums. Take due care of your dog's dental hygiene. Regular brushing can work wonders. And if you notice any of the above problems in your Pomeranian, contact your veterinarian immediately.
Hypoglycemia
Hypoglycemia means dangerously low blood sugar levels. Small, agile, and active dogs are prone to this condition. Because of this, it can also occur in your Pomeranian.
And what causes this?
One of the primary sources of energy is glycogen, which is a stored form of glucose. When glycogen is depleted, the body usually begins to use fat as energy.
But because small dogs tend to have low fat reserves, hypoglycemia can often occur. Symptoms include drowsiness, weakness, disorientation, or lethargy. More severe cases can even lead to loss of consciousness.
The solution is to incorporate complex carbohydrates into your Pom diet. These are slowly absorbed and distribute glucose evenly into the dogs 'blood. Hypoglycemia is more common in puppies.
Joint and bone problems
Joint and bone problems are more common in large dogs. However, unfortunately, the Pomeranians are also prone to it. The danger is even greater when it comes to senior Pomeranians.
One of the most common such conditions is patellar luxation. This is a displacement of the patella and most commonly occurs at the rear legs. Symptoms include lameness and weak leg muscles.
With proper diet and exercise, you can avoid this unpleasant condition. But I also recommend that you also consult your veterinarian about possible treatments.
Another common problem is Legg-Calve-Perthes disease. This causes atrophy of the leg muscle and degeneration of the femur at the same time. This condition, which occurs mainly in puppies, can be successfully treated surgically.
Eye problems
There are some eye problems that Pomeranians are prone to. Most of these are hereditary, but with proper nutrition and a vitamin-rich diet, we can do a lot for the health of our dog's eyes.
One of the most common conditions is cataracts. This is especially a threat to older Poms. The lens of the eye becomes blurred, and this interferes with vision. While this sounds very serious, it is nonetheless an easy surgical procedure.
Another common problem is Entropion. This is a very unpleasant condition that is a kind of deformation of the eyelid and causes severe irritation. It can be treated surgically.
Skin problems
Certain skin problems are quite common in Pomeranians. One of the most common of these is dermatitis. This condition can cause dry, itchy skin and possibly hair loss.
The most common causes of skin problems are various food or environmental allergies. So, in this case, the most important thing is to eliminate the ingredients that are causing the problem from your dog's diet or life.
Hypothyroidism
Low thyroid hormone production in dogs causes many health problems (e.g., weight gain, hair loss, skin problems, joint problems). This is Hypothyroidism. Your veterinarian can use certain blood tests to make an accurate diagnosis. Treatment is usually hormone replacement, but a proper diet can also greatly alleviate your dog's condition.
Ingredients to look for in the best dog food for Pomeranians
One of the most important aspects of Pomeranian nutritional requirements is the selection of the right ingredients. Fortunately, all commercial dog food manufacturers tend to list ingredients on their products in detail. So all you have to do is watch the packaging.
Let's see what the ingredients that should not be left out of your dog's diet are:
Real meat and meat meals: As I mentioned, animal resources are the best and healthiest possible for dogs. The best of these are real meats and meat meals. It is best if these ingredients are listed in the first place on the packaging. From here, you can know that there are many of them, and your pup will get the essential amino acids you need.

Complex carbs: There are plenty of healthy carbohydrate alternatives. Complex wholesome grains are always a good choice. If your dog has a sensitive stomach, choose other complex carbohydrates such as legumes, potatoes, and sweet potatoes.

Fats: Fats are an important part of the Pomeranian diet. Omega 3 and omega 6 fatty acids are vital for the proper functioning of the body. The best sources of fat are fish and animal meat. Some products contain vegetable oils (e.g., sunflower oil, canola oil). They are not as good quality as animal sources but can properly balance the fatty acid profile of a recipe.

Other ingredients: A recipe can be really balanced if it contains useful nutrients like vitamins, minerals, or antioxidants. These can be fresh fruits, vegetables and can be added to dog food as a supplement. The best fruits are a variety of berries or apples. Nutritious vegetables are kale, broccoli, or spinach.
Ingredients to avoid in your Pomeranian's diet
As you can see from my list, every dog ​​food is different. Of course, I tried to collect the best possible quality products for you. The ingredients mainly determine the quality of recipes. There are good quality and cheap dog food. However, in general, if a manufacturer uses cheap ingredients, the end product will also be of low quality. Avoid the worst dog food brands and the worst dog treats.
Below I list the ingredients that are commonly found in poor-quality recipes.
By-products: By-products are generally declared unfit for human consumption. This is no wonder, as they contain parts of animals such as the eyes, lungs, intestines, teeth, nails, and so on. If you don't eat these either, why would you give these parts of the animal to your dog? The situation is even worse when the by-products are unnamed. (E.g., not chicken by-product but meat by-product). This is because you may be feeding your dog with an animal that causes allergic reactions. No wonder foods containing meat by-products often cause digestive problems in dogs. Choose a dog food that has real meat or meat meal.

Cheap fillers: The only real purpose of fillers is to reduce manufacturing costs. Dogs feel fuller from these ingredients. However, fillers have a shallow nutrient content, so dog food containing them can be considered low quality. Common fillers are corn (especially bran), oat and soy hulls, wheat mill run, or rice bran.

Artificial ingredients: Artificial preservatives, colorings, flavor enhancers are inexpensive ways for manufacturers to make their food more attractive. However, if you think about it more, it doesn't make much sense. Your dog won't care about the packaging or the color of the food. The flavor enhancer is also unnecessary, as there is no tastier ingredient for canines than real meat. Of the artificial ingredients, BHA is a proven carcinogen. Incidentally, the compounds listed above also often cause digestive problems. So it's best to avoid artificial additives in your dog's diet.
How much food do Pomeranian dogs need?
Pomeranians are very small-bodied dogs. This means they don't need too much food.
However, their energy levels and activity can be high, so you may want to adjust the amount of food your dog needs accordingly. I think it's also clear to you that a low-activity Pom needs fewer nutrients than a high-activity one. I suggest you exercise your dog daily. It can be a walking, running, jogging, or playing session.
Another important consideration is the age of your dog. Puppies need the most food and calories to grow. Puppy formulas are therefore high in protein, fat, and calories. Adult Pomeranians need fewer calories, but they also need relatively high amounts of protein to maintain muscle mass. Senior dogs need the fewest calories. Their metabolism is slower. Therefore, senior formulas are low in fat, low in carbohydrates, high in fiber, and high in protein.
And what does that mean in numbers? Pomeranian puppies need about 55 calories per pound of body weight. This figure is 40 for adult Poms and 30-40 for seniors.
So it follows from the above that your Pomeranian body weight also determines his or her daily caloric intake.
An average Pomeranian will eat about 1/2 cup of food in one day. This may be slightly more or less due to the above considerations. Monitor your dog's caloric intake and weight regularly. Talk to your veterinarian about the ideal weight of your Pomeranian.
Feeding Frequency for Pomeranians
Of course, it's not enough to know your dog's daily calories. You need to know how many meals you need to divide that amount of calories into during the day.
Puppies have tiny stomachs, but they need a lot of calories. For this reason, 3-4 meals a day is ideal for them. For puppies between the ages of 6 and 12 months, this number is 2-3 per day.
After the age of one, the Pomeranians' growth stops, and they become "adults." In this case, 1-2 meals a day are enough for them. Your appetite, individual habits, and activity level will determine whether your adult Pom needs 1 or 2 meals a day.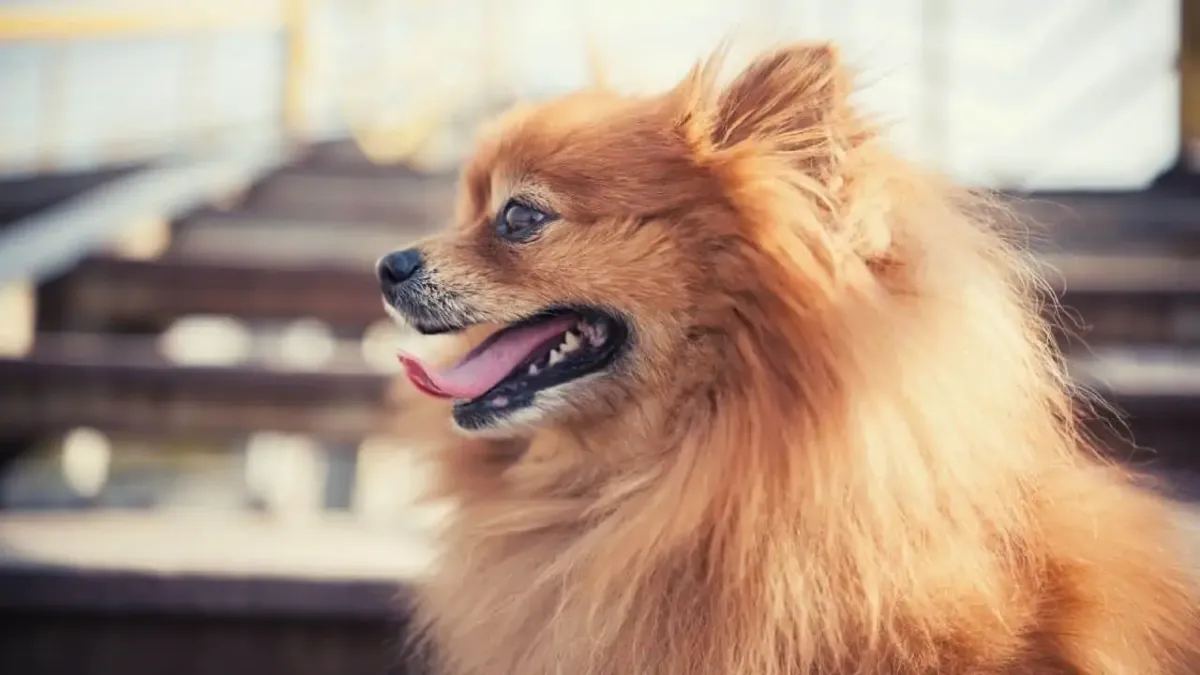 Frequently asked questions
After reading my detailed article, you must have learned quite a lot about the Pomeranian diet. However, below are some more questions that may still arise in you.
What should I not give my Pomeranian?
There are human foods you should not give to any dog. These include chocolates, grapes, raisins, avocados, garlic, macadamia nuts, and foods containing xylitol. Of course, try to avoid these from your Pomeranian diet as well.
What should Pomeranians eat?
In all cases, strive to provide your Pomeranian with the best possible quality dog ​​food. Such dog food contains real meat or meat meal, good quality wholesome and complex carbohydrates, and omega fatty acids.
What is the average serving size for Pomeranians?
The serving size for Pomeranians may vary from dog to dog. Your Pom's weight, age, and activity are all important factors. However, it can basically be said that the average serving size for these dogs is between 1/2 and 3/4 cup. Make sure the dog food you choose is of the best possible quality. Talk to your veterinarian about the exact calorie intake and also follow the recommendations on the package.
Is Egg Good for Pomeranians?
Eggs are one of the best sources of protein as their biological value is extremely high. For this reason, it is very good if your Pomeranian's diet also includes this ingredient. However, make sure that the main protein source for the dog food you choose is real meat or a meat meal. You should also know that there are dogs that are sensitive or allergic to eggs.
Can Pomeranians eat bread?
Bread and the ingredients in it are not a problem for dogs. The situation is quite different, of course, if your Pomeranian is allergic to wheat. Make sure the bread is only a small part of your dog's diet so you can maintain balance. Never give your Pom raw bread dough as it can cause severe poisoning as well as bloat. Both can be fatal.
Can Pomeranians eat bananas?
Bananas are extremely healthy and safe fruit for dogs. Therefore, your Pomeranian can eat them too. However, you need to limit their amount to some level due to the high sugar content.
How long can a Pomeranian go without eating?
According to observations, a healthy dog ​​can withstand food for at least 5 days if sufficient water is available. Of course, I do not suggest you try this on your Pomeranian.
Can a Pomeranian drink milk?
A lot of dogs suffer from lactose intolerance. Since lactose is found in all dairy products, including milk, I do not recommend that your Pomeranian diet contain such ingredients.
Is yogurt good for Pomeranians?
Yogurt is not necessarily unhealthy for Pomeranians. However, you should be aware that all dairy products have lactose content, which causes intolerance in many dogs. If this is also the case with your Pom, then of course avoid this ingredient in his diet.
Why is my Pomeranian always hungry?
It is natural for a dog to be enthusiastic about food. This is one of the main signs of health. However, it is also possible that your Pomeranian is taking in too few calories. Monitor his weight and consult your veterinarian about optimal weight and calories.
Why does my Pomeranian not eat?
Loss of appetite can be a symptom of many other diseases. Examples include poisoning, stress, anxiety, infections, or dental problems. The underlying disease can even be serious, so be sure to see your veterinarian if your Pomeranian is not eating.
Is wet or dry food better for Pomeranians?
Wet as well as dry dog ​​food has its pros and cons. Most dogs generally prefer wet foods. However, these foods are more expensive, have a shorter shelf life, and do not clean your dog's teeth. Dry food is easier to store, has a longer shelf life, and has a good effect on your Pomeranian-d teeth. If your dog has no appetite and does not want dry food, moisten it a little. The best for this purpose is a small bone broth. But you can also mix wet and dry food.
Is homemade dog food good for Pomeranians?
Homemade dog food has numerous benefits. The most important of these is quality control. With commercial dog food, you can never be 100% sure what you are giving your pooch. If you cook for your Pomeranians, you can choose the ingredients that can be really nutritious. Of course, you have to be very careful about that. Homemade dog food is easy to spoil. I highly recommend that you research the subject properly and seek the opinion of an animal nutrition expert.
Can a Pomeranian eat rice?
Rice is extremely good quality and nutritious grain that can be safely consumed by dogs. Having rice (especially brown rice) in Pomeranian dog food is always good.
My final verdict
You may have seen that it is quite easy for the Pomeranians to find the right diet if we know a little more about this breed. Most importantly, your chosen dog food should contain complete, natural, and nutritious sources of macronutrients, vitamins, minerals, antioxidants, and fiber.
Each member of the list in my article is a recipe that I strongly recommend for your Pom. My personal favorite is the Wellness CORE Grain-Free Small Breed Turkey & Chicken Recipe. This product contains everything these dogs need and does not contain any harmful ingredients.
Of course, if you have an older or younger dog, check out the senior or puppy formulas in my article.
---
---