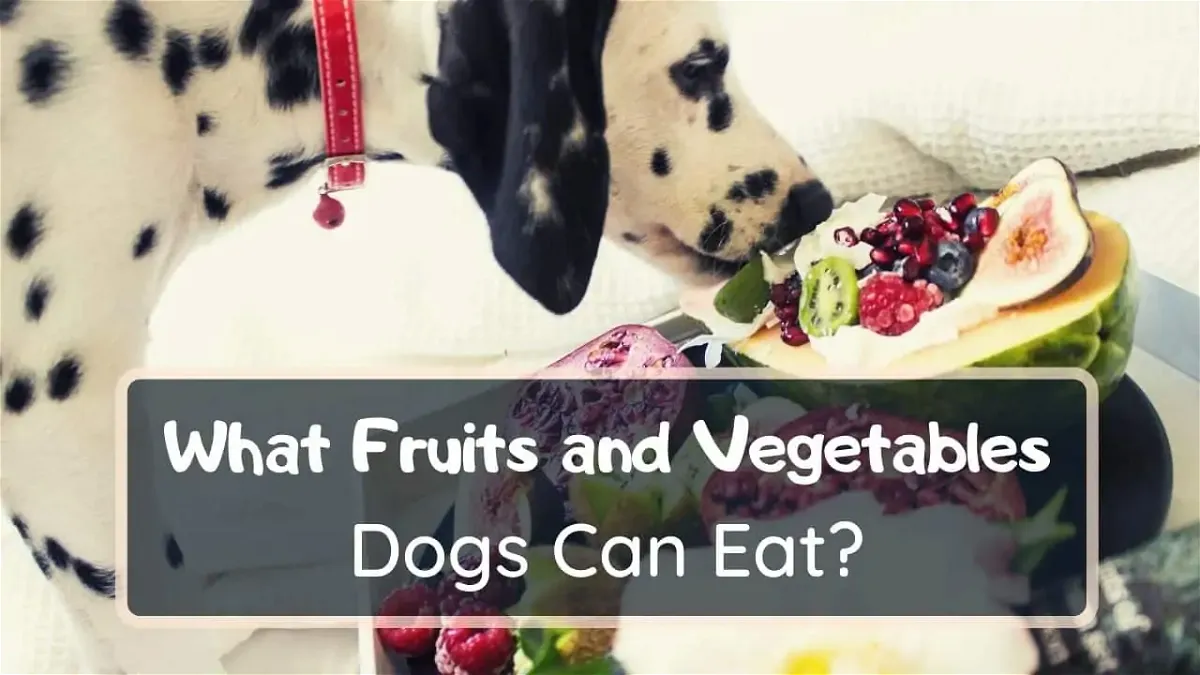 Check out my fully updated guide about the best and worst fruits for your dog in 2022.
It is completely understandable and even expected that we want the best for our dogs. Pet care is a crucial topic for me, and the most important part of that is proper nutrition. I guess it's not unfamiliar to you fact that vegetables and fruits are very beneficial for dogs.
However, some harmful alternatives are worth avoiding. I want you not to be confused, so I've put together a detailed list for you where you can find the best vegetables and fruits dogs can eat. I will also include the harmful options.
Let's get started!
Safe and healthy fruits for your dog
Can dogs eat fruit? Yes, because this can have many benefits in your canine's diet. Below you will find alternatives that you can confidently give to your pup. I will also mention the malicious versions later. Fruits will be in alphabetical order, making it easier for you to search.
Please read the reviews of the fruits on the list carefully. This is because some fruits have dangerous parts (seeds, pits, green parts, etc.) that can cause various health issues in dogs. In general, the flesh of the following fruits can be considered safe.
Apples
In addition, they contain antioxidants such as quercetin. This can help alleviate allergic reactions and has an additional beneficial effect on intestinal health.
And yes, the rumor is true. Apple peel is a concentrated source of nutrients. Therefore, you should leave it on this valuable fruit if you give it to your dog.
Some advise that apple core and seeds are worth removing. Well, apple seeds contain cyanide, but the amount is practically negligible. However, if it reassures you, feel free to give your puppy apples without seeds.
---
Apricots
However, it would be best to avoid the pit, leaves, and stem of the fruit. Not only can they pose a choking hazard, but they are even toxic due to their cyanide content.
---
Bananas
However, bananas are high in sugar and starch. This can create a favorable environment for bad gut bacteria, candidiasis, and yeasts.
So if your pet is prone to yeast infection, then bananas are not the best choice.
The situation is similar if your dog is obese. In this case, although you don't have to eliminate this fruit from your pup's diet, you do have to pay attention to the amounts.
The banana peels are non-toxic but don't give them to your pooch because of the danger of bowel obstructions.
---
Blackberries
These nutrients are great for helping your dog have a healthy immune and intestinal system.
---
Blueberries
This not only strengthens your pooch's immune system but is also effective in preventing cancer, cell, and tissue damage. Be sure to consider this fruit as a treat.
---
Cantaloupe
However, you need to be careful with the sugar content of cantaloupe. Sugar promotes the growth of yeast bacteria and can be harmful to diabetic dogs. In small quantities, however, this fruit is a great treat.
---
Cherries
---
Cranberries
Besides, it is effective in treating urinary tract infections. The only problem with this precious fruit is that not all dogs love its tartness.
---
Cucumbers
And antioxidants and polyphenols help prevent cell damage and cancer.
As with many other fruits and vegetables, cucumber peel is very nutritious, so be sure to leave it on when you serve some of this veggie for your dog.
In the ordinary sense, cucumber is considered a vegetable. However, it is worth noting that this plant botanically belongs to the fruits.
---
Dates
However, small amounts of this fruit may also be a suitable treat.
---
Kiwi
Also, kiwi has a good effect on the skin health and digestion of dogs.
---
Mango
However, do not give the hard pit to your dog under any circumstances. On the one hand, because of the cyanide content, on the other hand, what is even more dangerous is the choking hazard.
Not all dogs can digest mango peel properly, so it's best to give the flesh to your pup.
Due to its high sugar content, this fruit should only be an occasional treat.
---
Oranges
Only give orange flesh to your dog because the peel is difficult to digest and can cause obstructions.
---
Other citrus fruits
Avoid large amounts because citrus essential oils can cause problems in the digestive system of dogs.
---
Peaches
However, pits are also a danger with this fruit. This is because of their high cyanide content and because they can cause suffocation or bowel obstructions. There is no problem with the flesh of the fruit along with the peel. Avoid canned versions due to high sugar content.
---
Pears
Like apples, pear seeds contain cyanide but in negligible amounts. However, if you wish, you can remove them before giving your dog this fruit as a treat.
---
Pineapple
Give pineapple to your dog the same way you would eat this delicious fruit. Without skin and crown, and you should also cut it into little pieces.
---
Plums
Not only do they pose a choking hazard, but they also contain cyanide. The flesh of the fruit is considered safe.
---
Raspberries
However, you should know that they contain a tiny amount of natural xylitol. This sweetener is extremely toxic to dogs. Raspberries don't have much of this compound, but for safety's sake, don't give too much of this fruit to your dog.
---
Strawberries
Strawberries have a higher sugar content than other berries. For this reason, we only give them moderated amounts to obese or diabetic dogs.
---
Tomatoes
So avoid unripe tomatoes as well as green parts of tomatoes from your dog's diet. Incidentally, this fruit in its ripe form is full of antioxidants, vitamins, and fiber.
---
Watermelon
Watermelon rinds and seeds can cause intestinal blockage, so you should only give the flesh to your canine companion.
---
Best vegetables for dogs
So what vegetables dogs can eat? Now come the alternatives that are not only safe but very healthy for canines. You can feel free to give these to your pup as a treat.
Bell peppers
The point here is the moderated amount because, in some dogs, this low-calorie vegetable can cause stomach issues.
---
Broccoli
However, you should know that it contains isothiocyanates. Some dogs may be sensitive to this compound, and there is a risk of gastric irritation. For this reason, give moderate amounts of broccoli to your dog and not regularly.
---
Brussels Sprouts
---
Cabbage
---
Carrots
I think these are enough reasons to feed your dog this wonderful vegetable.
---
Cauliflower
However, in larger quantities, this effect may be just the opposite. Therefore, please give it to your dog in small amounts, without the stem and leaves.
---
Celery
If all that wasn't enough, it also provides fresh breath for your doggy.
---
Green beans
However, keep them plain. Avoid oil, spices, or salt during preparation. Choose low-salt or salt-free versions from the canned version.
Lettuce
Peas
Fresh and frozen peas are also good choices. For the canned version, you need to pay attention to the sodium content. There are several peas, such as snow peas, sugar snap peas, garden peas, and English peas. All of these can be considered safe and healthy for pets.
---
Potatoes
---
Pumpkin
---
Spinach
However, please do not give your pet large amounts because of the oxalic acid in it. This can lead to kidney problems in the long run with high intake. Of course, sometimes a few servings of spinach can't hurt your pup.
---
Sweet potatoes
---
Zucchini
---
Dangerous fruits for dogs
As you can see, the list of safe and healthy fruits is long enough. The health benefits of these are invaluable. However, there are fruits that you better avoid from your dog's diet. You can read about these below:
Avocados
The pit and peel of this fruit contain plenty of persin. Its flesh contains less, though not worth the risk. The point is if you want to turbocharge your furry friend's nutrition with some plant, don't have avocado as your first idea.
---
Coconut
However, you should know that 50% of these MCT oils are lauric acid, which does not have a very good effect on dogs' health (and people). Besides, 80% of coconut oil is saturated fat, which in large quantities can cause many health problems. These are confirmed by quite recent research.
I recently wrote a detailed article about coconut oil and dogs; I highly recommend that you read it.
---
Figs
Experts say a maximum of one or two eye figs a dog should consume per week. My advice is that since this is a fairly questionable fruit, look for another alternative.
---
Fruit pits, seeds, and stones
---
Grapes and raisins
---
Unripe tomatoes
---
Unbeneficial vegetables for dogs
As with fruits, there are vegetables that you should not give to your dog. These are listed below:
Asparagus
However, if you want to add extra fiber to your dog's diet, there are much, much better vegetables for it.
---
Garlic
---
Mushrooms
It is better to choose some other vegetable for your doggies, such as carrots or green beans.
---
Onions
---
Rhubarb
---
Useful tips about giving fruits and vegetables to your dog
So now you know which fruits and veggies you should give your dog. Here are some helpful tips to make plant-eating even safer for your four-legged friend.
Introduce new fruits or veggies slowly and gradually: The digestive system of dogs favors consistency. Whatever dietary change is made, it must happen slowly and gradually. If there is anything new in your dog's diet, monitor for any changes.
Only one at a time: Maybe certain fruits or vegetables are safe for dogs; you may not know how your pup will react to novelty. Therefore, try only one type at a time. This makes it much easier to eliminate problematic fruits or vegetables from the diet.
Avoid large amounts: Remember, fruits are high in sugar and/or starch. Therefore, they can give up to 10% of your dog's diet. You don't have to be so strict on vegetables, but high fiber content can be a problem for some dogs. A solution for this can be a gradual increase and continuous monitoring.
Strive for fresh or frozen form: This is because these forms have the highest nutritional value of fruits and vegetables. It would help if you also looked for organic products as they are not contaminated with toxins dangerous to dogs.
Dogs can eat fruits and vegetables
So can your dog eat fruits and vegetables? As you've seen, fruits and vegetables can be great supplements to a dog's diet. Vitamins, minerals, antioxidants, and fiber are key to supporting the immune system and digestion. However, there are questionable and downright dangerous alternatives that you need to know exactly. I am confident that my article has helped you decide which fruits or vegetables you can give your dog as a healthy treat.
Remember, if your pet has any unusual symptoms, see a veterinarian right away!
And if you're curious about human food that's safe and unsafe for dogs, read my article on that too.
---
---