If you don't want to read the full article I can reveal my choices:
I chose Purina Pro Plan SPORT Formula as the best dog food for hunting dogs. And the best hunting dog food for puppies is Purina Pro Plan Dry Puppy Food.
But you might want to read the full article because I included some useful tips and information.
Hunting dogs are special animals with special needs. Nor should their diet match that of other dogs. From my article, you can learn what to look out for when feeding such dogs. As you can also find out which are the best dog food for hunting dogs on the market. There will also be other useful information that I hope you will enjoy.
Let's start!
Product table for the best adult hunting dog foods
Product table for the best Hunting puppy foods
What is High-Performance dog food?
High-performance foods were developed for working and very active dogs. These animals need a lot of energy because they have to be active during the day, several times a week.
These foods have more fat and protein than carbohydrates. This diet not only provides the right energy. It also supports muscle retention and buildup and also reduces recovery time.
Nutritionists, veterinarians, scientists, and other experts help prepare these foods.
These formulations usually also contain omega oils, vitamins, and minerals. These ingredients support health, joints, and bones.
Keep in mind that normal dog food is unlikely to support the regeneration of your hunting dog. However, you cannot give normal dogs performance dog food. That's because they can become obese. 
My choices for High performance foods for hunting dogs
Adults and puppies need different dog food. Because of this, I took my usual dog food advisor section in two parts. Let's look at foods for adults first!
Hunting dog foods for adults
This dog food has 30% protein and 20% fat. It's all from good quality chicken. Purina Sport Formula was developed for athletic dogs. In addition to the usual nutrients, it contains amino acids, antioxidants, and omega-3 fatty acids. Also recommended for young and old dogs.
This formula has a positive effect on oxygen metabolism due to its high protein and fat content. This way, your hunting dog will last longer in the field.
By the way, this food is not only excellent in composition but quite affordable. You can buy that in several packages.
Pros
Great for hunting dogs
Variety of packages
Omega-3 fatty acids
Helps oxygen metabolism
Suitable for dogs of all ages
Affordable
Cons
Not suitable for dogs with chicken sensitivity
---
Blue's food are grain free, so sensitive dogs can consume it with confidence. Like other high-performance best dog foods, this food also contains vitamins, minerals, and phosphorus. And Omega fatty acids contain DHA, which helps with cognitive and retinal function.
It also contains Omega-6, which is responsible for the shiny coat. Be aware that some dogs may be sensitive to chicken and other poultry.
Pros
High protein content
Grain-free
No corn, soy, and additives
Supports the immune system
Available in many sizes
Cons
Not suitable for dogs with chicken sensitivity
---
There are plenty of useful and important ingredients in this dog's food. The joints of athletic dogs are supported by the Glucosamine and Chondroitin in it.
In addition, prebiotics and probiotics were added and its carbohydrate source is also gluten-free. That's why this product is also excellent for dogs with sensitive stomachs, gluten-sensitive, or digestive problems.
If all that weren't enough, Victor Purpose also contains yeast and minerals. This helps with regeneration and the immune system, among other things.
It's available in several packages.
Pros
Different sources of protein
Excellent for active dogs
Prebiotics and probiotics
Affordable
Gluten-free
Joint support with Glucosamine and Chondroitin
Cons
Not the best for dogs with chicken sensitivity
---
Protein sources are beef, pork, and fish. Carbohydrate sources are gluten-free grains, so gluten-sensitive dogs can also consume this product.
Incidentally, Glucosamine and Chondroitin and pre and probiotics mentioned in the previous product can also be found in this Victor food.
Pros
Great for dogs with sensitivities
Three sources for protein (no chicken)
Supports joint
Three different packs
Vitamins and minerals
Cons
---
In addition to high-quality protein, it also contains vitamins, minerals, and wholesome vegetables and fruits. And healthy fatty acids and antioxidants support the immune system and make the skin and fur beautiful.
This product does not contain any harmful or unnecessary ingredients. So it does not contain wheat, corn, grain, soy, artificial flavors, colors, fillers, and preservatives.
Pros
High quality protein source
Vitamins and minerals
Healthy fatty acids
Antioxidants
No wheat, corn, grains, soy etc
Contains veggies and fruits
Cons
---
Hunting dog foods for puppies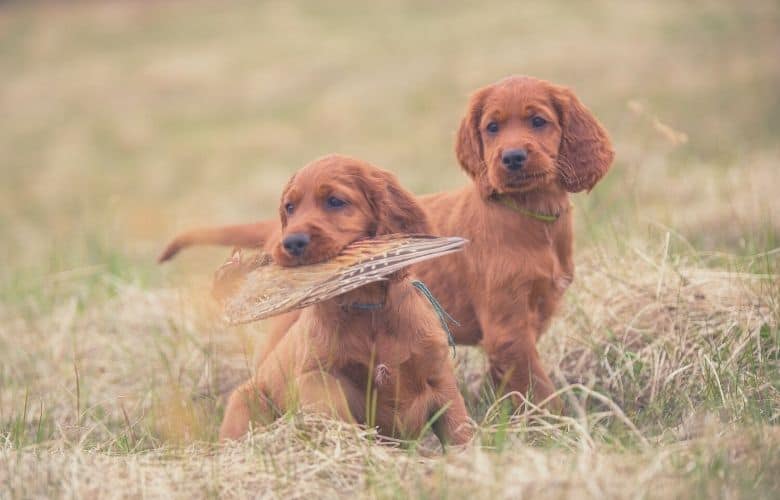 Due fish oil, it contains omega-3 fatty acids. It also contains vitamins and minerals. All things are necessary for the development of the puppy. In addition, it is balanced and easy to digest.
The product does not contain flavors, preservatives, colors, or other artificial ingredients. In addition to high-quality protein, it also contains fruits and vegetables such as carrots, cranberries, apples, or broccoli.
Although the recipe is not grain-free, it does not contain much grains.
Pros
High quality
Two kibble sizes
Omega-3
Easy to digest
Vitamins, minerals and antioxidants
Cons
Not suitable for puppies with chicken and grains sensitivity
---
Calcium and phosphorus help in the development of bones. And antioxidants and vitamins support the immune system. The protein source of the product is lamb, which supplies your young puppy with the right amount of protein and fat. This helps in growing and building energy and endurance.
Digestibility is also a good side to this food. Your puppy is sure to get the digestible nutrients he needs.
Pros
Affordable
High-quality protein source
Phosphorus and calcium
Omega-3
Digestible
Cons
---
It has a particularly high protein content of 33%, sourced from beef, pork, chicken, and fish. It also contains good quality carbohydrates and vegetables such as sweet potatoes, peas, and tomatoes. The product is grain-free.
The product has a feeding chart that you should follow while feeding.
Pros
For adults and puppies
High protein content
Great carbohydrate sources
Grain-free
Cons
Kibble size can be too big for smaller breeds
---
My picks
First of all, if I had a hunting dog who has no sensitivity, I would be happy to give him all the food on the list. Because every dish I choose is excellent. However, the most likable high-performance dog food for hunting adults is the Purina Pro Plan SPORT Formula.
You can purchase it here.
Puppies for puppies are also all very good. My favorite from the list is Purina Pro Plan Dry Puppy Food.
You can check it here.
---
What types of hunting dogs are there
Hunting dogs are practically the most active breeds. In addition to hunting, their activities also include various extreme sports such as trekking, climbing, running after animals, and so on. Below we look at exactly what types of hounds there are.
Terriers
These dogs are small but extremely energetic. They are most often used when hunting smaller animals. Examples include squirrels, rabbits, foxes, and birds. But they are also very effective for backyard rodents.
Gun dogs
These are larger breeds than terriers. They are usually used to scare animals to be hunted and to retrieve shot game. These dogs include, for example, Labrador Retrievers, Springer Spaniels, or Golden Retrievers.
Hounds
These dogs have very good senses and are persistent with a lot of stamina. Their sense of smell is excellent, which is why they can sniff out the animals you want to hunt from afar. The most common hounds are Coonhounds, Bloodhounds, or Redbone Hounds.
What are the nutritional needs of hunting dogs?
As I mentioned, the activity of hunting dogs can be much higher than that of other dogs. Because of this, these breeds may have different nutrient needs.
Calories
Due to the increased activity, these dogs need more calories. Of course, it also depends on exactly how many times you went hunting with your puppy.
It is best if the food you choose is rich in nutrients and dense in terms of calories. This way, your canine can get extra energy by consuming the same amount. Most hunting dog food has a chart to help you feed your hound.
Fat
Fat has a much higher caloric content than other macronutrients. Therefore, it can adequately supply hunting dogs with energy and provide them with sufficient endurance. However, the fat content should only be high if your dog is really moving a lot. If you rarely go hunting, choose food with lower fat content.
Carbohydrates
Carbohydrates are also important and should not be left out of a balanced diet. You should make sure that the sources are digestible. Examples are sweet potatoes or brown rice. These nutrients do not raise your dog's blood sugar levels unnecessarily and are well digestible.
Protein
Protein is an essential nutrient for all dogs. And even more important for hunting dogs. After all, in order to maintain high activity and muscle mass, dogs need to consume enough protein. Choose good quality protein sources like chicken, lamb, or fish.
Water
Hydration is important for all living things. High activity hunting dogs need a lot of water. When you go hunting, always have enough water with you. Some dogs do not want to drink enough. The best way for them is to put more water in their bone broth. This will ensure proper fluid intake.
Vitamins, minerals and other micronutrients
A dog with an active lifestyle needs healthy micronutrients. Make sure you buy the best dog ​​food that contains vitamins, minerals, and other beneficial ingredients.
Which are the Best hunting dog foods?
Which are the Best hunting dog foods for puppies?
Other things to consider when talking about nutrients for hunting dogs
Calorie requirements depend on the level of activity: If you have a hunting breed, that doesn't necessarily mean extra calories. First and foremost, consult your veterinarian on this topic. If you only hunt with your dog sometimes, he won't need a lot of calories.

Spaying and neutering affect the calorie needs too: This procedure can also affect how many calories your dog needs. It is best to consult your veterinarian about this as well.

More fat, fewer carbohydrates, and protein: Hunting dogs need to be provided with energy with fat than other dogs. Prefer carbohydrates that are slowly absorbed and easily digestible.

Meal once a day: Hunting dogs perform better on an empty stomach. If you feed your puppy after strenuous exercise, you can be sure that all the nutrients will be absorbed.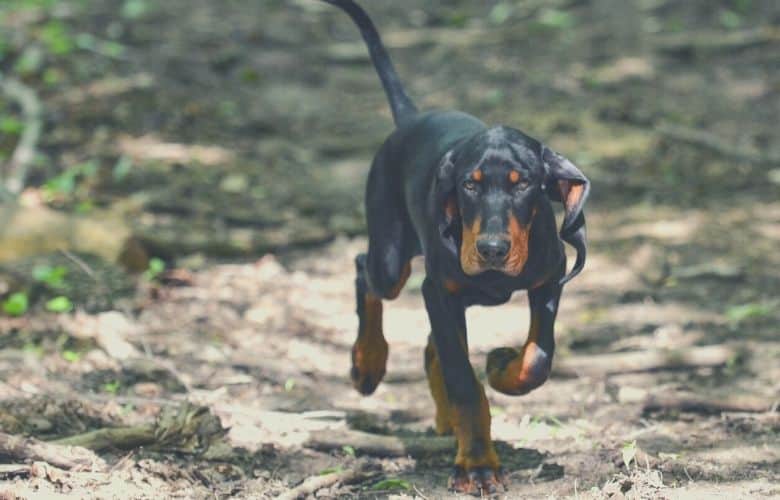 Buyer's guide to hunting dog food
Of course, each canine is different and may come with different needs and tastes. However, there are a few things you should definitely keep in mind when feeding your hunting dogs. Below you can read a buying guide on this.
Avoid by-products: You should always avoid these. If there are such ingredients in your food, it will certainly not contain the right nutrients for your dog. However, the protein quality of these foods will not be good either and they usually contain bone.

Avoid fillers and grains and preservatives: Grains aren't necessarily bad, but make sure there are whole grains in the food. Do not choose food for your dog that contains gluten, corn, or processed ingredients. The same goes for preservatives. Examples are ethoxyquin, BHT and BHA.

Choose products with complete nutrition: You should strive for the best possible quality of food. If the product of your choice is approved by the Association of American Feed Control Officials then you are on the right way.
Hunting dog food types: Canned or Wet food?
It is up to you to answer this question. You have to decide which one is better for you and your dog's needs. There most difference between the two types is the water content. So if you choose dry food, be sure to provide the right amount of water.
The other important difference between the two is storage. Canned food is both more expensive and more difficult to store. After opening, it is worth consuming or putting in the refrigerator.
Dry food is easier to store and you can buy it in bulk. So you can make a more cost-effective purchase in the long run.
In terms of protein, dry food is usually a better choice. Of course not in all cases, but usually these foods have more protein content.
Avoid wet foods with unnecessary additives and fillers.
Are there common health problems in hunting dogs?
Hunting dogs are basically very healthy because of their active lifestyle. Although there are problems that can occur with these breeds at times. Of course, these problems can be prevented and treated with the right diet.
Digestive issues
Dog breeds with deep, narrow chest can have a condition called bloat. These breeds are, for example, Irish Setters. This disease is some physical change in the stomach. It can even be fatal.
Proper timing of feeding can help prevent bloat. It is not a good idea to feed these animals less than two hours before the hunt. Choosing food that contains only natural ingredients can also help.
Joint problems
Larger-bodied hunting dogs tend to suffer from this problem. In hip dysplasia, the bones of the hip do not fit together perfectly. This usually causes pain in these dogs. In more severe cases, a degeneration can also occur, which is called arthritis.
These problems are very often hereditary. However, an overly active lifestyle and wear and tear on the joints also contribute to this. Foods that contain glucosamine and chondroitin can help.
Another reason why these diseases can occur is obesity. If your dog is fat, his joints will have to suffer more strain. You need to adjust your pup's calorie intake properly.
Infections
Hunting dogs spend a lot of time outdoors. Here, they can catch diseases and infections for which their body may not be prepared. Such are tick-borne infections such as lyme disease.
Foods developed for them help strengthen their immune system. Sufficient protein content, fiber, and antioxidants are very useful.
Frequently asked questions about high-performance dog foods for hunting dogs
Is higher protein dog food better?

In general, it is not the quantity of protein that matters, but its quality. Make sure the protein in your food comes from the right source. Digestibility is also important. The best food should not contain any by-product meat. By the way, of course, the amount of protein also matters, as with an active lifestyle, it is not good for your dog to have a low protein intake.

Should Hunting dogs eat grain-free diet?

Since grains are usually put into food as fillers, I say yes. Grains have no advantages, but they can have disadvantages. Examples are upset stomach, bloating, and even allergic reactions. Obviously there are dogs who have no problem with grains. However, if you want to be sure, choose grain-free products.

When should I feed my hunting dog?

The most perfect timing is the end of the hunting or training session. Food and nutrients will thus be utilized in much greater proportions. Studies have shown that these animals perform much better on an empty stomach. Studies have also shown that they gain energy from fat during exercise.

What do you feed your hunting dog?

The best dog food for hunting dogs is high in fat and protein. Of course, they should also contain carbohydrates, but in smaller amounts than average products.

How many times a day should you feed a hunting dog?

Once you have plenty enough to feed them one day. It is best to time it so that their stomachs are completely empty during the hunt.
---
You might also like