This is my detailed guide about the best dog foods for allergies in 2022.
If we want to be responsible pet owners, it is our duty to provide the best possible diet for our little friends. This is exponentially true in the case of dog food allergies.
This condition has many unpleasant symptoms, and the only solution is to eliminate the problematic ingredients from your dog's diet.
I spent a lot of time finding the ideal dog food brands for you. You will find a list of tens in my article, my favorite being the Wellness Simple Limited Ingredient Diet.
I hope that by the end of my article you will be able to make the right decision and know more about this crucial topic.
Let's start!
10 best dog foods for allergies
Below I have collected the best recipes for you for this condition. There will also be limited ingredient diets, hypoallergenic dog food, and dog foods that contain novel protein. It is essential that you discuss with your vet your dog's diet. Another critical note is that the change in dog food should be gradual.
Key features:
The first 5 ingredients are Deboned Turkey, Turkey Meal, Potatoes, Peas, Dried Ground Potatoes

Contains a single source of protein and easily digestible carbohydrates

Features fatty acids, antioxidants, glucosamine, probiotics, and taurine

Free of wheat, corn, soy, gluten, or artificial preservatives, colors, or flavors

Made in the USA
It is no coincidence that the Wellness Simple Limited Ingredient Diet is at the top of my list. Every recipe in this product line contains one source of protein and few sources of carbohydrates. This favors dogs with sensitive stomachs. Let's look at the ingredients in detail:
Turkey and Turkey Meal are an excellent protein source that provides all the necessary amino acids for your dog. Also, turkey is considered a novel protein, as it is not the most common animal protein in dog food and causes fewer allergic reactions than chicken or beef.
So if your pup loves chicken flavor or other poultry but has a problem with chicken, then this dog food is a great choice. Turkey Meal also contains parts of the animal's cartilage, making it an excellent glucosamine and chondroitin source.
Potatoes and Peas give carbohydrates. They are nutritious ingredients rich in fiber, vitamins, and minerals. That is, this recipe is grain-free, so grains-sensitive canines can also consume it.
The fats are provided by Flaxseed and Canola Oil. This provides a well-balanced omega fatty acid profile. This has an excellent effect on skin and coat problems.
The product also contains supplements such as probiotics, vitamins, minerals, and amino acids. With this, you can promote your dog's digestion, immune system, and overall health.
---
If your dog wants some variety, be sure to consider the Canidae Pure product line. This recipe is also a grain-free limited ingredient diet, making it especially ideal for dogs with sensitive stomachs.
It contains sources of protein such as Salmon, Salmon Meal, and Menhaden Fish Meal. Fish is known to be an excellent source of omega-3, which is a great anti-inflammatory and has a good effect on the health of the skin and coat of dogs. Besides, fish is less allergenic than poultry or beef.
The carb sources are Sweet Potatoes, Peas, and Potatoes. Each is very nutritious, with lots of fiber to support your dog's digestion.
Additional fats are contained in Canola Oil, making the proportion of omega fatty acids even more balanced.
The product is grain-free and contains no gluten, soy, corn, wheat, fillers, or artificial additives. In turn, it contains added supplements such as various vitamins (B, E, C, A, etc.), minerals (Iron, Zinc, Copper, etc.), and prebiotics.
The latter maximally supports the health and efficiency of the digestive system. Overall, this is a very healthy and tasty recipe you should consider.
---
The Taste of the Wild product contains everything your dog may need. Plus, it's delicious and nutritious.
It contains novel proteins like Salmon, Ocean Fish Meal, and Salmon Meal. These are very well digestible sources of protein and rarely cause allergic reactions. Their omega 3 fatty acid content supports dogs' coats and skin and has an anti-inflammatory effect.
The product is grain-free and contains carbohydrate sources such as Sweet Potatoes, Potatoes, Peas, and Lentils. These plants support the health of your dog with dietary fiber, vitamins, and other useful nutrients.
Canola Oil provides additional fat, which is also an excellent source of energy and omega fatty acids.
Dogs prone to allergies must have maximum support for their digestive system. This is ensured by various prebiotics that creates a favorable environment for beneficial bacteria in the gut.
The product, however, contains plenty of added vitamins and minerals that guarantee an invincible, immune system for your pooch.
---
This Brothers product contains Turkey, Meal, and Eggs as the main protein sources. Not only do they contain all the essential amino acids, but they are well digestible. Also, they are less likely to cause allergic reactions than chicken or beef.
Tapioca provides carbohydrates. This is an excellent grain-free alternative if your dog may be sensitive to potatoes. In addition to these, we find Peas rich in vitamins and minerals and contain fiber.
The product also contains a source of omega-3 fats, namely dried algae. Omega fatty acids are an excellent anti-inflammatory and are also quite effective in treating skin allergies.
But that's not all. Brothers dry dog ​​food contains ingredients that maximize digestibility. These include probiotics and digestive enzymes. Digestibility is key if we want to avoid dog food allergies, so this product is very positive.
The added vitamins and minerals promote the overall health of our dog.
---
This formula was developed for small breeds. This is most visible in the kibble size. So if you have a dog like this, be sure to consider the Nulo product.
It is a limited ingredient diet that contains a single type of protein source. And this is turkey. It is an animal protein that rarely causes allergic reactions, is easily digestible, and is an excellent amino acid source.
Chickpeas, Sweet Potatoes, and Lima Beans are nutritious carbohydrates sources that are good alternatives for dogs allergic to grains or potatoes.
The product also provides healthy fats. Canola Oil and Salmon Oil result in a perfect omega fatty acid profile, good news for dogs with skin allergies and coat problems.
And prebiotics has a beneficial effect on the growth of beneficial gut bacteria. This will make digestion more efficient, making your dog healthier as well. The added vitamins and minerals are also included in this recipe for overall health.
---
Key features:
The first 5 ingredients are Deboned Salmon, Chicken Meal, Peas, Pea Protein, Menhaden Fish Meal

Helps build and maintain lean muscle mass

Contains omega-3 and -6 fatty acids

Features antioxidants, vitamins, and minerals

Free of by-product meals, corn, wheat, soy, artificial flavors, and preservatives
In the case of allergies, the quality of the proteins is an important aspect. That's why I consider this dry dog ​​food appropriate.
It contains quality protein sources like Deboned Salmon and Chicken Meal. The former is an excellent source of omega-3. The latter is worth paying attention to because chicken is a relatively common allergen. However, if your dog has no problem with this meat, this recipe is a perfect choice.
The product is grain-free, and the main sources of carbohydrates are Peas and Tapioca Starch. Not only are they well digestible and rich in nutrients, but their fiber content supports your dog's digestive system. As well as the additional added fiber source (Tomato Pomace, Flaxseed, etc.).
Developed by Blue Buffalo, LifeSource Bits add plenty of vitamins, minerals, and antioxidants to your diet to maximize support for your immune system. Similar is the purpose of prebiotics, which promote the growth of beneficial bacteria in the gut.
If you are looking for a high protein dog food with premium ingredients for dogs with food allergies, be sure to consider this Blue Wilderness formula.
I have a definitive review article about the Blue Wilderness product line. Check it out!
---
Key features:
The first 5 ingredients are Deboned Turkey, Potatoes, Turkey Meal, Pea Starch, Peas

Supports healthy digestion

A limited-ingredient diet dog food with essential proteins and carbohydrates

Free of chicken, beef, corn, wheat, soy, dairy, and eggs

Contains vitamins, minerals, and antioxidants
This is another Blue Buffalo recipe, but this time from the Basics product line. These products contain limited ingredient dog foods, with a single meat protein source, and few other ingredients.
Turkey is excellent meat that is not only digestible but also nutritious.
The main source of carbohydrates is Potatoes, but Pea Starch, Peas, and Tapioca Starch are also. They are all gentle on the stomach, but they contain many vitamins, minerals, fiber, and other nutrients.
In addition to Canola Oil, Fish Oil provides fats. It is an excellent source of omega-3 fatty acids that support your dog's skin and coat's health.
Like the previous product, Blue Basics Dry Dog Food also contains added vitamins, minerals, fiber sources, and prebiotics. Highly recommended product!
---
Duck meat is a novel protein that very rarely causes allergic reactions in dogs. Plus, it's poultry meat that every canine loves. This is mainly why I recommend this dry dog ​​food from Lucy.
Carbohydrate sources are Potatoes and Sweet Potatoes, which prove to be excellent sources of gluten-free energy. Also, their vitamin and mineral content is ideal.
The fat content of the product is given by Duck Fat, Flaxseed, and Fish Oil. This way, you can be sure that your pup gets all the omega fatty acids you need. It does help a lot with skin allergies and coat problems, which are common allergy symptoms.
And like all premium-quality dog ​​food, it also contains plenty of vitamins, minerals, and antioxidants.
---
Key features:
The first 5 ingredients are Deboned Salmon, Salmon Meal, Sweet Potatoes, Potatoes, Peas

Provides amino acids, vitamins, and minerals

Ideal for dogs with food sensitivities or allergies

Free of grains, corn, soy, wheat, dairy, eggs, artificial colors, preservatives, and flavors

Supports healthy digestion
As I mentioned, in the case of food allergies, one of the best ideas is to reduce the number of ingredients. This makes it much easier to filter out problematic plant or animal protein sources.
Merrick is an extraordinary brand that produces plenty of premium-quality pet food. The protein source of this limited ingredient dog food is Salmon. It is highly digestible and does not cause allergies or sensitivities in your dog. Also, it contains omega-3 fatty acids, which have a good effect on allergy-induced skin problems.
Sweet Potatoes, Potatoes, and Peas are grain-free and gluten-free carbohydrate sources that contribute to proper digestion and overall health with their fiber and nutrient content.
This dry dog ​​food also contains other beneficial ingredients. These include added vitamins and minerals that promote your dog's immune system.
---
Key features:
The first 5 ingredients are Corn Starch, Hydrolyzed Soy Protein Isolate, Canola Oil, Coconut Oil, Dicalcium Phosphate

Developed with the help of nutritionists, researchers, and veterinarians

Features hydrolyzed protein

Contains a single high-quality meat protein source and a single carbohydrate source

Highly digestible
The main cause of food allergies is that proteins are absorbed in a whole form in the intestines. The solution is hydrolysis, which breaks down proteins into smaller parts.
This formula contains hydrolyzed soy protein. Obviously, this is not the ideal source of protein for an average dog. However, if your pooch is allergic to almost any meat, this recipe is definitely worth trying.
The carbohydrate source is Corn Starch, which can be good because, unlike whole corn, it doesn't contain protein, so it's not allergenic either.
However, this recipe is full of useful ingredients that have been put together with the help of veterinarians and other experts. This is a prescription diet, meaning you will need your own veterinarian's permission to make the purchase.
---
Finding the best diet for your dog is not easy. You have to consider several aspects, e.g., activity, breed, age, health condition, etc. If you want to make the best decision possible, check out my comprehensive guide on how to choose the best dog food.
What is a food allergy and how common is it in dogs?
Dog food allergy is a serious health condition in which certain proteins in food trigger immune reactions. This can have several symptoms, such as on the skin, ears, or digestive system.
Food allergies can be inherited, so a dog whose parents are allergic will most likely suffer from this condition.
The time of exposure to the triggering proteins is crucial. After exposure, an immune response develops, releasing various substances into the dog's body, such as histamine. Essentially, it causes a variety of allergic symptoms.
This can easily be confused with intolerance, as it also has similar digestive symptoms. According to some experts, about 10% of dogs experience some form of food allergy in their lifetime.
The difference between dog food allergy and intolerance
It's important to recognize that your four-legged friend has a food intolerance or food allergy. This is how the treatment can be really effective.
As I mentioned, in a dog food allergy, the immune system responds to proteins. This is because certain whole proteins are not digested properly and will not become amino acids.
The immune system does not respond to amino acids, but it is activated when these whole proteins are absorbed in the small intestine.
In case of intolerance, it is simply that the dog's digestive system is unable to digest some food or any of its ingredients. A common example of this is lactose intolerance, when a dog cannot tolerate lactose in dairy products due to a lack of the enzyme lactase.
Intolerance and allergies have similar digestive symptoms. However, food allergy allergies can also cause other symptoms in dogs, such as skin allergies. Usually, both conditions are resolved by excluding the food or ingredient in question from your puppy's diet.
Signs and symptoms of food allergies in dogs
Of course, like any medical condition, dog food allergies also have symptoms. These are the following:
Itchy skin
Itchy ears
Itchy eyes
Hives
Skin irritation
Excessive licking or scratching
Swelling of the eyes, ears, mouth, or ears
Sneezing
Runny eyes
Ear infections
Diarrhea
Vomiting
Gassiness
Shortness of breath
As you can see, you can encounter quite various symptoms as a pet owner when it comes to food allergies.
You also need to know that the symptoms are similar to the symptoms of other diseases in many cases. An example is an intolerance.
But skin symptoms can also mean environmental or contact allergies. The easiest way to filter this out is to examine seasonality. If your dog only has skin problems during certain seasons (spring, summer), it is probably not a food allergy but an environmental allergy.
Anyway, you should also consult your vet because he or she will be much better able to help you make an accurate diagnosis.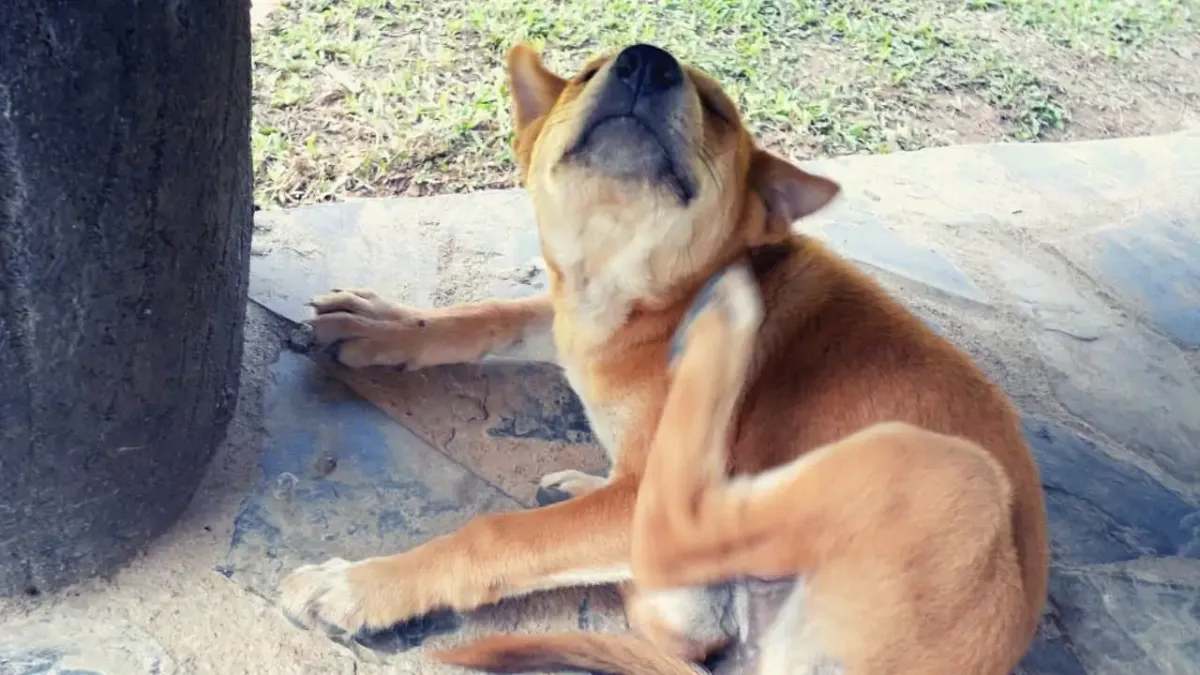 Most common ingredients that trigger food allergies in dogs
Because proteins trigger allergies, anything can be a potential allergen that has a protein content.
The most common allergens are meat (beef, chicken, lamb), dairy products (milk, cheese), and other animal sources (eggs). But the same occurs in high-protein grains (wheat, corn), legumes (beans, peas, lentils), various vegetables (potatoes), and fruits (papaya).
Below you can see a pie chart I made based on data from BMC Veterinary Research. This percentage shows common allergens.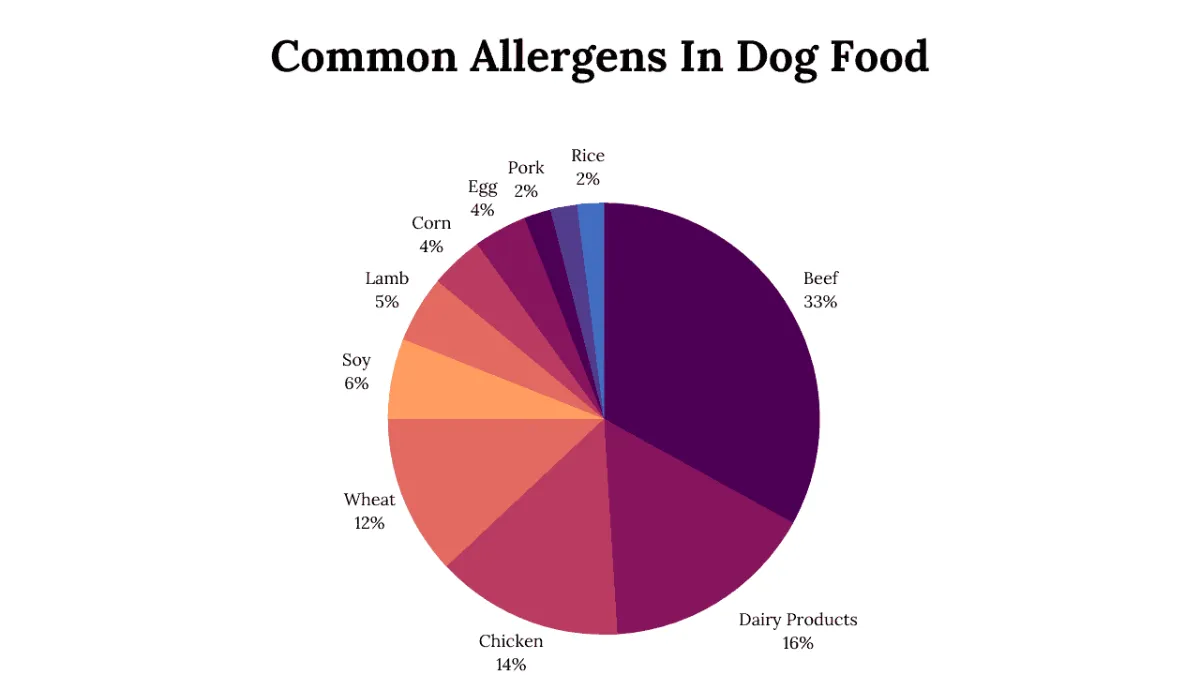 And here you can see an infographic I also made, in which I included other allergens in addition to those mentioned so far.
How to find out which ingredients my dog ​​is allergic to?
If you experience symptoms of a food allergy in your dog, you should consult a vet immediately. This is because it is critical to find the ingredient (or ingredients) that behave as triggering allergens.
There are blood tests that, while not very effective, are becoming increasingly popular.
Another method is the patch test, in which different proteins are applied to the dog's skin using a patch. If skin problems occur after a certain period of time, the test is considered positive. This method is more effective than a blood test, but it is also not the most reliable.
Your veterinarian will probably recommend an elimination diet first. The bottom line is that you need to switch your dog's food to a prescription diet, hypoallergenic, or a limited ingredient diet. I will write about these in more detail later.
This new diet should last for a minimum of 8 weeks and be very strict. Don't give your dog treats and human food. The goal is to find out if the previous dog food caused the complaints.
If allergy problems have disappeared due to the new diet, your vet may determine the next step.
He will likely ask you to switch back to your dog's diet in such a case. If symptoms reappear, it can be stated with absolute certainty that the previous product contains a problematic ingredient.
What to consider when choosing the best dog food for allergies?
You probably already know by now that the most effective way to treat a dog food allergy is to eliminate the triggers from your diet. Of course, this is not always easy. After all, common allergens (such as beef or chicken) are prevalent protein sources in dog food.
The following is a list of dog food breeds that may come into play during treatment and diet changes.
Limited Ingredient Dog Foods
Limited ingredient dog foods contain one source of protein and usually also one source of carbohydrates. The huge advantage of this is that there is less chance of allergen proteins being present. Plus, if you have a problem, you'll most likely know which ingredient your dog is allergic to.
For example, if a limited ingredient diet contains turkey and your dog develops allergy symptoms, you will know that the next product should not contain turkey.
Dog foods with novel proteins
Novel proteins are uncommon animal sources. This avoids frequent exposure. Examples of such animal protein sources are duck, venison, and salmon. In many cases, carbohydrate sources are also unusual in these products. Such is the case with sweet potatoes.
Grain-free dog food
Because grain-allergies are common, it may be warranted to introduce a grain-free diet in your dog. They are also gluten-free. However, I would like to note that this diet should only be introduced to your dog if he is allergic to corn, wheat, or other grains.
Hypoallergenic Dog Food
Allergic reactions are caused by the proteins not being broken down into amino acids and are absorbed in a whole form. In hydrolyzed dog food, proteins are broken down into the smallest building blocks (amino acids). Thus, the immune system does not activate when they are consumed.
Prescription Dog Food
In case of severe allergic reactions, your veterinarian may recommend a prescription diet. This can be an effective method as these products have been developed specifically for this purpose. These diets are complete and balanced while relieving your dog of allergic symptoms.
Other considerations
There are a few more things to consider.
One of these is dairy products. Plenty of dogs have lactose intolerance. This can further develop into an allergy. My advice is that it is better to avoid dairy products.
Different cheap fillers are also worth avoiding. These include corn, husk, soy, and so on. Fillers add nothing to the nutritional value of dog food. Moreover, in many cases, they also play a role in developing sensitivity, intolerance, or allergy. You better avoid them.
Take your dog's elimination diet seriously. Be strict and really only use dog food recommended by your doctor. Whichever option you choose above, always look at the label.
Look for the "complete and balanced" label and the AAFCO statement on the package. This will guarantee your pup a proper nutrient-rich diet and avoid possible malnutrition.
Frequently asked questions
You must have questions left. I wrote a detailed article on dog food allergy, from there you can learn a lot of other useful information. However, here are some more common questions:
Are there dog breeds that are prone to food allergies?
There is no scientific evidence that certain breeds are more prone to allergies. Some breeders may have observations. However, this is more related to poor breeding methods. This is because food allergies can be inherited.
How should I choose the best food for my allergic dog?
In many cases, you will have to try for a while to find the best food. The most important thing is to consult your vet. Try food that contains new ingredients for your dog. Good choices are limited ingredient diets, dog foods with novel proteins, and hypoallergenic dog foods. If the product has few ingredients, it is easier to filter out problematic animal protein sources or carbohydrates.
Are pet foods for allergies expensive?
Basically, in all price categories, you can find products that may be suitable for your allergic dog. However, you should be aware that a meager price also means low quality in many cases. It is best to try to provide your dog with a diet that meets his needs.
Which is the best animal protein for allergic dogs?
It might be a good idea to start with an animal protein that your dog hasn't tried before. Good choices include so-called novel proteins such as duck, venison, bison, kangaroo, or salmon.
What is the best hypoallergenic dog food?
I chose Wellness Simple Limited Ingredient Diet as the best food for dogs with allergies.
What foods to avoid for dogs with allergies?
It is impossible to predict in advance which source of protein or carbohydrate a dog will be sensitive to or allergic to. Common allergens include beef, dairy, chicken, wheat, and soy.
What are the most common allergies in dogs?
Essentially, dogs can have the same allergies as humans. This includes food allergies and environmental allergies (inhalation allergy, contact allergy). Environmental allergies are usually seasonal, meaning symptoms do not occur throughout the year. Allergy symptoms can be varied, such as skin problems or indigestion.
How common are food allergies in dogs?
Environmental allergies and food intolerances are more common in dogs than food allergies. It is important to see your vet after you notice the symptoms in your dog. It is important that he makes the diagnosis and discuss the optimal treatment.
Do probiotics help my dog with food allergies?
Probiotics do not necessarily help your dog's allergies directly. In turn, by creating the right environment, they help and strengthen the digestive system. This can reduce the severity of the allergy symptoms.
What about homemade dog food for allergies?
The point is that the food contains ingredients that do not trigger allergic reactions in your dog. With homemade dog food, you have more control. But commercial dog food is developed by experts, paying attention to the nutritional needs of dogs.
Can dogs be allergic to chicken?
Do high-protein diets trigger allergies?
There is no evidence that dogs are more prone to allergies due to a high protein diet. However, it may be a good idea for a dog with a sensitive stomach to reduce protein intake.
Are natural home remedies good for dog food allergies?
Some herbs can be effective for gastrointestinal symptoms, such as thyme. For skin problems, nourishing creams and extracts are good (e.g., aloe vera). Of course, talk to your vet before trying any of these home remedies for dog food allergies.
My final verdict
I really hope my article helped you find the best dog food for allergies. This is a critical topic as your dog's quality of life is greatly impaired by such a medical condition.
I have compiled my list so that it does not contain common allergens. Therefore, whichever is sympathetic to you, you will probably make a good decision.
My favorite is the Wellness Simple Limited Ingredient Diet Grain-Free Turkey & Potato Formula. This is because it contains meat and carbohydrates that are popular with dogs. The ingredients are limited and grain- and gluten-free. I don't think you need more benefits than that.
Be sure to check with your vet to make an accurate diagnosis and plan the necessary treatment steps. In essence, strive to make sure the solution is good for your pup.
---