St. Bernards are very popular dogs. This is due to their kindness, intelligence, and protective properties. They are real family dogs. They look amazing and grow huge. The lifespan of this breed is about 7-10 years. While this may not seem like much, it is perfectly normal for giant dogs. In order to increase the life expectancy of our dogs, we need the best possible dog food. Read on to find out which is the best dog food for St Bernards.
What are the best dog foods for St. Bernards?
I explain the nutritional needs of St. Bernards in detail in my article. The point is that good dog food should contain natural ingredients. The protein must be provided by high-quality animal sources. The food should contain moderated levels of fats and highly digestible carbohydrates. Below you will find my favorites. I collected the best possible dog food not only for adults but also for puppies and senior dogs.
Product table
[wptb id=4742]
You can only say good things about the ingredients. The recipe contains premium animal proteins and easily digestible grain-free carbohydrates. Salmon meal provides protein and omega fatty acids. This will not only allow your dog to easily build and maintain lean muscle mass but will also keep his skin and coat healthy.
In addition, the recipe includes plenty of supplements. Examples include fibers and probiotics that support digestion. Glucosamine and chondroitin are good for the joints.
---
FirstMate Grain-Free Pacific Ocean Fish Meal LID Large-Breed Recipe contains wild herring as the sole source of protein. It provides excellent nutrients for dogs. In addition, the proportion of macronutrients is adequate.
The kibble size is large, making it ideal for large dogs. Chelated minerals promote health and optimal nutrient absorption. The added glucosamine is positive for joint health.
---
The Merrick Grain-Free Chicken & Sweet Potato Large Breed Recipe contains real chicken. Not only is it an excellent source of protein, but it also contains glucosamine and chondroitin. Sweet potatoes and peas are grain-free carbohydrate sources. Thus, a dog with a sensitive stomach or allergies can eat this food.
The recipe also includes fresh vegetables and fruits. This will provide your St. Bernard with the necessary vitamins, minerals, and antioxidants. In addition, L-carnitine helps support metabolism and maintain lean muscle mass.
---
What I like best about this product is that the main ingredient is salmon. The product contains a lot of protein. Omega fatty acids contribute to the health of the skin and coat.
And that's still not all. The recipe includes 16 kinds of fruits and 4 kinds of vegetables. So it's not a question of whether your St. Bernard gets the right amount of vitamins, minerals, and antioxidants. And the added probiotic promotes proper digestion.
---
It is a dog food with limited ingredients. The recipe includes deboned lamb, fries, peas, and tapioca. Lamb is a perfect source of protein, and as you can see, carbohydrates are also grain-free and well-digestible.
It also contains omega fatty acids. This is essential for healthy skin and coat. Fresh fruits and vegetables provide vitamins, minerals, and antioxidants. However, the product is considered affordable in its category.
---
My pick
There are excellent dog foods on the list (and you will find more soon). My favorite is the Taste Of The Wild Sierra Mountain Grain-Free Dry Food. It is one of the best products of a reliable and deservedly popular brand.
Click here to get one from Amazon
Click here to get one from Chewy
---
Three more adult dog foods for St. Bernards
[wptb id=4745]
---
---
---
Best foods for St. Bernard puppies
[wptb id=4747]
---
---
---
Best foods for senior St. Bernards
[wptb id=4748]
---
---
More about St. Bernards' dietary requirements
Whatever breed you choose as your favorite, you may want to check your dietary requirements. St. Bernards are very active dogs, so keep in mind that in addition to the most important nutrients, they should also be provided with exercise. Their caloric requirements are not very high despite their activity.
Like all dogs, St. Bernards need a lot of protein to build and maintain muscle mass. Fat is a concentrated source of energy for them. It is best if the fat and protein also come from animal sources. Excellent examples are meat, poultry, and fish. The body of the dogs was perfectly adapted to digest these. Vegetable fats are worth using if you want to balance omega fatty acids in your dog's diet.
Good quality carbohydrates should not be left out of a St. Bernard dog food either. Namely, they are sources of energy, fiber, and other important nutrients. Whole grains are quite good, but keep in mind that St. Bernards are prone to various allergies and sensitivities that grains cause. In this case, choose vegetables, rice, sweet potatoes, or legumes as a carbohydrate source. Aim for fiber content of around 3-5%.
St. Bernard puppies diet: Puppies should be on a diet of 22% protein and 8% fat. This will support proper growth and the development of the immune system. A large-breed puppy recipe is the best choice to keep the growth of St. Bernard puppies under control and get all the nutrients they need. In addition, various musculoskeletal problems can be avoided.


St. Bernard adults diet: In adult dogs, the percentage of macronutrients should be slightly altered. A full-size St. Bernard dog needs 20-26% protein and 8-12% fat. This ensures proper caloric density. Find a large-breed adult or healthy weight recipe. With such dog food, it is easy to maintain muscle mass and prevent obesity.


St. Bernard seniors diet: As in humans, metabolism in dogs also decreases in old age. You can feed senior St. Bernards with the well-proven healthy weight formula, or look for a large-breed senior recipe.

In addition to the three macronutrients (protein, fat, carbohydrate), you need to think about other nutrients. A good quality dog ​​food for St. Bernards contains glucosamine, chondroitin, calcium, and phosphorus. These support the health of joints, teeth, and bones. Probiotics, vegetables, and fruits are also ingredients worth paying attention to on dog food labels.
Avoid artificial ingredients when choosing a dog food. These have a very bad effect on the health of your Saint Bernard. These include dyes, preservatives, and all kinds of fillers. Soy, corn and by-product meals are also among the ingredients worth avoiding.
Do not feed your dog with human leftovers. Believe me, you don't do St. Bernard good by giving him everything from the table. In the long run, this may not be good for his health.
Common St. Bernards health conditions, and dietary considerations
Overall, St. Bernards are considered healthy and strong dogs. However, there are some health conditions to which they are prone. Some of these are great with a proper diet. Below you can read about these issues and the dietary solutions to them.
Hip Dysplasia: This disease occurs in almost all breeds, especially in large dogs. Therefore, St. Bernards is no exception. In dogs with this, the thighbone and socket in the pelvis do not grow equally. This can even result in pain and lameness. Although hip dysplasia is hereditary, there are a few things we can do for our St. Bernard.

Dog food containing glucosamine and chondroitin promotes joint health. They help maintain the cushioning between the thighbone and the socket. This can also reduce pain and other symptoms. Plus, weight-control foods help prevent obesity and sudden growth in puppies. These two things are extremely important for avoiding stress to the bones and joints.


Weight control: Obesity does not only worsen the symptoms of hip dysplasia. It has a bad effect on the health of joints and bones anyway. Not to mention that a lot of excess weight also comes with a number of other health risks.

Good dog food is dense in nutrients and rich in good quality protein. However, it should not contain a lot of fillers. Pay attention to weight management because it affects the overall quality of life of your St. Bernard dog.


Bloat: At first reading, bloat may seem harmless, but unfortunately, it is not. This problem can even be fatal and occurs mainly in large dogs. The stomach twists and distends. Blood circulation cannot function properly and blood pressure drops greatly.

The most you can do against bloat is to divide your dog's daily food into at least two portions throughout the day. In addition, your dog should avoid strenuous exercise after meals.

Feeding chart of St. Bernards
One of the most important things about feeding is to avoid obesity. The easiest way to do this is to build and maintain lean muscle mass. This is true of most giant breeds anyway.
Of course, you might want to start feeding your St. Bernard puppy with a large-breed puppy dog ​​food. Follow your veterinarian's instructions and the feeding recommendations on the food package. You will need to change the amount of food every few weeks as your dog grows. This is otherwise likely to be indicated on the packaging. Don't overfeed your pup! Overfeeding increases the risk of developing musculoskeletal and joint problems.
It will take about two years for St. Bernards to reach their adult size. At the age of one and a half, check your dog's growth. If it's slowed down, it's time to switch to a large-breed adult recipe. A healthy weight formula is also a good idea, with lean protein and moderated fat.
Your St. Bernard will be a senior at about the age of 5-6. In this case, you will probably need a healthy weight formula to avoid obesity.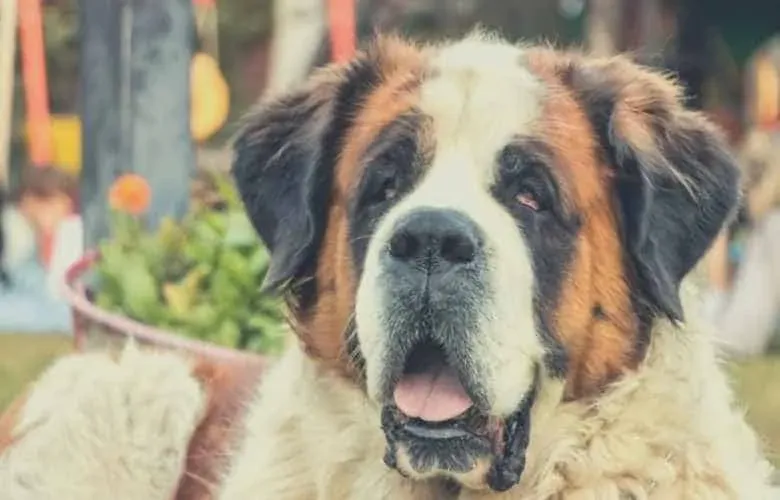 Frequently asked questions about the best dog food for St. Bernard
---