I reviewed the best products on the market and I can tell you now:
The best harness for Husky is RABBITGOO DOG HARNESS.
Anyway, you should read the full article because I put some useful information in it.
Huskies are special animals and are the favorites of many people. Their eyes, fur, and demeanor are all impressive. No wonder we want the best for them. So it is with the harness. If you're wondering what the best harness is for the Husky, read on. My article will also include important information on what to look for when shopping.
Let's start!
Product table for the best harnesses for Huskies
[wptb id=3957]
Why should you buy a harness for your Husky?
If you are thinking of a new accessory for your Husky, you should always consider the pros and cons. A harness has many advantages. I will detail these below.
Better control
If you walk your dog on a leash, you should always be on hand. You should be able to hold back your Husky at any time. The harness is much more effective against the pulling of dogs. This will give you more control.
Reduces the risk of injury
I guess I'm not saying anything new by saying the collar is dangerous. It can cause severe pain but also more serious injuries. The neck strain is a serious problem in dogs wearing a collar. The biggest trouble is that it can go unnoticed until it causes more serious symptoms.
Other problems are Trachea issues. The windpipe tends to get squeezed too much whilst pulling. This can even lead to tracheal collapse.
You also have a lower risk of injury
The risk of injury to the owner from suddenly pulling the dog is greatly increased. As harness reduces the strength of the pull, this danger is also reduced. This way you can avoid a damaged shoulder, neck, or wrist.
Training
Most people use the harness for walking. However, it can also be used for other things, such as training. After all, it helps you to have control and speed up the training process.
Seatbelt
If you go on a trip by car, using the seatbelt is important for your canine too. A properly selected harness allows the seat belt to be attached to the dog. This in turn ensures maximum security.
What are the best harnesses for Huskies?
You will find a useful buying guide later to help you choose the right product. However, now here is my list of the top six Husky harnesses.
Rabbitgoo's product is probably one of the most popular harnesses. This is no wonder in terms of quality. This harness is very well adjustable and made of reflective oxford material.
Available in eight colors and is a perfect fit for both small and large dogs.
It has two leash attachment points. This is important for perfect control. Using the front clip, your dog will quickly learn not to pull. The two side buckles provide adequate security.
Another positive is breathable soft padding. This will make the harness comfortable and safe for your Husky. In short, this harness provides a pleasant and safe walk for you and your dog as well.
On the internet you can find some negative reviews about it that say it is not the most durable product.
Pros
Breathable padding
Comfortable and safe
Sturdy handle
Two leash attachment points
Durable and water resistant
Reflective strips
Cons
Some complaints about durability
---
The harness is made of extremely high-quality scratch-resistant Oxford material. The buckles on it are both lightweight and durable. This makes this harness really safe.
The material and padding are also lightweight and breathable. So this harness will be extremely comfortable for your dog. The straps are adjustable, so you can be sure it will fit your Husky.
Pros
Nine colors
High quality
Durable
Lightweight
Breathable
Adjustable straps
Cons
---
Snap buckles perfectly guarantee easy locking and unlocking. And yet they are sufficiently safe. The harness is made of waterproof and breathable nylon. Another positive is the handle and D-ring on the back. They allow you to have maximum control while training. The nylon material is not only sturdy and durable but also lightweight and breathable.
The properties listed above make this harness a very good choice.
Pros
Durable, safe, and comfortable
Snap buckles
Waterproof
Sturdy handle and D-ring
Breathable
Cons
---
Babyltrl is perfect for strong puller dogs. The load is evenly distributed on their body, so the risk of injury is very small. With quick snap buckles and adjustable straps, this harness is easy to use. You need to slip it over your dog's head. Camouflage Color and Reflective Straps is good because you can use this product in the evening.
You can easily attach this premium dog harness to a car seat belt. The sturdy top handle can't be left out of Babyltrl either. This provides maximum control. The product is very durable and long-lasting.
Pros
Sturdy, durable, safe
Lightweight
Sponge padding
Quick snap buckles
Adjustable
Handle
Cons
Fitting issues can occur with puppies
---
The product is very lightweight and comfortable. Mesh lining and sponge padding also take care of this. It's durable in terms of material and it is suitable for training. This is due to the front and back leash attachment points.
The Mighty Paw harness gives you maximum comfort and control too. This is due to the quick-release buckles and padded handle. Thanks to the adjustable straps, the product will fit perfectly with your dog.
Pros
Great for dogs with active lifestyle
Lightweight
Comfortable
Two leash attachment points
Quick-release buckles
adjustable
Cons
---
This product is made of Soft Eco-Tex inner liner, which is very lightweight and breathable, and waterproof. At the same time, it gives your dog a full range of motion. It has been developed to be used with hook-and-loop patches.
Thanks to reflective straps and glow-in-the-dark removable side labels, evening walks and training won't be a problem either. And if all that weren't enough, this harness is very well adjustable.
Pros
Lightweight
Durable
Full range of motion
Can be used with hook-and-loop patches
Reflective straps
Adjustable
Cons
---
My choice
All members of my list are sympathetic harnesses. However, the best for me is RABBITGOO DOG HARNESS. The price is excellent and you know everything a good harness needs to know. I choose this product as the best harness for Huskies.
Click here to get one for your dog.
---
What to look for when choosing the best harness for your husky?
As with all products, harnesses also have aspects that are worth considering when choosing. I list these aspects below.
Size
I don't think it's surprising that size is the most important consideration when it comes to the harness. After all, it's not good if it's too tight or too loose. Huskies vary in size based on gender and age. They usually have a neck size of 16″-22″ and the chest size of 26″-32″.
Measure primarily the neck and chest. Most manufacturers include a size chart with their products. The thickness of the harness material should be at least one inch. This way you will have a properly durable product. Huskies are strong pullers, which is why this is needed.
Material
The most commonly used material is nylon. It is strong, durable, waterproof, and inexpensive to manufacture. However, if your dog has some skin sensitivity to nylon, I suggest a leather harness.
The material of the buckles is also an important consideration. The best ones are made of metal, try to avoid plastic.
Padding
Although I mentioned that harnesses are less risky of injury, they can sometimes cause trouble. Straps can press the chest while your dog pulls. Paddings can help with this. Military-grade dog harnesses have the best paddings. Not to mention that it is not only safe but also comfortable for dogs.
Leash attachment
There are harnesses that have two leash attachment points. One on the front and one on the back. The front attachment point is suitable for training. If your dog is a strong puller, you may want to buy such a harness. If your Husky is leash trained, you can buy him a harness that only has one attachment point on the back.
Other useful features
There are a few more features that can be positive when choosing a harness. Examples include reflective strips, side pockets, heavy-duty buckles, and high adjustability.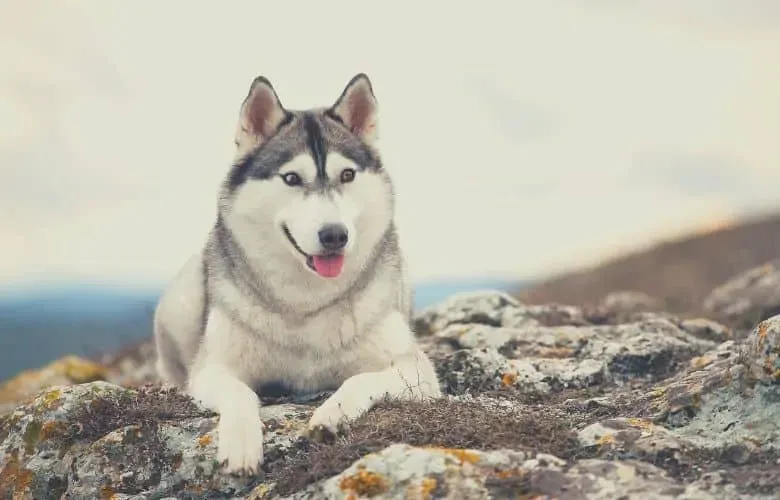 Frequently asked questions about the best Husky harnesses
---