Yes you are here to know the exact answer so I will tell you:
I chose PetSTEP Original Folding Pet Ramp as the best dog pool ramp.
Anyway, you might want to read the full article because you can find some great tips in it.
Summer. Heat. Sweat. Next to these, it is inconceivable to have a home pool. Your puppy will also appreciate the pool, as it is a great summer program. However, you should get a dog pool ramp by the pool. My article will talk about these products. I selected the best ones on the market and reviewed them. But that's not all, you'll find a buying guide and other helpful advice in my article.
Let's start!
Product table for the best dog pool ramps
[wptb id=3760]
What is a dog pool ramp?
Dog ramps are objects, platforms, or surfaces that make it easier to transport or climb. Sometimes your dog may not be able to reach a certain height for example.
There can be several reasons for this, height, small body size, old age, or arthritis. In these situations, a dog ramp comes in very handy. The surface of these dog ramps is non-slip, thus avoiding possible accidents. They are not at all stressful on the joints and perfectly balance the bodyweight of the dogs.
There are plenty of types of dog ramps. There are several sizes, colors, designs, depending on the purpose. They can be used for beds, swimming pool, cars, etc. My article will focus on dog pool ramps.
Benefits of dog swimming pool ramps
The hottest summer days are not easy to survive. However, if you have a pool at home, you can easily cool your body with it. Dogs also like to go to the pool at this time. Together with your puppy, this can be a perfect program.
(If your dog needs additional cooling, here is an article on the best dog cooling vests.)
However, your canine may not be able to approach the pool as easily as you can. To be able to enjoy this program without hindrance, you should get a dog pool ramp. Dog pool ramps are accessories that ensure swimming is not a bad experience for dogs with small bodies or arthritis.
Dog pool ramps are also useful in the event of an accident. If your dog falls into the water, he can easily climb out of the pool with the help of this platform.
These ramps can also make life easier for dog owners. Larger dogs can easily jump into the pool. However, getting out can be more complicated for them. Of course, in that case, it is up to the owners to take care of them. Dog pool ramps help dogs climb out of the pool so you can enjoy your own swim time.
In short, the biggest benefit of dog pool ramps is safety. They can prevent a lot of accidents and injuries. If your dog moves at home in the pool, it doesn't hurt to buy a ramp. After all, it's always better to be sure.
What are the best dog pool ramps?
If you are reading this article, you are definitely interested in what the best dog pool ramps are. In this article, I have collected the best products on the market. And at the end of the section, I will select the most sympathetic.
In addition, you can use it in several ways. For pools, vehicles, beds, or any surface that is high.
This dog pool ramp has a lot of positive features. It's easy to assemble and clean. It's available in two colors, so you can decide if you like the lighter or darker version. Although available in one size, it is suitable for dogs of many sizes.
The product is made of composite plastic. It's very durable and corrosion-free. You will find a handle on each side, which further increases security.
Pros
Easy to assemble and clean
Sturdy and durable
Anti-slip material
Handles
Cons
It can be narrow for very large dogs
---
Some assembly knowledge is required for installation, but with the help of the product's guide, this is not a very difficult thing to do. The Skamper Ramp is best suited for in-ground pools. If you want, you can attach your dog's leash to it, which increases safety.
The product is available in two sizes. The tilt angle is freely adjustable, so you can easily find the right one for your dog. The material is UV-resistant.
Pros
Easy to assemble and use
Adjustable angle
You can attach a leash to it
Two sizes
Cons
Not the best quality
Not good for large dogs
---
The product is made of lightweight aluminum. Ridges on its surface prevent slipping and accidents. In terms of size, this dog pool ramp is best suited for small to medium-sized pools. The situation is similar in terms of the size of the dogs.
Finally, the ramp is easy to install and foldable. Security straps are also included.
Pros
Portable and foldable
Slip-proof
Easy to install
Cons
Not the sturdiest product
Not suitable for large dogs
---
The tilt angle is freely adjustable depending on what is most comfortable for your dog. The product has four rubber feet at the base. This provides more support.
The material is rugged plastic, which is non-slip and very easy to clean. And that's not all. This dog ramp is one of the most versatile, lightest, and most economical ramps on the market.
It folds very well, making it perfect for travel.
Pros
Portable, foldable
Non-slip surface
Lightweight
Easy to clean
Cons
Not suitable for large dogs
---
Due to the color, this pool ramp is easily noticeable next to and from the water. The legs fit perfectly and have rubber-tipped struts. From this, you can also see that the product is very sturdy and stable.
The tilt angle is very adjustable. Additional waterproof weight bags guarantee support. The product is easy to assemble and you will find an understandable description in the package.
If you have a small to medium-sized dog, this dog pool ramp can be a good choice.
Pros
Cool and noticeable color
Portable and foldable
Adjustable angle
Waterproof and non-slip
Cons
Not suitable for large dogs
---
My pick
Based on the reviews, my decision is clear. I chose the PetSTEP Original Folding Dog Pool Ramp as the best dog ramp. This is the best product on the market with virtually no negatives.
Click here to get one for your dog.
---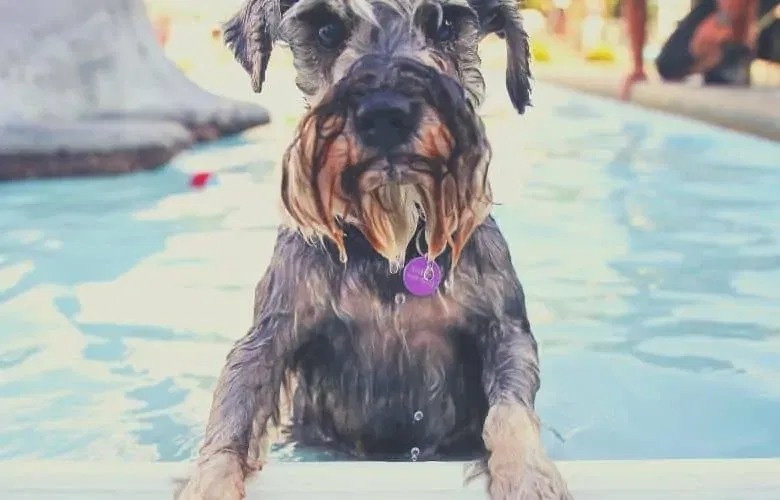 What to look for when choosing the best dog pool ramp?
Although the principle of operation of pool ramps is the same for all products, there are different aspects. With these in mind, you can get closer to choosing the best possible product.
Size
Sometimes the ramp is too big or too small for your dog. Neither case is good. Be aware of your dog's dimensions and try to choose a product based on that. Of course, the dimensions of your pool are also important, as the ramp needs to fit.
Material
Because it is inevitable for dogs to get wet when swimming, there is an increased risk of slipping. Therefore, it is very important that the dog pool ramp is made of a material that prevents this. The best products are made of non-slip material. Some have ridges or grip.
Waterproof
The best dog pool ramps have waterproof coatings. This way the water will drip off and this also prevents your dog from slipping.
Assembly
There are ramps that are easy to assemble, some are more difficult. Portable and multifunctional products tend to have fewer problems and are versatile. Installing permanent pool ramps takes much more time and effort. Much also depends on your pool. If you have an above-ground pool, a portable ramp is probably more appropriate. But for an in-ground pool, I prefer some more serious water ramp.
Foldable
On the one hand, you do not use your pool all year round. On the other hand, you have to think about traveling, vacationing. Considering these, it is clear that a foldable ramp can be very beneficial.
Frequently asked questions about dog pool ramps
---