Yes I know, you want to know it right away:
I chose RUFFWEAR – Swamp Cooler as the best dog cooling vest.
But it would be awesome if you could read the rest of my article because it has a lot of useful tips in it.
When the weather is hot, many people try different tricks and practices to cool themselves down. Dogs don't really know what to do except panting. In this case, a dog cooling vest can be a great choice. Especially if you want to pair the warm weather with a little workout. In my article, I reviewed the best dog cooling vests on the market. You can also find a buying guide in my article that will help you with your purchase.
Let's start!
Product table for the best dog cooling vests
[wptb id=3736]
What are dog cooling vests?
Dog cooling vests work like harnesses. That is, if you buy the right size, a dog cooling vest will fit your dog. In addition, it reduces heat.
We humans get rid of significant heat through sweating due to the evaporation of water. Dogs have much fewer sweat glands. Therefore, they are not able to cool themselves with this method.
For this reason, a dog cooling vest or jacket can be very useful. In the unbearable summer heat, this can be a salvation for your puppy.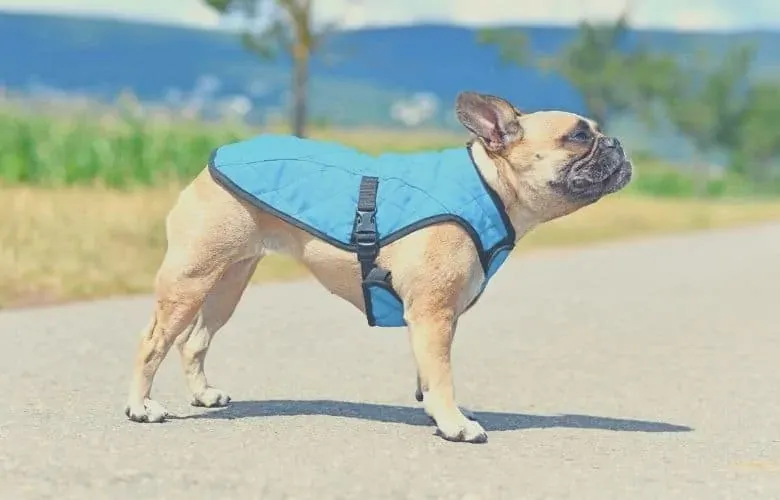 How do these dog cooling vests work?
These vests use the evaporative cooling method. By the way, this is the oldest form of air conditioning. In addition, it is practical and inexpensive.
If warm air passes through water or a wet object, it will cool off. Dogs also use panting for this reason, but sometimes such practical help can come in handy.
So basically the operation of a dog cooling vest is pretty simple. You just need to moisten it and put it on your puppy. It will cool as it dries. These vests have extra layers, so it won't dry out in the sun immediately.
In some cases, these vests have a water-repellent inner layer. This leaves less mess at the end of the day.
What are the best dog cooling vests?
I will write later about what you should choose the best dog cooling vest based on. But now comes a list of the best products on the market.
The product is a three-layer vest. The first layer allows for quick wicking of the contained water. And evaporation too. The second, middle layer holds and stores the water. And the inner layer is responsible for cooling as it delivers the cool temperature to the dog's body.
It is available in several sizes. That way, you don't have to worry about finding the right one for your dog. Remember to measure the parameters carefully. Reflective stripes are a plus that can be useful in many cases.
Pros
Three layers
Reflective strips
Multiple sizes
Easy to use
Elastic waistband
Cons
Little bit pricey
Needs water frequently
---
This vest can be considered less as "protective gear." Rather, it is a product that offers a comfortable solution for the warm summer months. You can also use it during training.
This cooling vest has excellent water retention. In the case of an agility course, where cooling is important, but also freedom, this vest does a very good service.
Pros
Super lightweight
Super freedom
Several sizes
Tight fit
Shaded back
Cons
Not as great coverage
Little bit pricey
---
The coverage is not the best for this product either, but the sleek design compensates for everything. The reflective stripe is super designed, your dog will be perfectly visible.
Unfortunately, only one size is available from this product, which extends 18" to 23". However, if it fits your puppy, it is a great choice for urban training.
Pros
Great reflective stripe
Awesome cooling
Lightweight
Sleek design
Easy to use
Cons
Coverage could be better
Only one size
---
The material of the vest is very lightweight and in addition, you can find many useful features. The material deflects sunlight and protects your dog from UV radiation. It also has a leash attachment point and a zipper. The latter helps with adjustment.
It also has reflective strips, making it safe to use in the dark.
Pros
Soft and lightweight nylon material
Zipper
Reflective stripes
Several sizes
Machine washable (cold water)
Cons
There are sizing issues (Sometimes the product is bigger than it should be)
---
The material is not only lightweight but also comfortable and soft. It does not irritate your dog and has a comfortable fit.
The product is available in four sizes and can be very well adjusted to the shape of your dog. It has excellent cooling ability. It can keep your dog cool for hours.
Pros
Lightweight
Sun protection
Soft and comfortable
Four sizes
Great cooling ability
Cons
There can be sizing issues
---
My top pick
When I choose 4-5 products for my list then the decision is always harder. After all, that's when I really pick the best ones. But I have a favorite. I chose the RUFFWEAR – Swamp Cooler. Although a bit pricey, but you get perfect quality for the price.
Click here to get one for your dog.
What to look for when buying a dog cooling vest?
Choosing the right product is critical. The best dog cooling vest will prevent your dog from getting heatstroke.
Most of these accessories are used in addition to active sports, such as intense walking or running. But in the summer heat, it's also a good idea for your dark-haired dog to get a vest like this. The following considerations should be taken into account when choosing the right dog cooling vest.
Material
As I mentioned, most dog cooling vests are made in multiple layers. Each of these layers is usually made of a different material. The outer layer should be tough. The inner layers are mostly made of cotton. This is because this substance can absorb a lot of water. But there are other materials that can store a lot of water.
It is definitely useful to have an inner layer that is water repellent. These materials are usually comfortable, which is an important consideration because of your puppy.
Coverage
By this, I mean that it is very important that the vest properly covers your dog's torso. This will keep the internal organs safe and cool. Finding the right size is not the easiest thing to do. However, if you measure your dog, you can find your way around more easily based on the size charts. Look for elastic waistbands!
For some dogs, dog cooling vests are not the most appropriate. Bulldogs, for example, have such a chest-to-waist ratio that cooling collars are better for them.
Fitting
For vest-like products, fitting is one of the most important aspects. After all, if it's too tight, it's uncomfortable for your dog. If it is too loose, the cooling function will not be as good. With the right measurement, you can avoid making the wrong choice. Measure your dog's length and chest. Even more important is a good fit during active use.
Extras
The best dog cooling vests have extra features that are worth considering. Perhaps the most important of these is the ring to which the leash can be attached.
Tougher outer layers are useful for active movements such as trail running.
Some products have reflective stripes. These will help protect your dog and keep him safe in traffic.
It is possible that some vests are designed to be used with other products. Look for this option. In such cases, you may also want to purchase the products that come with them.
Useful tips to use the dog cooling vest
It is important how you use the cooling vest. The following tips can help you both be happy with your dog.
Check the moisture level of the vest as often as possible. Different vests dry differently in the sun. If the product is completely dry, it will only keep your dog warm.


If the weather is warmer than usual, you can also refrigerate the cooling vest. Thus, its effect will be much stronger and longer-lasting.


Your dog's ear temperature will show if the cooling vest is working properly.


Not all dogs will love cooling vests. In this case, use a cooling collar instead.


If your dog is in trouble due to the warm weather (eg heatstroke), do not give her a cooling vest. This can cause thermal shock. Instead, call your veterinarian immediately.


Remember, a cooling vest alone may not be enough. Provide enough water for your dog.
Frequently asked questions about the best dog cooling vests
---