If you want to know the answer right now:
My choice for the best Yorkie shampoo is Nootie Soothing Formula Dog Shampoo.
If you want to know more about the other products and the whole topic, just read on.
Yorkshire Terriers are cute dogs with special personalities. Despite their small size, they can be very brave and combative. In addition, they are extremely intelligent. Although they are tiny dogs, their coat requires some maintenance. Their skin also deserves special care and attention. That's why it is really important what shampoo you buy for your Yorkie. In my article, I have collected the best Yorkie shampoos. I also included important information about their skin and coat. If you have a dog like this, you may want to read the entire article.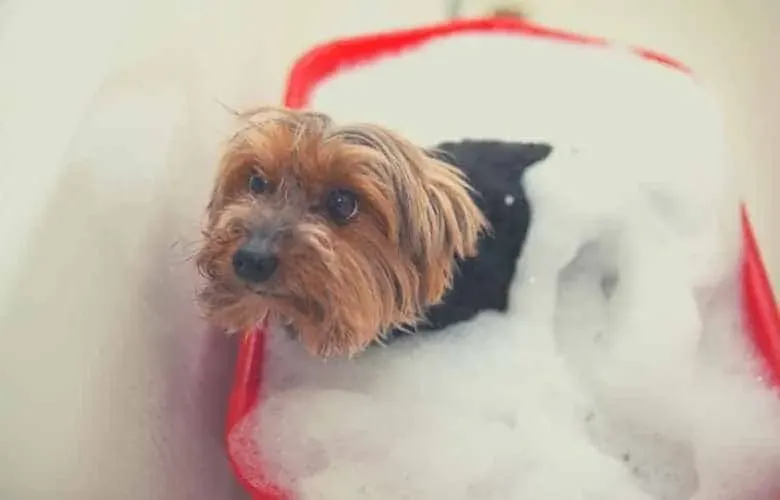 Product table for the best Yorkie shampoos
[wptb id=4587]
What are the best Yorkie shampoos?
To choose the best Yorkie shampoo, you need to know your dog's individual needs. After all, as you will learn from my article, not all shampoos are made for the same purpose. Below are my top picks. I hope this will make your job easier too.
It's hard to find a Yorkie shampoo that meets all the conditions. However, Nootie's product is like this, which is why I strongly recommend it to Yorkie owners.
The shampoo is made exclusively from natural ingredients. It is soap-free. This guarantees that the condition of itchy and dry skin will not deteriorate.
In addition, the formula contains soothing ingredients. These are coconut oil and colloidal oatmeal. It is free of harmful chemicals such as parabens or phosphates.
Due to the natural deodorizing effect, you too will enjoy using this shampoo. If all this is not enough, the manufacturer gives you a so-called pet-pleasing guarantee for this product.
Pros
Natural ingredients
Soap-free
No harsh chemicals
Moisturizing ingredients
Deodorizing
Pet-pleasing guarantee
Cons
---
You can choose the Buddy Wash shampoo for your Yorkie. This formula does not contain soap, alcohol, parabens, or other artificial ingredients. That is, it is excellent for dogs with sensitive skin.
This two-in-one shampoo with the help of rosemary and mint refreshes dogs 'skin. Coconut oil has a moisturizing and soothing effect. In addition, the product contains whey proteins. These contribute to deodorization without the need for artificial ingredients.
The Buddy Wash formula has a lot of foam but is easy to rinse off. You can use it safely in both adult dogs and puppies. It will not cause any irritation.
Pros
Safe for adults and puppies
Easy to rinse
Soap-free
Free of artificial ingredients
Moisturizing
Cons
Scent could be strong for some dogs
---
If your dog has not only sensitive skin but also some condition that requires medicated shampoo, this is an excellent product.
This is because it has antibacterial and antifungal effects.
In addition, this shampoo is hypoallergenic and contains natural ingredients. The manufacturer's goal during the development was to create a formula that cleanses, hydrates, and rejuvenates.
Essential oils and lemongrass not only gently cleanse, but also have a natural anti-flea effect. In addition, the product is environmentally friendly.
Pros
Helps control infections and pests
Hypoallergenic
Natural ingredients
Moisturizing
Environmentally friendly
Cons
It isn't safe for dogs' eyes
---
The next member on my list is an Earthbath product. If your Yorkie's skin is problematic, this is one of the best choices.
It can also be considered for general use.
This shampoo provides the right treatment for Yorkies with itchy and sensitive skin. Because it does not contain soap, it reduces the chance of irritations occurring. Oatmeal and aloe vera hydrate and soothe at the same time.
The product contains 100% degradable ingredients, free of parabens and phosphates. In addition, it has a pleasant vanilla and almond scent. This way, your dog's fur will not only be healthy and beautiful but also have a delicate scent.
Pros
Soap-free
Moisturizing natural ingredients
Deodorizer
Biodegradable
Paraben- and phosphate-free
Cons
Not the best for severe itching
---
If you are looking for a product that has been developed for sensitive skin and is hypoallergenic, you have found it. In addition, the TropiClean shampoo also has a pleasant coconut scent.
The formula is not only hypoallergenic but also soap-free. This ensures that even the most sensitive skin dogs can use it. Natural ingredients properly cleanse your dog's skin and fur. The result is a clean and fresh-smelling coat with no irritations.
Aloe vera is an ingredient that helps retain and replenish moisture. Be sure to consider this product when choosing.
Pros
Safe for puppies and adults
Soap-free and hypoallergenic
Moisturizing natural ingredients
Cons
Scent could be strong for some dogs
---
This shampoo is specifically designed for dogs with a coat like the Yorkies.
By the way, you can also buy a conditioner in addition to it, which gives your Yorkie additional benefits.
It is a gentle yet effective shampoo. Ingredients include aloe vera and panthenol. These strengthen and protect the hair of dogs.
This is an excellent product that removes dirt. It also provides a pleasant vanilla and jasmine scent for your puppy. It also softens the coat great.
Pros
Gentle yet effective
Moisturizing ingredients
Pleasant scent
A conditioner is available in addition to this product
Cons
The scent does not last long
---
My pick
As you can see, every product has positive features. You may need different shampoos due to your dog's individual skin conditions. However, I still have a favorite. For the overall best Yorkie shampoo, I choose Nootie Soothing Formula Dog Shampoo. The price is less affordable than the others. But in return, you get a premium quality shampoo that meets many requirements.
Click here to get one from Amazon.
Click here to get one from Chewy.
---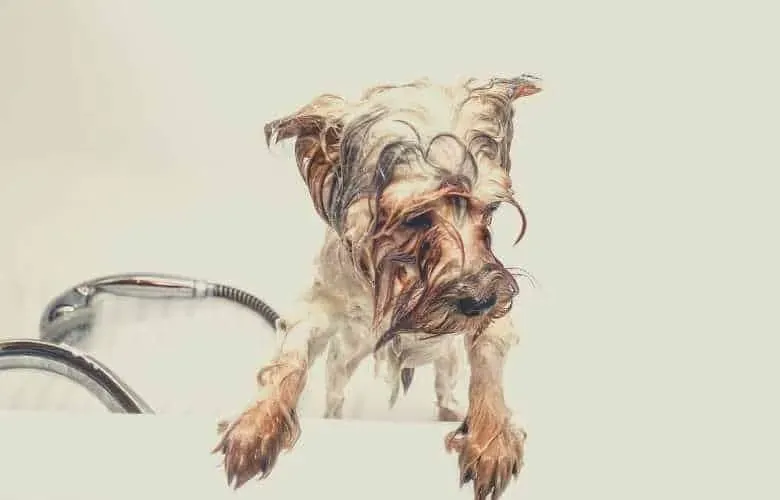 What to look for when choosing the best Yorkie shampoo?
The personality of Yorkshire Terriers is very similar to that of large dogs. There is nothing wrong with this, as it makes this breed even more fun and loving. However, they are prone to a lot of skin problems, like large dogs. Examples include allergy caused by flea bites, dry skin, flakiness, redness, and various irritations.
These issues need to be addressed. If this does not happen, the situation may worsen. Mats and tangles easily develop on the coat of Yorkies. This in turn can lead to further irritation and your dog can chew at his skin. Needless to say, this makes the situation even worse.
Regular bathing with the right shampoo is the answer. If you are looking for the best Yorkie shampoo, you should pay attention to a few things. The best product is:
Hypoallergenic shampoo: Yorkies are prone to many types of allergies. This includes skin allergies. If you want to minimize the chances of unpleasant and dangerous reactions, you should buy a hypoallergenic shampoo.


Natural shampoo: Artificial and harmful chemical ingredients can further worsen skin conditions. If you can, choose a shampoo that contains natural ingredients. This way, your dog's skin, and fur will also be beautiful and healthy, without irritations and allergies.


pH balanced shampoo: Never use human shampoo on your dog. This is because the pH of the skin of dogs varies from 6.5 to 7.5. A bad pH shampoo can dry out the skin of Yorkies and cause irritation. Make sure you buy a ​​shampoo for dogs.


Moisturizer shampoo: The skin of Yorkshire Terriers dries easily. For this reason, it is worth looking for a moisturizing shampoo. There are ingredients that help retain skin moisture. Examples are oatmeal, aloe vera, and almond oil.


Cleanser Shampoo: Dog skin produces oils that play an important health role. However, over time, these oils can accumulate and it is worth removing them. The best shampoos are able to remove excess oil without over-drying the skin. Soap-free products are the most ideal in this regard.
If you accept the above, you will be many steps closer to choosing the most suitable shampoo for your Yorkie.
What different types of Yorkie shampoos are there?
We humans take it for granted that shampoos made for us can be different. After all, it is worth using a completely different product for dandruff or oily hair. It's no different with dogs either. Once you understand what to look for when buying a good Yorkie shampoo, you may want to clarify the purpose of the shampoo. Different types can have different benefits. So decide based on your puppy's skin condition. Here are the different types of shampoo:
Shampoo for general purpose: If your Yorkie doesn't have any skin condition, one such shampoo will also be excellent. In this case, it is enough to bathe the dog every few weeks and brush him frequently. Stick to the basic quality expectations. The shampoo should contain natural ingredients and moisturizers.


Puppy shampoo: As the name suggests, this type of shampoo is for puppies. They have much more sensitive skin and noses. Such shampoos are soap-free and do not contain harmful chemicals.


Sensitive skin shampoo: The composition of this type is similar to puppy shampoo. Soap- and chemical-free. However, not all sensitive skin shampoos can usually be used on puppies. Be sure to read the product descriptions.


Shampoo for flea: This type of shampoo is great for fleas as it instantly kills them. Nevertheless, in the long run, it is worth using a flea collar to prevent future attacks.


Shampoo for dry skin: You can use most dog shampoos on dry skin as they tend to contain moisturizing ingredients. Nevertheless, there are products that have been specifically developed for dogs with dry itchy skin.


Medicated shampoo: There are health conditions where the aforementioned shampoos are not used. Examples are fungal, bacterial, or yeast infections. Medicated shampoos provide a great solution to these problems. Remember to consult your veterinarian if you want to use such a product on your dog.


Conditioner: In addition to regular washing, you may want to consider purchasing a conditioner. This is because it provides even more hydration and conditioning for your Yorkie's coat. Of course, this will make every puppy look even better.


Deodorizing Shampoo: The production of natural oils is necessary and very healthy for dogs. However, these oils can accumulate and can smell unpleasant to you. In addition, the long hair of Yorkshire Terriers can easily collect dirt, which also results in unpleasant odors. You can use deodorizing shampoos in such situations.
Based on the above, you can see that in case of health problems, it is worth choosing a completely different shampoo than for everyday use. Your veterinarian can also help you decide which is best for your situation. And I can't stress enough: don't use human shampoo on your dog.
How to keep Yorkies' coats clean?
Brush them every day
Yorkies don't shed their hair much. At least not on the floor. Their dead hair gets stuck in their coat. Therefore, frequent brushing is important as you will get rid of excess hair and reduce the chances of mats forming. Frequent grooming is recommended as it is good for the smell, cleanliness, and health of the coat.
Moisturizing
As I mentioned in my article, these puppies are prone to sensitive and dry skin. These areas deserve special attention and hydration. This often helps to improve the condition of the skin.
Handle Knots
If you find a knot in your dog's coat, try to untangle it first with your fingers. If this does not work, use scissors. It's important to try to untangle the knots very carefully. Yorkie's skin and hair are extremely sensitive.
Not much bathing
Because of their sensitive skin, Yorkies should not be bathed frequently. Usually one time a month is enough. Frequent bathing increases the risk of developing skin problems. Always try to use a shampoo that also contains moisturizing ingredients.
Proper feeding
Choose foods that do not contain artificial coloring, flavors, preservatives, or fillers. Yorkies usually have sensitive stomachs. Aim for kibbles and wet foods that contain quality ingredients. Oils with omega 3 fatty acids (e.g. salmon oil) can do wonders for puppies' coat.
Tips for bathing your Yorkie
The bathing of Yorkies, due to their small size, does not have to be imagined in the same way as that of other dogs. Here are some tips to share with you. This way you can avoid possible accidents and the whole bathing will be a pleasant experience for both of you.
The first step should be brushing and detangling. If you bathe your dog immediately without brushing, his hair can become matted.


Bathe your Yorkie in lukewarm water. Dogs are sensitive to warm water, especially Yorkies. It is possible that what is warm for you is unbearably hot for your puppy. You need to pay even more attention to the temperature if he has dry or itchy skin.


Use a sink instead of a bathtub. Instead of a tub full of water, it's much safer to hold this little dog under running water.


Pay special attention to rinsing. Soap residue can dry out the skin of dogs.


If your Yorkie dog has dry and sensitive skin, do not use a hairdryer. Instead, allow him to air dry.
Frequently asked questions about the best Yorkie shampoos
What is the best Yorkie shampoo?
My choice for the best Yorkie shampoo is Nootie Soothing Formula Dog Shampoo.
How often should I bathe my Yorkie?
Under average conditions, Yorkies are worth bathing 1 to 2 times a month. However, due to certain skin conditions, more frequent bathing may be required. It is best to consult your veterinarian in such cases.
Can I use human shampoo on Yorkies?
Absolutely not! Because the pH of human and dog skin is different, human shampoos and conditioners have a very bad effect on dog skin. And remember, Yorkies' skins are even more sensitive than other dogs.
How do I keep my Yorkie smelling good?
Bathing your dog regularly will help you do this best. Natural oils can accumulate every 3-4 weeks, which can stink. This is why the ideal bathing frequency is 2-4 weeks. In addition to bathing, consider buying a leave-in conditioner or coat spray. In addition to hydration, these products also smell very good.
---