Check out my detailed comparison about Purina Pro Plan vs Blue Buffalo if you want to know which is better in 2022, and what are the differences.
If you are a responsible pet parent and looking for the best nutrition for your dog, you've probably heard of Purina Pro Plan and Blue Buffalo.
In my current article, I have compared these two deservedly popular brands based on several criteria.
I found that Blue Buffalo contains better quality ingredients, but Purina Pro Plan is more affordable and had fewer recalls in the past. Overall, I think Blue Buffalo is a better choice than Purina Pro Plan.
My goal is to help you decide which is the better choice for you and your pooch.
Let's start!
Purina Pro Plan vs Blue Buffalo Comparison:
And how did I decide to choose the Blue Buffalo over Pro Plan? I compared large, medium, small breed, puppy, and senior formulas from the two brands:
Pro Plan Vs Blue Buffalo:
If you are curious about a detailed comparison, be sure to read on!
History Of The Two Brands
Before analyzing and comparing in detail, I would like to review the history of the two brands a bit. Both companies have a high reputation in the pet food industry. However, the history of Purina dates back much further.
Purina pro plan history
The history of Purina began in 1894. William H. Danforth partnered with George Robinson and William Andrews and co-founded the Robinson-Danforth Commission Company.
It was an animal feed company that was renamed Ralston Purina in 1902.
Danforth's son, Donald, began to study animal nutrition. After that, the company's primary goal was to produce the best possible food for dogs and cats.
Purina established the world's first pet care and pet nutrition center in 1926. This is where the Purina Dog Chow was created, the world's first dry dog ​​food.
This was followed by a few more innovations (cat food, recipes formulated for puppies). However, the actual innovative breakthrough was the Purina Pro Plan, which was introduced in 1986.
The real novelty in this formula was that the primary ingredient in the kibble was real meat. No pet food brand had done this before.
Purina Pro Plan has been the company's leading product line ever since, and the initial recipe has expanded with several other selections over the years.
Blue Buffalo History
The story of Blue Buffalo began with Bill Bishop and his two sons, Billy and Chris. The family's dog, Blue, became cancerous.
As a result, the Bishops began to study the commercial pet foods on the market. They found that many recipes offer deficient diets for animals, so they started developing their own formula.
Together, they founded Blue Buffalo, which was clearly named after their dog. The company was founded in 2003, meaning the brand is relatively new to the pet food market.
Nevertheless, its popularity is constantly growing. There are several product lines on offer, each for different needs.
Unfortunately, there were also some adverse events during Blue Buffalo's career. One example is when in 2014, Purina accused Blue of false advertising.
The company claims that the LifeSource Bits developed by the company do not contain adequate micronutrients for dogs.
A similar problem was that animal by-products were found in some recipes. This fact is unfortunate mainly because Blue Buffalo has always claimed to put only real meat in recipes.
Despite the negative events, the success of the brand is unbroken. In 2018, revenue was so high that it was acquired by General Mills.
Blue Buffalo vs Other Dog Food Brands
Most experts consider Blue Buffalo to be a very high-quality and competitive brand. So it's no coincidence that it is often compared to many other dog food brands. Below you will find my Blue Buffalo comparison articles:
Purina vs Other Dog Food Brands
Purina is today one of the largest brands in the world in the pet food industry. The quality of the products allows them to compete with other dog food brands. I also have some articles comparing Purina to other brands. Here they are:
Purina Pro Plan Product Lines
Pro Plan is Purina's most advanced offering, with many excellent recipes. These dog foods provide a special diet for dogs.
They can support aging, joints, digestive system, immune system, etc. They are free of common allergens and artificial ingredients.
Below is a list of all Purina Pro Plan product lines.
Purina Pro Plan Sport dog foods are available in formulas called Performance and Active. These recipes offer advanced nutrition and an irresistible taste for canines with a truly active lifestyle.
The primary ingredient in all Sport products is real meat. They contain ingredients that support activity and mobility, such as glucosamine and omega fatty acids.
Plus, the added probiotics have a good effect on the digestive system and, at the same time, on overall health.
These formulas offer wet and dry foods as well as foods for special dietary requirements. Examples are chicken-free or pea & lentil-free.
None of the recipes contain wheat, corn, soy, or artificial chemicals.
---
Research shows that the metabolism, body, and cognitive abilities of older dogs change. So we pet owners need to pay more attention to canines over seven years old.
That's why Purina created the Pro Plan Bright Mind formulas. These products contain ingredients that are good for both joints and brain health.
Glucosamine and chondroitin are effective in lubricating the joints. Added omega fatty acids promote cognitive abilities.
Pro Plan Bright Mind recipes contain chicken as their primary source of protein, and their carbohydrate source is rice. So they're not grain-free, but that's no problem since rice is a very well-digested source of nutrient-rich energy.
The available formulas include a version developed for small and large breeds.
---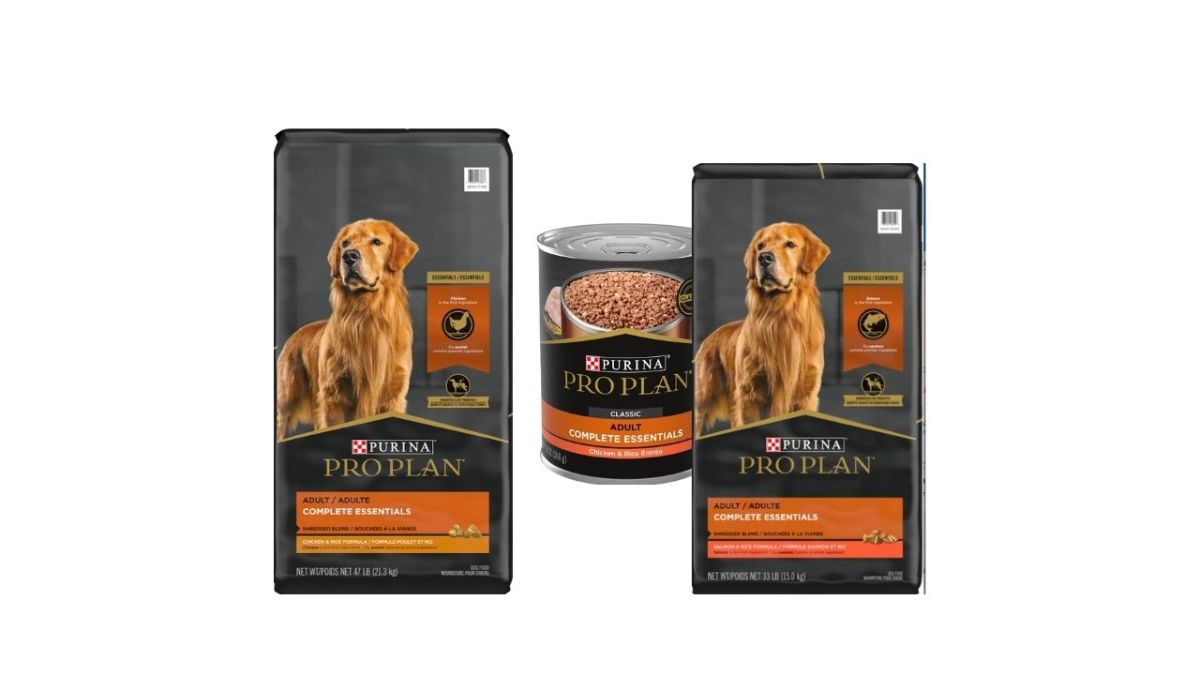 Purina Pro Plan Complete Essentials (formerly known as Purina Pro Plan Savor) contains formulas that provide excellent nutrition for all adult dogs in general.
The primary ingredient in the recipes is real meat. Flavors include chicken, beef, lamb, and salmon.
Here, too, we find no grain-free alternative, the primary source of carbohydrates in every recipe is rice.
Added probiotics support digestion, vitamins, minerals, and omega fatty acids to support overall health.
Complete Essentials formulas are completely free of artificial preservatives and other chemicals.
---
The real advantage of Pro Plan lies in the Specialized formulas. This is because, in the Specialized line, we find a lot of different subcategories that satisfy different dietary needs.
There are alternatives for puppies, but we can also find recipes by breed size (large breed, small breed). Of course, we also see a mixture of these (large breed puppy, small breed puppy).
Some recipes target specific health problems. Examples are sensitive stomach and weight management formulas. Of course, the ingredients in these products are selected to be appropriate to address these problems.
---
Purina Pro Plan Veterinary Diets contains formulas created by the best experts with the utmost care.
This line includes prescription products that meet the dietary needs created by various health conditions. Examples of such conditions include dental diseases, digestive problems, skin diseases, liver conditions, etc.
Before you buy these recipes, be sure to visit your veterinarian.
---
Blue Buffalo Product Lines
Blue Buffalo has 7 product lines. Each line contains natural ingredients without artificial preservatives and other chemicals. Recipes include grain-free and grain-inclusive versions.
Most Blue Buffalo products contain a blend called LifeSource Bits, which adds vitamins, minerals, and antioxidants to a dog's diet. These were developed by veterinarians and other experts.
Life Protection recipes are perhaps the most popular of Blue Buffalo's offerings. The first ingredient in all the products here is real meat or meat meal.
Ingredients include added vegetables, fruits, vitamins, and minerals (LifeSource Bits).
You can choose a recipe for your pup based on several preferences. Food type (wet/dry), life stage (puppy/adult/senior), breed size (small/medium/large). Grain-free and grain-inclusive versions are also available.
If your dog is really picky, then no problem. You can choose from several products of Life Protection Formula products. These are chicken, beef, duck, lamb, fish, and turkey.
---
Blue Wilderness dog food products are high in protein and fat. With this, the manufacturer's goal was to replicate the diet of wild canines. For this reason, I recommend this line for really active dogs.
Most products are grain-free, and the primary sources of carbohydrates are various legumes, roots, and tubers. But formulas containing wholesome grains (e.g., oats or barley) are also available.
In terms of protein sources, the selection is vast: beef, bison, chicken, duck, fish, lamb, rabbit, salmon, trout, turkey, venison.
---
Blue Basics is one of my favorite lines from Blue Buffalo.
It contains only limited ingredient recipes that have a single source of protein. This makes it easy to avoid possible food allergies and sensitivities. The other ingredients can also be easily digested so that your dog's stomach is not strained.
The added vitamins, minerals, and omega fatty acids support the body's processes and the immune system's health to the maximum.
Blue Basics offers recipes for different ages and breed sizes. You can choose from the following flavors: duck, fish, lamb, turkey, and salmon.
---
Blue Freedom products are grain and gluten-free. Thus, this diet is recommended for truly sensitive dogs.
The primary source of protein is usually some animal meat (beef, chicken, salmon). There are other protein sources among the ingredients, but these are only featured much later in the list of ingredients.
Freedom's carbohydrate sources are various legumes, potatoes, peas, and starches from these plants.
The products in this line contain adequate amounts of glucosamine and omega fatty acids. This way, your dog's joint skin, and coat will also be supported.
---
If you want a really meat-based diet for your dog, Blue Carnivora is the right choice. The recipes in this product line include 11 different animal sources, and each food is grain- and gluten-free.
Meats and internal organs are rich in vitamins and minerals, but the manufacturer has added particular vitamins to the recipes. For this reason, we do not find LifeSource Bits among the components.
But do not worry. Your pooch will get all the micronutrients you need.
These products are high in protein and fat, so I recommend them for very active working dogs.
---
Blue Buffalo True Solutions include four recipes (in dry and wet form).
Each of these products addresses specific problems. These are digestive and joint problems, weight control, and skin and coat conditions.
These products are not prescription, but they help prevent the issues above from becoming more severe diseases.
---
As the name suggests, Blue Buffalo Natural Veterinary Diets include prescription recipes. This means that you should always consult your veterinarian before buying these foods.
The product line targets health conditions such as gastrointestinal diseases, kidney, and urinary diseases, overweight, mobility issues, or various allergies.
Ingredients do not include artificial additives, grains, wheat, corn, or soy.
---
Purina Pro Plan vs Blue Buffalo: Nutritional Value Comparison
Every responsible pet parent knows that health starts with proper nutrition.
You should be aware of your dog's individual nutritional needs. Small, and huge giant breeds are different. The same is true when sorting diets by life stages.
Various allergies, sensitivities, and health conditions are aspects that can fundamentally change the components of the desired diet and the proportions of macronutrients.
In this section, I have chosen similar formulas for comparison. These are the large, medium, and small breed and the puppy and senior formulas.
Product labels include guaranteed analysis, which is a great help when comparing protein, fat, and fiber content. Of course, each recipe meets the nutritional requirements of AAFCO.
Large breed formulas:
---
Medium breed formulas:
---
Small breed formulas:
---
Puppy formulas:
---
Senior formulas:
---
Comparison Tables
I detail the characteristics of similar formulas in the tables below. Based on these, it will be easy to determine whether Purina Pro Plan or Blue Buffalo is better.
Large breed formulas comparison table:
---
Medium breed formulas comparison table:
---
Small breed formulas comparison table:
---
Puppy formulas comparison table:
---
Senior formulas comparison table:
---
Analysis of the comparison tables
The tables contain all relevant information. I will evaluate this information from different perspectives.
Let's start!
Meat and Protein Content
Protein is one of the most important nutrients in a dog's diet. Proteins contain amino acids that help build and maintain lean muscle mass.
In addition, they promote cell regeneration and immune function. Thousands of bodily processes depend on proper protein intake.
The two critical factors for proteins are quantity and quality. Based on the comparison tables, we can see that Purina Pro Plan products generally have a higher protein content. This is beneficial for healthy dogs, but it alone is not enough for a proper diet.
The most crucial difference between the two brands lies in the by-products. All the Purina Pro Plan recipes I have examined contain by-products in addition to real meat.
These ingredients may have valuable nutrient content (glucosamine, chondroitin) but are not considered complete protein sources. This is because these by-product meals also contain animal parts that are unfit for human consumption.
The primary protein sources in Blue Buffalo are real meat and meat meal, but we find small amounts of pea protein. This is a somewhat controversial ingredient.
By-products do not necessarily diminish the merits of the Purina Pro Plan. On the other hand, I have to state that Blue Buffalo is the winner in terms of protein content.
Fat content
Fats are excellent sources of energy for dogs. When it comes to a working dog, nine calories per gram of fat provides an all-day boost.
But it's not just the benefits of these nutrients. They play a key role in a lot of bodily processes. Omega-3 fatty acids, for example, are an excellent anti-inflammatory and make dogs' skin, coat, and cognitive development healthier.
There is a negligible difference in fat content between the two brands. Pro Plan recipes contain a little more fat on average.
This is an advantage for high-calorie requirements, but you should avoid excessive calorie intake. Obesity is a severe health problem in dogs.
There are more significant differences in the quality of fat sources between Pro Plan and Blue.
The exact Omega-3 content is not always indicated on the label of Purina products. However, based on the ingredients, it can be seen in each case that Blue Buffalo recipes contain more of these valuable fatty acids.
Because omega fatty acid intake is critical for dogs, Blue Buffalo is better than Purina Pro Plan in terms of fat content.
Carbs
Carbohydrates are not essential, but they are excellent sources of energy and contain many useful nutrients. Examples are various vitamins and minerals.
When it comes to carbohydrates, it can be basically grain-free or grain-containing diets. Purina Pro Plan has fewer grain-free recipes than Blue Buffalo.
Therefore, if your dog has a grain allergy, you may want to check out Blue's offerings.
Blue Buffalo formulations do not contain wheat, corn, or soy, in contrast to the Purina Pro Plan, in which all products include one of these ingredients. For this reason, Blue Buffalo is also better than Pro Plan in terms of carbs.
Fiber Content
Fibers play a significant role in a dog's diet.
They slow down the absorption of carbohydrates, thus keeping blood sugar levels even. Your dog will feel fuller from them, which will also reduce calorie intake.
Last but not least, fiber has a beneficial effect on the health of the digestive system, from which the overall health condition benefits.
Products from both brands contain adequate amounts of these valuable ingredients.
Blue Buffalo contains more fiber. So if your dog has digestive problems due to low fiber intake, you may want to choose this brand.
Other ingredients
Let's look at what ingredients other than those listed so far are in the recipes reviewed.
For both brands, we find nutrient sources that contribute to overall health. Examples include pro-and prebiotics, vitamins, and minerals.
Blue Buffalo pays huge attention to supporting the immune system of dogs. The so-called LifeSource Bits contain plenty of vital vitamins, minerals, and antioxidants. In addition, Blue recipes usually have added vegetables and fruits.
If you are looking for various healthy ingredients in your dog's food, Blue Buffalo is a great choice.
Flavors And Options of the two brands
The two brands offer nearly the same number of recipes. We find both wet and dry foods.
The two dog foods are also very similar in terms of flavors. Blue and Pro Plan also feature chicken, beef, turkey, lamb, duck, fish, venison, and bison flavors.
These are the most commonly chosen protein sources, so you can be sure that you'll find a recipe to taste for even the pickiest dog ​​for both brands.
If you want to satisfy unique needs, I still have good news. You'll find products that target different problems at both brands, such as sensitive digestive systems, obesity, allergies, or joint health.
Cost
The health of our dogs starts with proper nutrition, so you should not skimp on a proper diet. But that doesn't mean you're forbidden from looking at product price tags. With better prices, you can save a lot in the long run.
Purina Pro Plan products are usually cheaper than Blue Buffalo, so they won the costs round.
Purina Pro Plan and Blue Buffalo Recall History
For detailed comparisons, safety must always be considered. If there are many complaints about a particular product in a brand, the FDA (or the brand itself) can initiate a recall.
You can find a list of current recalls here.
Both brands have received some recalls in recent years:
Purina Pro Plan Recalls
10th March 2016 / Cause: Inadequate amounts of vitamins and minerals / Recalled products: Pro Plan Savory Meals, 10 oz. tubs; flavors: Braised Chicken Entrée, Braised Pork Entrée, Braised Turkey Entrée, Grilled Salmon Entrée, Braised Beef & Rice Entrée; date range: Best before-June 2017 to August 2017
Blue Buffalo Recalls
17th March 2017 / Cause: Potentially high beef thyroid hormone levels / Recalled product: Blue Wilderness Rocky Mountain Recipe Red Meat Dinner Wet Food for Adult Dogs, 12.5 oz. cans, UPC #840243101153, best by June 7, 2019

28th February 2017 / Cause: Problems with packaging quality (announced by PetSmart) / Recalled products: 17 of the Blue Divine Delights. Namely:
Blue Divine Delights Filet Mignon Flavor in Gravy, UPC #84024312035
Blue Divine Delights New York Strip Flavor in Gravy, UPC #84024312037
Blue Divine Delights Prime Rib Flavor in Gravy, UPC #84024312039
Blue Divine Delights Rotisserie Chicken Flavor in Gravy, UPC #84024312041
Blue Divine Delights Pate Filet Mignon Flavor, UPC #84024312043
Blue Divine Delights Pate Porterhouse Flavor, UPC #84024312045
Blue Divine Delights Pate Grilled Chicken Flavor, UPC #84024312047
Blue Divine Delights Pate Top Sirloin Flavor, UPC #84024312049
Blue Divine Delights Pate Angus Beef Flavor, UPC #84024312051
Blue Divine Delights Pate Roasted Turkey Flavor, UPC #84024312053
Blue Divine Delights Pate With Bacon, Egg & Cheese, UPC #84024312057
Blue Divine Delights Pate Sausage, Egg & Cheese Flavor, UPC #84024312059
Blue Divine Delights Pate Steak & Egg Flavor, UPC #84024312061
Blue Wilderness Trail Trays Duck Grill, UPC #84024312071
Blue Wilderness Trail Trays Beef Grill, UPC #84024312073
Blue Wilderness Trail Trays Chicken Grill, UPC #84024312075
Blue Wilderness Trail Trays Turkey Grill, UPC #84024312077

13th February 2017 / Cause: Possible aluminum contamination / Recalled product: Blue Buffalo Homestyle Recipe Healthy Weight, Chicken Dinner With Garden Vegetables, 12.5 oz. can, UPC #8-40243-10017-0, best by Aug. 3, 2019

31th May 2016 / Cause: Mold contamination (possible) / Recalled product: 30 lb. bags of Blue Buffalo Life Protection Formula Fish and Sweet Potato Recipe dog food, best by April 11, 2017

25th November 2015 / Cause: Potentially salmonella contamination / Recalled product: one lot of Cub Size Wilderness Wild Chews Bones, best by Nov. 4, 2017

8th October 2010 / Cause: Possible excessive vitamin D content / Recalled products:
Blue Wilderness Chicken, 4.5 lb., best by JUL2611Z, JUL2711Z or JUL2811Z
Blue Wilderness Chicken, 11 lb., best by JUL1211B
Blue Wilderness Chicken, 24 lb., best by JUL1211B or JUL1311B
Blue Basics Limited Ingredient Diet Salmon and Potato, 11 lb., best by AUG2111B or AUG2211B
Blue Basics Limited Ingredient Diet Salmon and Potato, 24 lb., best by AUG2111B, SEP2311P or OCT2611P
Blue Life Protection Formula Natural Chicken & Brown Rice Recipe Large Breed Adult, 30 lb., best by SEP2211P, SEP2311P or OCT2611P

26th April 2007 / Cause: Melamine contamination (possible) / Recalled products: All Blue Buffalo Blue canned dog foods, dog treats, and Spa Select canned cat food produced by American Nutrition, Inc.
As you can see, Blue Buffalo had way more recalls. (However, there is currently no ongoing recall for this brand). So in this respect, Purina Pro Plan is the winner.
Comparison Based on Real Customer Reviews
Checking the ratings of real customers can give you a complete picture of a product. This way, you can find out all the pros and cons of each dog food.
Below, I compare customer reviews of the most popular products from the two brands. Both positives and negatives. All reviews are from Chewy's website.
This product is an excellent recipe developed to support your dog's overall health and wellness. Hence the name "Complete Health".
Customers are generally satisfied with the product. 83% of the reviews are 5-stars. In many cases, veterinarians recommend this recipe, which tastes good and has positive effects on dogs.
Overall, there are few complaints about the product. These are usually due to packaging problems, or some dogs do not eat the food.
Positive
Vet recommended – Fur Children Approved
In my lifetime of pet rescues I find this product to cost me far less in Vet visits. My fur children are healthy, vibrant and ALWAYS look forward to feeding time. I have tried cheaper brands and unfortunately lost pets at younger ages to Cancers. I would rather pay slightly more for the food I feed my fur children, you will save the difference on vet bills and your Fur Children will live much longer happier lives. Auto ship is the BEST – With the pandemic and store shelves not always having consistent stock I find it cheaper to auto ship and not have to chase around looking for products. No can Never mistake the CHEWY box – It's the best!
Don't tell her she's a Sr!
We love Purina Pro Plan. It was recommended to us by our vet for our other furbaby that needed to be put on a low fat diet. She also has epilepsy and it's important to us to have dog food that does not use rosemary extract.it can be a trigger. Indie turned 7 this summer and is a spoiled, highly trained service dog. She decided she didn't like her food that she had been on for years! Protested! I feed her some of our other puppers food.scarfed it down! She loves the shredded blend the best. I accidentally ordered the regular blend the 2nd go around. As always Chewy immediately made it right! Sent me the right one. Told me to donate the other bag as I saw fit!
---
Negative
My dog won't eat it.
It was highly recommended by our vet. He said my dog needs grain. He doesn't recommend raw. But that's all my dog will eat. So I went back to Stella and chewy. I give him grains in his treats instead.
Something weird
Bought this and our pup will not touch it. So strange because she eats EVERYTHING. Had to run out and get something else.
---
This recipe gets plenty of five-star ratings online because of the taste. Of course, some dogs are very picky.
Positive
Brenda loves Blue Buffalo!
Brenda is my adult son's dog. He lives in Florida and I live in Chicago. He was broke, naturally, and asked if I would spring for food for Brenda. Of course I said yes. I only heard good things about this brand even though Brenda never had Blue Buffalo before. I ordered and had delivered to him, Blue Buffalo Adult Chicken and Brown rice. Well, my son gave me a glowing report on Brenda's opinion. She gobbled the whole bowl. She loves Blue Buffalo and now I have to send Brenda this gourmet food every three months, Well, it's my pleasure. Brenda deserves the BEST!
My first baby loves it!
After our regular dog food not being available for close to a year now.. I've tried others in comparison to eukanuba adult large breed. My girl didn't like anything and it was upsetting her belly. Gave Blue Buffalo a try and she LOVES it! She don't let it sit and mope.. she knocks her bowl over(that's what she does) and goes right to it! Not one upset stomach at all! We will be sticking with blue from now on.
---
Negative
Not a winner
I thought i finally found a food all four of my pups would love. At first they did but then two of them started sorting out the life bits and wouldn't eat them. Another two days later one pug flat out walked away from it. The other two are food hogs and eat anything. Will have to switch back to hills or nitro. This is really a no go for us. Never had problems with blue buffalo before, quality may not be there anymore
Great service
I like this brand, but must've chosen something different than my usual?? My dog isn't digging this flavor. So, back to the drawing board. lol Love the delivery and subscription options though!!
---
My Final Verdict About Purina Pro Plan Vs Blue Buffalo
I went through several aspects of my article to find out which is the better brand. Both have a great history, which is why we know that the two manufacturers produce quality dog ​​food.
Based on nutritional value, Blue Buffalo clearly won. This brand's recipes contain better sources of protein, fat, and carbs.
However, Pro Plan formulas are cheaper, and this brand has had fewer recalls in recent years.
Considering the above, I choose Blue Buffalo over Purina Pro Plan.
---
---