An increasingly popular breed is the Shih Tzu. Their fur had almost become iconic. More and more people fall in love with their long locks. However, the thin hair of these dogs requires special treatment. Regular grooming and bathing are essential. It is also important that all this is done with the right tools and products.
Choosing a good shampoo is very important. In my article, I will write about the best products. I'm also writing about what you should look out for in relation to Shih Tzu's skin and what a good Shih Tzu shampoo should know.
Let's start!
Product table for the best Shih Tzu shampoos
[wptb id=4250]
What are the best shampoos for Shih Tzus?
Below I have collected the best shampoos for you. I will also select my favorite. However, you should know that you can choose the rest. After all, each product is excellent on the list, and your dog may have different needs than mine.
While every member of my list is very good, this shampoo is still the first review element. This is one of the best products on the market and you will soon see why.
This shampoo is not only good for cleansing but also for conditioning. This is very positive because the long hair of Shih Tzus is very fine and sensitive.
It also contains plant and other natural oils. This will help repair any damage to the coat. The hair will be shiny and healthy. All ingredients are of cosmetic quality (e.g. green tea and sage), so they are safe to use.
This shampoo is also perfect for dogs with sensitive skin as it is soap-free. You can bathe your puppy after this as many times as you want. Buddy Wash shampoo also has a deodorizer property. This is due to wheat protein. It is a very strong, yet gentle natural "smell buster".
An infusion of lavender and mint will reduce anxiety and relax your dog. The shampoo does not dry out the skin at all. Moreover, the infusion of aloe vera hydrates it properly.
If all that wasn't enough, this is one of the cheapest products on my list. Because of this, you really should consider it first.
---
This shampoo should definitely be among the best. Because it is not a generic product, it has a purpose. However, in that respect, it is one of the best on the market.
If you have a dog with sensitive skin or allergies, be sure to consider this product. It is very effective against skin diseases such as dermatitis and pyoderma. The active compounds used provide adequate protection against fungal infections. Infused aloe vera hydrates the skin and provides protection and promotes recovery at the same time.
In a sense, it is a medicinal product. You will receive specific instructions regarding bathing. Initially, you should use this shampoo twice a week. Later, when the problems are resolved, it will be enough once a week.
This shampoo is also not expensive, so if you have a dog with problem skin, you should definitely consider this product.
---
The above two products are all excellent and solve all your problems. On the other hand, I collected additional products that also have positive properties. Check them out too!
---
Compared to other products, it is quite expensive. However, its quality is unquestionable. It effectively treats skin problems due to aloe vera and lemongrass.
It is soap-free and contains only natural ingredients. It also has antifungal and antimicrobial properties. It slipped from first place because of its price, but nonetheless, it's one of the best products on my list.
---
I like this product because I love mango. Incidentally, experience has shown that animals are also happy with this scent.
This shampoo is also suitable for dogs and cats. So if you have a multi-pet household, this may be a good choice. The formula is soap-free and contains only natural ingredients. Can be used for both cleaning and conditioning. Does not cause irritation and redness.
---
This is a coconut-based shampoo. It is very good for moisturizing the skin and protecting the hair of your Shih Tzu.
The product contains natural ingredients, so it can also be used on sensitive skin. The pH balance is just ideal for dogs, so you can use it safely. I really like the natural and fresh scent. In addition, it also has a very good deodorizing property.
---
This is a soap-based product. But don't be scared, this is a weak soap developed for dogs.
The pH level of the soap in the shampoo is neutral. This minimizes the possibility of irritation and redness. If your dog's skin is not sensitive, this product is one of the best choices for you because of its effective cleaning power.
---
My pick
It's time to choose the best. Perhaps unsurprisingly, my favorite is the Buddy Wash Original Lavender & Mint Dog Shampoo & Conditioner. This value for money is the best product you can get on the market.
Click here to get one for your Shih Tzu.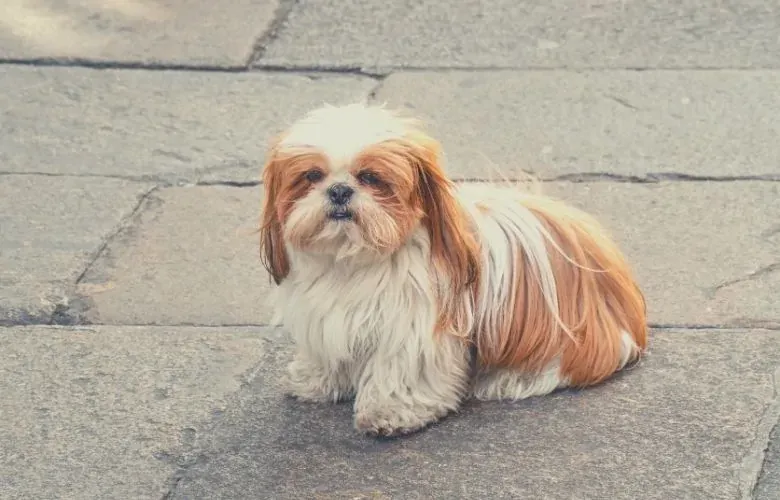 What shampoo should you look for for a Shih Tzu?
You must be aware that there are several types of human shampoo. You buy a different product for oily hair than for dandruff. And these are just two examples. There may also be differences for dogs. Which shampoo is right for your neighbor's dog may not be good for yours either. Shih Tzus have special needs, so they may require special shampoo. The shampoos detailed below cater to different needs.
Shampoos for sensitive skin
There is a so-called acid mantle on the skin of dogs. This is to protect the deeper layers of the skin from inflammation, infections, and irritation. By the way, people also have such acid mantles. This mantle is made up of fatty acids. When we humans or dogs sweat, the lactic acid and amino acids in the sweat create the pH level of the skin.
The pH of human skin is more acidic than that of dogs. For us, this value is 5.5 and for dogs 6.5-7.5. It is worth knowing that the less acidic the skin, the more prone to irritation. An unbalanced pH level leads to all sorts of serious skin problems. Poor quality shampoos contain paraben and sulfites. These substances can upset the pH balance, causing serious problems. The skin will be itchy and red. Experts often recommend Shih Tzu shampoos for dogs with hypersensitive skin, which is no accident.
Anti-fungal shampoos or conditioners
Did you know that yeast is found on the skin of dogs and people? At a balanced pH level, the amount of yeast is beneficial to the health of the dogs. However, when this level is upset, these fungi can multiply and have a bad effect on your dog's health. Warm and humid weather and high-fructose dog food can further help yeast growth. This can cause a severe yeast infection. This infection is also suspected after surgery or as a result of another disease that has reduced the immune system.
Signs of yeast infection include excessively scratching, rubbing, or chewing and licking paws. Fortunately, there are antifungal shampoos that can help with the problem. Of course, you should talk to your veterinarian before diagnosing your dog.
Shampoos for shedding control
Many people believe that Shih Tzus do not shed. This is not true. However, in some ways, they do it differently than other breeds. Shih Tzus don't have fur, they have hair.
The hair is longer and less thick than the fur. Hair needs daily combing even though it shed less. However, if your Shih Tzu has very long hair, falling hair can get stuck in the coat. So it's like your dog is barely shed. This is not the case with the short-haired Shih Tzus, as their hair does not get stuck in the coat.
Dry hair falls out more often. Therefore, you should buy moisturizing shampoos and conditioners if you have such a dog.
Anti-dandruff shampoos
Unfortunately, Shih Tzus are very prone to this problem. Dandruff is a symptom of dry skin. The triggers can be cold and dry weather and foods that trigger allergic reactions. Dandruff is more noticeable in black or brown dogs than in white ones. You may want to brush your dog down to the skin. This way, dead skin is not trapped and dandruff is more difficult to develop.
Otherwise, there is a solution to the problem in the form of shampoos. These shampoos contain high-quality natural ingredients and miconazole nitrate or chlorhexidine gluconate.
Deodorizing Shih Tzu Shampoos
The skin of Shih Tzu dogs secretes oils. These oils protect the skin and coat. The hair will be silky, shiny, and soft. But these oils can also stink, even if your Shih Tzu has bathed. There are special shampoos that eliminate these odors while protecting your dog's skin from dryness.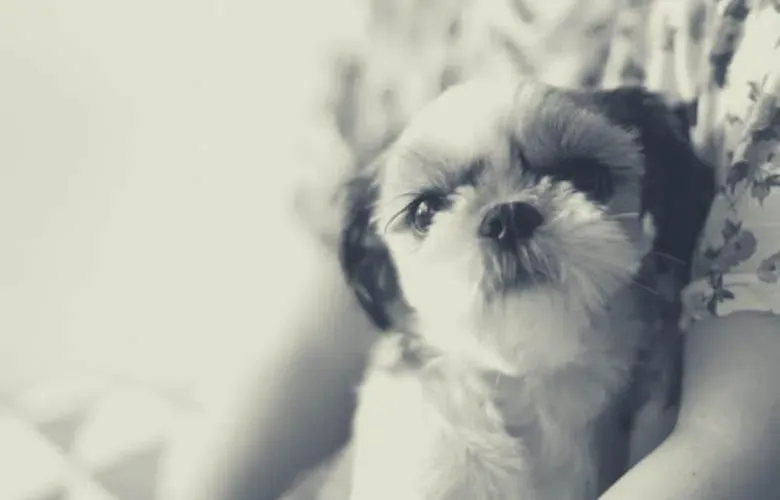 Best tips for keeping your Shih Tzu's hair clean
The Shih Tzu is a breed with a double coat. This means you have an outer coat and an undercoat. Both have different textures. The role of the former is some kind of protection, the latter is the function of insulation.
The oils excreted by dogs' skin are important for the health of their fur. However, if there are too many of these oils, it can have negative effects. If you brush your Shih Tzu every day, these oils will spread and will not build up.
Dogs may have different coat textures. There are Shih Tzus who have silkier and finer hair, but there are those who have a thicker and coarser coat. These differences may require different shampoo and grooming methods.
Let's see the best tips:
Everyday brushing: Daily brushing reduces the mats and dandruff. In addition, your dog's hair will be much prettier, brighter, and healthier. For grooming tools, I recommend a slicker brush and a greyhound comb to untangling the knots.


Brush your dog's hair to the skin: When combing, be sure to get the slicker brush way down to your dog's skin. With this method, you can achieve that the oils are evenly distributed. Your dog's hair will be more beautiful.


High-quality food: If you want your Shih Tzu to have a healthy coat, be sure to choose premium-quality dog ​​food. This is because low-quality products often contain unhealthy ingredients. Examples are fillers or meat by-products. Also avoid corn, sugar, or fructose, and corn syrup. The primary ingredient in your dog's kibble should be meat. It is also good to contain omega-3 fatty acids. This not only makes the coat healthy but also helps prevent and treat dermatitis.


No pests or parasites: Various pests such as intestinal worms, parasites, fleas, etc. can prevent dogs from utilizing all the nutrients. Because of this, their hair will be lifeless and unhealthy. Regular check-ups can help eliminate these problems. Always ask your veterinarian how often your dog should eat deworming.

Fleas and ticks are also a threat to your dog and your health. Fortunately, there are plenty of good medications for these pests. However, be sure to seek the advice of your veterinarian. A poorly chosen medication containing essential oil can do a lot of harm to your dog.


Always use the right shampoo or conditioner: Never use poor quality or inappropriate types of shampoos. Because of these products, the coat of the Shih Tzu will be lifeless and unhealthy, but even the hair may fall out. A good shampoo will make your coat shiny and healthy. Avoid products that contain synthetic parabens or harsh soaps and scents. The best Shih Tzu shampoos remove excess oils without drying out the skin. These shampoos have the right pH balance for your dog's skin.
Five tips for bathing your beloved Shih Tzu
When bathing, you can hardly avoid getting water in your dog's ears. Excessive water is also not good for the ear canal as it increases the risk of infection. You can use a cotton ball to minimize the amount of water. Of course, do all this gently. Be careful not to leave the wool in your dog's ear.


When drying after bathing, do not rub your Shi Tzu. The hair of these puppies is prone to matting and tangling anyway. Rubbing only makes matters worse. Gently pat your dog and let his hair dry naturally.


Always brush your Shih Tzu before bathing. This will prevent matting or knotting from getting worse. Water makes it much harder to dissolve the knots.


Make the bathtub non-slip. This will prevent any accidents.


You can use steel wool to catch long hair. This will prevent clogging. Just put it in the plug hole.


Shih Tzus are small so they can even fit in the sink. This bathing is less intimidating for your puppy and is a more comfortable height for you as well.
Frequently asked questions about Shih Tzu shampoos
---