If you have a German Shepherd and are interested in the home grooming topic and grooming equipment, then this article is for you. If you read it, you are guaranteed not to have to take your dog to a professional groomer afterward. I will write about the types of grooming tools and what is needed for German Shepherds. Finally, I choose my favorite from all the varieties. These are exclusively premium quality products, so you will definitely not be disappointed.
Let's start!
Product table for the best dog brushes for german shepherds
[wptb id=4051]
What are the best grooming tools for german shepherds?
Among the many grooming tools, it's hard to find the one that might be best for your German Shepherd. However, I selected the best of all types. Read on and find out what these are.
The product is self-cleaning, as you can empty all the fur by pressing the FURejector button.
There is also a variation of the product for long and short-haired dogs. In terms of body weight, it is suitable for dogs weighing 51-90 pounds.
---
The handle is made of rubber and the whole is non-slip. The bristles are just ideal for performing all the necessary tasks. They are gentle so they don't hurt the topcoat. However, they can reach the undercoat so you can get rid of the loose fur.
The product is affordable and DakPets also offers a money-back guarantee. According to the brand, several veterinarians recommend this tool.
---
The comb is made of stainless steel, which is reasonably durable yet gentle. The teeth can reach the undercoat to get rid of the loose fur. You can release the blades at the touch of a button.
The handle is ergonomic and properly non-slip. This will make grooming comfortable and safe for you and your dog. The product comes with a lifetime warranty and a three-month money-back guarantee.
---
In addition, the teeth are able to remove loose hairs on the top coat. The point is, the difference in your home will definitely show up if you use this product.
This tool also comes with a lifetime manufacturer's warranty. All in all, this is an extremely positive product.
---
This tool can also come in handy if you need to groom an area like your dog's face. This problem area can be very sensitive to the wire-bristle brush.
It is also excellent for bathing. If your dog gets muddy for something, you can use this tool to quickly and easily clean him of all dirt.
---
As the product only removes loose fur, it does not cause irritation. Plus, it takes all the fur out of your dog without pulling. Thick undercoat and lumps are no problem for it either. Your dog's fur will be perfectly healthy.
Fortunately, this product also has a lifetime warranty.
---
The inner blades easily cut the hard fur, so there is no pulling and irritation. The teeth are rounded and blunt. For this reason, they are harmless and have a massaging effect.
The handle is comfortable and ergonomic. The teeth are made of stainless steel, which is extremely durable. So it is no wonder that the manufacturer provides a lifetime warranty for this product.
---
The teeth are double-sided, so they are good for different things. One side has a lower density. This de-matts and de-tangles. The other higher density side de-sheds too.
This will give you more control over combing. The teeth are sufficiently sharp, so the knots are easily cut. And your dog's sensitive skin won't be irritated.
---
The bristles are quite effective, but they are basically harmless and will not scratch your dog. In addition to those listed so far, this brush distributes skin oil and increases blood circulation.
The self-cleaning function can also be found here. This means that at the touch of a button, the product releases all the fur.
---
The self-cleaning button can also be found here. You can access the undercoat with the curved wire bristles. Meanwhile, the brush also cleans the top coat.
The product helps to distribute skin oils and circulate blood in the same way. In short, it is responsible for the health of skin and fur. The ergonomic non-slip handle gives you maximum control while grooming.
---
My Picks for the best dog brushes and grooming tools for german shepherds
As you can see from my article, German Shepherds need several types of grooming tools. That's why I don't even want to select a piece.
The best de-shedding brush is the FURminator Undercoat De-Shedding Brush.
Click here to get one for your German Shepherd.
Since there was only one grooming glove on my list, I clearly choose this as the best. Pet Magasin Grooming Gloves is the perfect product if you want to pamper your German Shepherd a bit.
Click here to get yours.
Among the undercoat rakes on the list is PawsPamper Undercoat Rake was the most sympathetic to me.
Click here to check the price.
If you are looking for the best de-matting comb, I recommend the GoPets De-matting Comb.
You can watch it here.
And last but not least, the Pet Neat Self-Cleaning Slicker Brush proved to be the best slicker brush.
If you click here, you can see the price.
The ultimate guide for choosing the best grooming tools for your German Shepherd
Choosing the most suitable grooming tool is not easy. There are two reasons for this. One is that there are six varieties. The other is that you have to select them based on your dog's coat. But you don't have to worry, if you read this guide, you'll be able to make decisions more easily.
Types of grooming tools
BASIC BRUSHES
These tools are made of metal wire bristles or plastic bristles. The former reaches the coat deeper. It is usually used to remove and detangle undercoat. The latter is for removing lose guard hairs. It can also be used to distribute skin oil. There are products that have both solutions. This tool is essential for daily grooming if you have a German Shepherd. If you want to prevent matting and excessive shedding, use it every day. Can also be used for medium and long coats.
SLICKER BRUSHES
This type of brush is especially suitable for German shepherds with long coats. This is due to the finer bristles. With this tool, you can get rid of minor dirt (e.g. dust) from your dog's fur. What I love about slicker brushes is the self-cleaning feature. You have to imagine that when you're done brushing, all the fur falls off at the touch of a button.
COMBS
You can use them for everyday smoothing. It is important to note that these tools are only effective for smaller tangles. For larger tangles, use de-matting tools.
DE-MATTING TOOLS
These are the most appropriate tools for detangling the knots of long-haired German Shepherds. In addition, they reach the knots of the guard hair and the undercoat. Of course, you can also use them for short-haired German shepherds. Stainless steel teeth can treat any knots.
DE-SHEDDING TOOLS
De-shedding tools can save you from plenty of furs. They can reach down under the guard hairs, into the undercoat. They collect the loose undercoat fur. One type of de-shedding tool is the undercoat rake. It has two layers of teeth, so it reaches both coats. These tools are essential for all German Shepherds. No matter how long their fur is.
GLOVES AND MITTS
These tools are practically gloves with tiny rubber nobs covered. These nobs will comb your dog as a result of the caress. If your dog doesn't like touching a comb or brush, this may be an ideal solution for you. For sensitive dogs, an alternative often needs to be devised. And this solution is very positive. Rubber nobs also do an excellent job of distributing skin oil. You can use these tools on both wet and dry fur. So you can do this kind of grooming while bathing. They usually do a thorough job and are easy to clean. In many cases, they are even dishwasher safe.
Which grooming tool do you need for your German shepherd?
As I mentioned, coats of different lengths require different grooming tools. The same goes for grooming practices. The latter may seem similar in many cases, but there are differences that are very important for healthy fur.
GERMAN SHEPHERDS WITH SHORT COAT
If you have a dog like this, you will need two or three grooming tools. You definitely need a basic brush, or you can buy a grooming glove. Choose the one that you and your dog like better. Otherwise, you can buy both. And during the shedding period, you will need an undercoat rake.
GERMAN SHEPHERDS WITH MEDIUM COAT
These puppies have more fur, so they need a little more attention. However, you will need the same tools. Pay attention to daily brushing, and in the spring and fall, you should use the undercoat rake. The grooming glove also comes in handy with these dogs.
GERMAN SHEPHERDS WITH LONG COAT
They require the most grooming. But if you choose those three or four grooming tools properly, you don't have to pay a professional groomer. In addition to the basic brush, grooming glove, an undercoat rake, you need to get a slicker brush. This tool has fine wire bristles that are excellent against dust, dirt, and dander. With these three or four tools, your dog's fur will stay clean, shiny, and healthy.
Best grooming tips for short, medium, and long coat german shepherds
Everyday brushing is the best way to shed control. In addition, the fur will be shiny, clean, and even have a good effect on blood circulation. Your German shepherd will need less bathing.


Use shampoo for dogs when bathing. Human shampoos are not suitable for German shepherds. In addition, they may contain compounds that cause irritation.


Obtaining an undercoat rake is extremely important, especially during the spring and fall shedding periods. With this tool, you can get rid of a lot of furs and save the price of a professional groomer.


If you experience a lot of tangles on your dog's fur, use an undercoat rake. Go through small sections and don't try to get rid of all the tangles at once. This way you can avoid the frustration of your German Shepherd.


Your dog may need time to get used to grooming. Go gradually. Talk to him kindly, reward him many times. If he's nervous, take a step back and calm him down somehow. Treats are useful in such situations.


Starting from the previous point, it is more ideal if you start grooming at a young age. Thus, your German shepherd will be completely accustomed to this activity as an adult.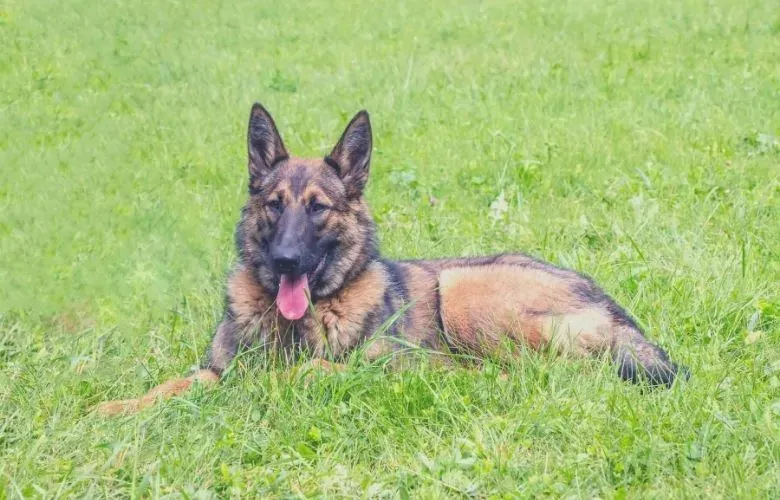 Frequently asked questions about the best dog brush for german shepherds
---