In this detailed guide, I will tell you how to prevent your pup from getting heatstroke. I'll also reveal which are the best fans on the market you should use for your dog cage. (2022 update)
The best fan for a dog cage or kennel is mobile, lightweight, easy to use, and durable. But most importantly, it is reliable and protects our dogs from heatstroke caused by warm weather. You don't have to look any further.
I spent days finding the most suitable product for you. And this is the ProSelect Cool Pup Crate Fan.
In my roundup review, you will find other fans that I have selected based on different criteria. You should also check them!
Let's start!
What are the best dog crate cooling fans?
My article will talk about the criteria for choosing the best dog crate fan. Now you can see a list where I have collected the products I like the most.
If you are looking for the best cage-mounted cooling fan, be sure to consider Pro Select. The retractable arms confidently hold the device in almost any cage or kennel. This is a simple but safe solution for mounting.
The product's material is plastic, which is sufficiently durable, of course not unbreakable; you should avoid dropping it from a height.
Fan blades can easily make the air in your cage cooler for your dog. You can choose between two speed levels, both of which are quite quiet. This way, not only will your pooch not be afraid but you will also be able to rest properly while the device is running.
The special feature of the product is that it also includes a built-in thermometer. This is really handy as it allows the fan to turn on the fan when it's needed the most.
The product works with four C batteries, which allow you to cool your dog's cage for about 2-4 hours. Of course, it also depends on the speed level you choose. The fan also works with an A / C adapter. Unfortunately, neither the batteries nor the A / C adapter is included in the package.
The good news is the two-year manufacturer's warranty, which assures us that the product is working properly.
Pros
2 speed levels
2 year warranty
Built in thermometer
Ideal for almost any cages or kennels
Quiet operation
Cons
Batteries and A/C adapter are not included
Pet Worshiper rating for this crate fan: 9.7
---
This fan does not have any special features, but it does fulfill all the expected basics. I love these wall-mounted appliances as it's a convenient way to cool your pooch in the summer.
Installation is easy with clips. The product can be compatible with almost any cage or crate.
The material is lightweight plastic, which does not burden the cage, yet, it is sufficiently durable. Of course, this is also unbreakable, and smaller parts (clips) break relatively easily.
You can choose from 2 speed levels, so you can take into account the weather, your dog's mood, and running time. The latter, according to the manufacturer, is quite impressive. They promise that the 2 D battery can operate the fan blades for up to 100 hours. Online reviews also confirm that the runtime of the product is quite long.
In addition to the batteries, it can be operated by an A / C adapter. Unfortunately, none were included in the package.
The manufacturer offers a 1-year warranty. This is less than the previous product's, but I think it's acceptable.
According to both the manufacturer and customers, this product is very quiet. This will really reduce the nervousness of you and your dog in the long run.
Pros
2 speed levels
Warranty
Ideal for almost any cages or kennels
Quiet operation
Impressive run time
Cons
Batteries and A/C adapter are not included
Small parts can broke
Pet Worshiper rating for this crate fan: 9.6
---
This product has no hanger, so you have to figure out how to solve the mounting. But do not worry. The base allows you to adjust the angles. So all you have to do is find a suitable point from which to cool your puppy.
The design is very attractive, and the polypropylene plastic also makes the product very light. Nevertheless, it is very durable, perhaps even more durable than the products presented above.
This fan is full of benefits. Not only efficient but very quiet operation. Because of this, it will not bother you while working or sleeping. You can also choose from two speeds, which makes the product very advantageous and versatile.
You need to buy the 2 D batteries needed for operation, but they can achieve a very long run time (about 30-50 hours). I also considered the one-year manufacturer's warranty important when evaluating the product.
Oh, and I almost forgot: it's obviously not a primary consideration, but you can choose from several colors. These are black, blue, gray, light blue, raspberry, and khaki.
In addition to all these benefits, the affordable price makes this fan really attractive.
Pros
2 speed levels
Warranty
Adjustable angle
Quiet operation
Impressive run time
Affordable
Cons
Batteries are not included
No hanger
Pet Worshiper rating for this crate fan: 9.7
---
You can easily place this mini fan on a crate using the clip. I like this solution, the clip is also very powerful, and the fan can be rotated freely in any direction. That is, you can definitely find the right angle for your pooch.
Thanks to the stepless speed regulation, you can precisely set exactly how much airflow is needed to cool the cage.
The maximum wind force is 75ft/s, making a significant difference on warm days. However, the product is extremely quiet, so it will not scare or disturb your dog.
You finally don't have to worry about purchasing batteries separately for this product. You can easily charge the product's rechargeable batteries with a USB cable. Unfortunately, this has one drawback: the maximum running time is about 2-6 hours at the highest gear (depending on the speed).
You should also know that you cannot adjust the speed while charging USB. You can check the battery charge status by an indicator light, which means you will know exactly when you can use the fan again.
The product is otherwise surprisingly good quality, sturdy, and durable. This is also confirmed by user reviews. Plus, it's all quite affordable. The one-year warranty further enhances the benefits of the product.
Pros
Stepless speed regulation
Warranty
Fully adjustable, strong clip
Quiet operation
Rechargeable battery
Affordable
Pet Worshiper rating for this crate fan: 9.6
---
This cooling fan is not on my list by accident. Thanks to its special design, you can mount it on almost any surface or object.
You can bend the flexible tripod in any direction or angle. This way, you can easily put it on your dog's kennel as well.
This excellent dog fan comes with 5000mAh rechargeable batteries that can operate the fan blades for up to 20 hours. The total running time, of course, depends on which of the three speed levels you choose. This makes the product versatile and ensures that you can always operate it according to the situation.
Otherwise, charging is possible via USB, which is quite a practical solution these days.
Anyway, this product is quite affordable, but several customers complain about the not very durable quality. In any case, you should also consider this option if you want a truly versatile and convenient solution for cooling your dog's cage.
Pros
Flexible and versatile
Fully adjustable
Quiet operation
Rechargeable battery
Affordable
Pet Worshiper rating for this crate fan: 9.5
---
If you're interested in green energy, you're sure to love solar-powered devices too. Well, in this case, this fan is for you. You can use it for any pet house, chicken house, but you can also easily cool your dog's kennel with it.
I especially like the feature that the fan blades will rotate the fastest when exposed to direct sunlight. When there is no sunshine, they slow down or stop completely. This assures you that the product is only used when it is most needed.
When installing, you should be careful that although the solar panel is waterproof, the fan itself is not.
Well, customers are overall satisfied with the product. However, while the quality of the solar panel is impeccable, the fan is not durable enough. Of course, for the price of the product, I think this quality is totally acceptable.
Pros
Works with solar power
Great quality solar panel
It only works in the sunlight
Pet Worshiper rating for this crate fan: 9.5
---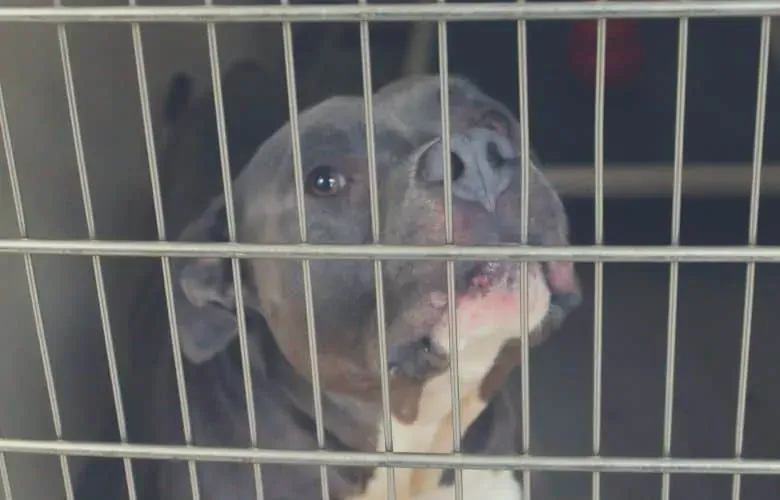 Should you worry about your dog getting a heat stroke?
Probably everyone is aware of how dangerous it is to leave our dogs outside in the cold. However, the situation is no different in warm weather.
Crating your pup can be a good idea if you're not at home for monitoring, don't want clutter among your pets, or don't want to see your furniture in pieces.
However, if your dog's cage is outside in extreme heat or indoors in a less ventilated room, it can have serious health consequences. This increases the risk of heatstroke. This condition occurs when heat accumulates in your pooch's body and he is unable to conduct it. Of course, this can even be fatal after a certain amount of time.
Heatstroke can have the following other symptoms:
For this reason, it is understandable that dog owners need some tactics to overcome the heat. If dogs are outside, they some shade. Fresh cold water is just as important (even a swim in a garden pool could come into play). It may be a smart idea to keep your dog in an air-conditioned or well-ventilated room.
The thing is, not everyone can provide these for their dog. Fortunately, there are plenty of dog cooler products that are extremely useful in some situations. Examples are cooling mats, cooling vests, crate fans, etc. These will make it easier for you to endure the hot summer months with your dog.
My article will be mainly about crate fans. These are really simple, effective, practical, and inexpensive solutions for cooling our dogs on hot summer days.
How pet crate fans are useful?
Most dogs love the summer, as there is plenty of exercises available at this time. The joints of elderly dogs also benefit from the warmth, especially for those with arthritis. However, canines cannot sweat the way humans do. Their method of getting rid of heat is panting. However, this is not enough in many cases, especially if they have to spend several hours in a cage.
A dog crate cooling fan offers a solution to unbearable heat. All this at your dog's favorite resting place. The design of these products is the same as that of car fans. They are lightweight, portable, and noise-free. You can use a hanger or special clip-on clasp to attach them to the crate. These fans usually run on batteries.
So dog crate cooling fans come in very handy in situations where you need to leave your dog in the crate for a long time, or when the crate is in a place where there is not enough airflow.
However, it is worth noting that these fans are not enough in all situations. They are not effective at extreme temperatures (such as inside a car). So don't leave your dog in the car for long periods of time, even if you turn on the fan for him.
The best cooling fans are simple and have excellent value for money. In my article, I have collected the best products on the market.
How to choose the best dog cage fan?
You may have already searched for suitable products on the Internet. Like everything else, the selection is very wide. There are many brands with plenty of choices. Below I write about what aspects you need to consider in order to find the best crate fan for dogs.
Material
The building material is very important as it determines the quality, durability, and reliability of the fan, but even its cooling performance. You may also want to look at the body material, the fan material, and the mounting clasps and hangers material.
The dog crate fans listed in my article are mostly made of BPA-free recycled polypropylene plastic. This type of plastic is very durable, cost-effective, and lightweight. However, this material is mainly suitable for indoor use. For outdoor use, I recommend fans made of ABS plastic.
If you examine the material of the products carefully, you will be one step closer to finding the most suitable dog crate fan for your puppy.
Safety and design features
In addition to the material, design and safety are paramount. Dog crate fans must be attached to the crate or cage in some way. The mounting must be durable and adjustable. The best fans have good quality mounting hooks or clip-on clasps. They are able to hold the fan and stabilize it during operation.
For safety, you should check out the blades. Silicone blades do not cause injury if touched by an animal or small child. Be sure to choose a fan that has a fan casing. This further reduces the risk of injury. The products in my article are safe. Also, it's worth looking online for reviews of each dog crate fan.
Size, noise, and airflow
After the previous considerations, it is worth examining the size and airflow level of the product. This is because they largely determine the cooling capacity. Of course, the bigger a crate or cage, the bigger fan you will need. The most suitable size is usually 5-5.5″.
The issue of speed and airflow is also very important. Obviously, the higher their level, the higher the cooling capacity. However, in such cases, the noise level also increases and the battery lasts less.
For this reason, it is advisable to choose a fan with at least two speed levels. In my list, I also collected such products.
Accessories
Although I have already listed the most important aspects, there are a few more that are worth writing about. These include accessories such as batteries, chargers, and instructions manual. There are options for standard and rechargeable batteries. The charging option can usually be wall charging or USB.
You should also check to see if the product comes with replacement parts or additional accessories. These include screws, cooling attachments, clip-on clasps, etc.
Warranty
Last but not least, the warranty is an extremely important aspect. If you choose a good quality product, you can be sure that it will be useful for years to come. However, the warranty always ensures that you will not go wrong despite any defects.
The best manufacturers usually offer one or more years of warranty on their products. In my list, I tried to collect as many dog ​​crate fans with guarantees as possible.
Authorized resellers
Make sure you buy from authorized resellers or the manufacturer. In this case, you can avoid poor-quality fakes. Don't buy from overseas sellers where the products will come in for several weeks.
By following the above, you can be sure that you are buying a high-quality ​​crate cooling fan for your puppy. If you're not sure about your choice, I still have that list where I've gathered the best possible fans for you.
Frequently Asked Questions
Below you will find answers to other questions you may have about dog kennel cooling fans.
Are Dog crate Cooling Fans safe?
Basically, these fans are considered very safe. Be sure to check the brand reputation of the product you have selected and whether the seller is authorized. If all of these factors are okay, you may want to check out the reviews available online. I've taken these steps for all the products in my article, so you don't have to worry about possible problems.
Should I leave The fan on for my dog at night?
In the most scorching summer heat, the temperature does not always drop enough at night to be tolerable. In this case, you may want to leave the fan switched on in your dog's cage.
My final choice
In my article, we were looking for the best dog crate cooling fan. It was not easy because the market is huge and there is a wide variety of designs to choose from. My favorite is the ProSelect Cool Pup Crate Fan, which, thanks to its built-in thermometer, provides an ideal solution for warm days and evenings for your pooch.
---