This is my detailed guide about indoor and oudoor cat repellents in 2022.
If you are in a hurry and want to know right away:
The best indoor cat repellent is Pet MasterMind Claw Withdraw Scratch Deterrent Cat Spray.
And choose Orbit 62100 Yard Enforcer and Nature's Mace Cat Repellent as the best outdoor cat repellents.
Anyway, you might want to read the full article because I've put together some helpful tips on the subject.
Cats are special animals and are very lovable. However, they have their own rules, and certainly, these are hard to tolerate sometimes. Extraneous cats, fighting, or unwanted poop or urine. These are all things you don't want in your garden. And these are just cats, I haven't even listed other animals.
Outdoor cat repellents are the best for this purpose. I will write about these in this article. I describe what varieties are there and how to choose the best repellent or deterrent.
You will see that you can use these devices not only against cats, but also against other animals (dogs, ferrets, and others).
In addition, I will evaluate some products and select the one I like best. Of course, you may find a different type of deterrent to suit your individual circumstances.
Let's start!
What are the best cat repellents and deterrents?
My top 7 best cat repellent choices
Later we will look at what makes a repellent or deterrent good. We will also see what varieties are there, and what they can be best used for. For now, let's talk about my list of the best cat repellents.
It leaves no stains and consists exclusively of natural ingredients. Examples are jasmine, passionflower, and cat pheromones. These materials cannot be tolerated by cats, so both your furniture and your kitten will be safe.
The product is extremely easy to use. All you have to do is spray it on the right object or area. This repellent acts almost immediately. The smell is not disturbing, there are some for whom it is especially pleasant. The effect lasts for days. In addition, this product is affordable.
---
The principle of operation of Sticky Paws Furniture Strips is extremely simple. Cats hate sticky things. Therefore, when they sense the Sticky Paws Furniture Strips on your furniture, they will stop scraping immediately. You can stick these adhesive training aides on any garment, rug, or furniture.
The package includes 24 2×12-inch strips. The stripes are transparent, so they don't spoil the look of any of your furniture. They can be used for months, so this method is also very cost-effective.
---
I think this product is the best in its category. It has some unique features I haven't really seen in other deterrents in this quality. It has a built-in sunlight detection mechanism. Therefore, you can decide whether to use it only during the day or only at night, or for 24 hours.
It does not waste too much water. It uses about two cups of water in one shot. And the duration is adjustable.
The deterrent works with 4 AA batteries. The batteries are enclosed in an airtight compartment to protect them from the weather. The infrared sensor can detect pests at an angle of 120 degrees from a distance of 40 feet. Experience has shown that it cleverly distinguishes living things from trees. It won't activate unnecessarily.
The Yard Enforcer has a 30-minute watering cycle function. So you can use it as a timed garden sprinkler. If you want, you can connect additional sprinklers to the same unit.
The product comes with a three-year manufacturer's warranty.
---
The active ingredients of the product are peppermint oil, citronella oil, and lemongrass oil. The other ingredients are water, citric acid, Sodium Lauryl Sulfate, Sodium Benzoate, and Sulfur. These are completely natural, environmentally friendly, and degradable ingredients.
Nature's Cat Mace is available in several forms. You can also buy it in concentrate or ready-to-use spray, or granule form. From this 40 oz. pack, you can make 5 gallons of spray. One gallon of spray can be used for a 3,000 sq. feet area. But the spray bottle is not included, you have to buy it separately.
It is effective against both domestic and feral cats. You can use it both indoors and outdoors. However, I recommend diluting it with more water for indoor use.
The product is very easy to use. Follow the manufacturer's instructions. Apply the spray every day for a week at the specified points. Then it will be enough once a week. Thanks to sticking agent technology, it can remain effective even in wet weather.
The manufacturer offers a 100% money-back guarantee for dissatisfied customers.
---
It is an ultrasonic noise and strobe-light pet repellent made by AUBNICO.
The product has a cover made of high-quality ABS plastic. Respectively, its joints are also properly sealed.
This allows it to withstand all weather conditions.
The AUBNICO Ultrasonic Cat Repeller offers "3-way protection" from pests. The three ways are ultra-strobe light, an inaudible ultrasonic sound, and an optional audible sonic predator alarm. The frequency of the ultrasound can be tuned between 18Khz and 25Khz.
The infrared sensor can detect animals from a distance of 40 feet. LED strobe lights last more than 100,000 hours.
About 920 sq. feet area can be protected by the product. It's effective against multiple pets. For example cats, dogs, birds, rabbits, raccoons, skunks, foxes, etc.
This deterrent has the most effectiveness mounted at 12-18 feet from the ground.
The device can be powered by a battery which can be charged by solar power or USB.
The product has many other valuable features. Please check it on the link.
---
Silica is not completely natural, but it is not toxic. It is pretty much safe for both humans and animals. However, do not swallow, or if so, consult a doctor. The ingredients can cause skin and eye irritation, so apply this product carefully to the selected area. You can use it outdoor and indoors as well.
This deterrent can protect 300 sq feet. area for 30 days. Works well with domestic or feral cats, raccoons, chipmunks, or groundhogs, etc.
This manufacturer also offers a money-back guarantee.
---
The last member on my list is a spiked prickle strip/scat mat.
Of course, there are more spike mats on the market, but I wanted to find the best one that was made of plastic.
It comes in a package with 10 mats. Each is 16 inches long and 13 inches wide.
So you can cover a pretty large area with this set. You can cut it with scissors.
The rounded, 1-inch spikes are very uncomfortable for animals, so they won't step on them. At the same time, they are harmless and do no great harm or injury to any living thing.
---
My choice for the best cat repellent
If you need a perfect, effective, and safe indoor cat repellent, then Pet MasterMind Claw Withdraw Scratch Deterrent Cat Spray should be your choice.
Click here to get one from Chewy.
Click here to get one from Amazon.
Considering all the relevant factors, my choice is the Orbit 62100 Yard Enforcer. I like the quality, features, and the money-back guarantee is also sympathetic. It's a little bit pricey, but an excellent investment if you don't want more invader animals in your garden. If you experience its reactions, you can avoid being splashed down.
Click here to get one for yourself.
My other choice is Nature's Mace Cat Repellent. I really like that it is made up of 100% natural, degradable ingredients. If you are looking for a cheaper, more environmentally friendly solution, you can feel free to choose this.
Click here to get one for yourself.
---
Ways to use cat repellents and deterrents
There are basically two uses for cat repellents. Indoor and outdoor. I would like to write about these below.
Indoor cat repellents
Cat repellents prove to be very useful if you want to use them in your apartment or house. In such cases, you can easily keep your cat from approaching certain areas. It could be a couch, a table, or any other place where your kitty can do damage. It can be really annoying when our four-legged friends scratch or drop their hair on our furniture.
However, you may also want to keep your cat away from specific places or rooms. It's completely understandable if, for hygienic reasons, you don't want him to walk around in your kitchen. Well, even in such cases, cat repellents work great.
There are many solutions for indoor use, such as sprays, tapes, noisemakers, and motion-detecting deterrents.
Outdoor cat repellents and deterrents
There are several scenarios for outdoor use. For example, if there is a feral or alien cat who is constantly hurting your cat or other pet. In this case, you should "protect" your area.
But it is also conceivable that you want to keep your own cat away from your garden. Felines like to walk through fresh plantations and roll in them. This can even ruin the plants that have just germinated. Not to mention cat urine or feces, which are extremely harmful.
A properly selected outdoor cat repellent will solve these problems. Several of these repellents or deterrents are also available. Examples are motion-activated repellents, ultrasonic repellents, powders, and sprays.
And what product should you choose? I write about the types of repellents below.
What types of cat repellents are on the market?
Millions of outdoor cats are running through the streets of every country. Territory fights can cause a lot of annoyance, as can digging out the plantation or pooping on it.
Contrary to popular belief, cat feces are not good for plants. Moreover, it can be especially dangerous to humans because it can contain parasites that can cause serious problems.
There are different types of repellents to keep unwanted cats or other smaller mammals away. Sprays, granule powders, ultrasonic devices, automatic sprinklers, and even prickling scram mats – these are the most popular ones.
Each has its advantages and disadvantages. Seeing these, we can make wiser decisions about which is best for us. The products I list are safe for both humans and cats. However, they are very effective. And you don't have to be there because "they do their thing on their own."
Cat repellent sprays
These products were put together from different chemicals. Their smell and taste are horrible for cats. These repellents are generally safe to use on seedlings and other plants. Their effect lasts for 3-4 days. Such sprays are useful with domestic cats and pests.
Granules/powder
Cat repellent granules or powders work similarly to sprays. However, they are much more concentrated and last up to 5-10 times longer. They should be used on the soil. They are also weather and water-resistant.
Ultrasonic devices
These are electronic devices that emit ultrasonic sounds. These sounds are not heard by humans, but by cats and other pests. This keeps them away. These devices use infrared sensors to detect different animals. Their range is usually quite high. A lot of ultrasonic devices have strobe lights, which can be an extra help in keeping away. These machines are powered by solar energy, an A / C adapter, or a battery.
Sprinkler deterrent devices
This is perhaps the friendliest way to deter unwanted pests. These devices do not use any chemicals or ultrasounds. The machine sprinkles a dose of water towards the sensed animal, thus scaring it away. It is one of the most effective solutions for feral cats. Although there may be someone wet who shouldn't.
Prickle strips and scat mats
Cats love to walk or roll on soft surfaces. For this reason, it is not surprising that they do not like to walk on spiky, prickling, rough, terrain. These scat and spike mats are also deterrents. Although you will need a lot of these if you want to protect your entire terrain. Most people tend to combine this solution with other deterrent devices.
Alternative cat repellent solutions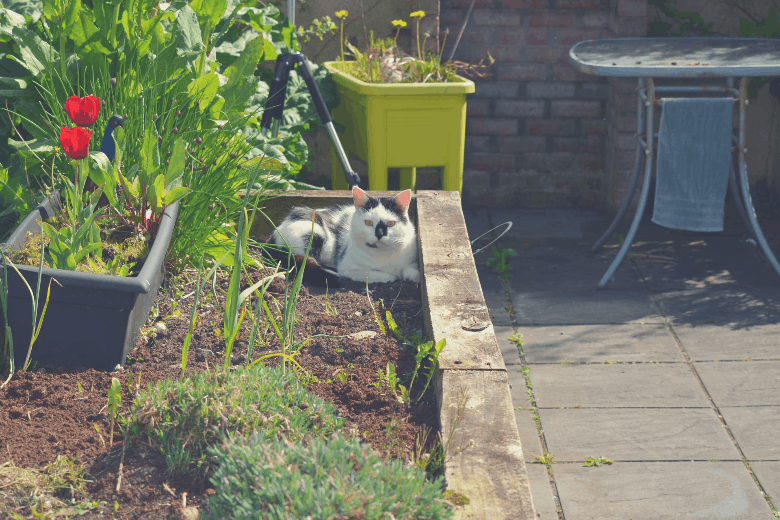 There are cat deterrents for indoor use. You can also experiment with these to see if there is anything that works for outdoor use. Cayenne pepper also works in some cases.
Although I would rather recommend this as a final solution.
If you are looking for a DIY solution, this article will be useful for you. From that, you can learn how to make homemade cat repellent sprays.
Some plants are also suitable for deterring cats. You can read about this in detail in this article.
How to choose the best outdoor cat repellent?
Seeing these many variations, it's easy to be unsure. But you definitely need to choose something that will protect your garden, your lawn. And in the meantime, you can rest easy because it takes the burden off your shoulders.
In addition to the deterrent varieties explained above, there are a few other factors. If you consider them, that will make the choice easier. Let's see these factors:
Type of the cat repellent
This is the first thing you need to figure out. As I mentioned, each type has its advantages and disadvantages.
Sprays and granules are effective because of their smell and taste. However, they are more effective for domestic cats, than feral ones. They are really effective when combined with other varieties. For example, with an ultrasonic device or a sprinkler. The same goes for spikes mats.
Ultrasound devices are useful against a wide variety of animals: cats, dogs, skunks, groundhogs, and raccoons. And they can be used in a large area. Yet, they should be placed at the appropriate height, and ultrasound of the appropriate frequency should be tuned.
Motion-activated sprinklers work great in all types of animals in most cases. However, you need to solve the water connection. You may want to choose a product from this variety that does not use too much water. This way, your water bill will not be too high and your garden will not be soaked unnecessarily.
If we get closer to the choice based on these, we can move on to the next factor.
Ingredients/material
For sprays and granules, it is very important what ingredients they are made from. The same is true of what materials electronic devices or scat mats contain. It is worth choosing a product that is safe to use in all respects, yet effective.
Each of the products listed later in this article can be used safely outdoors. For the technical products, I chose ones that are made of good quality plastic and stainless steel. Their joints close properly. This makes them perfect for all kinds of weather conditions.
For scat mats, you should only choose from plastic versions. After all, you can't want to cause any serious injury to animals. Even then, it is an undesirable animal.
You can find out more about the products' material in their descriptions and reviews. Make sure you check them before the final decision.
Effectiveness or dosage
The effectiveness of a deterrent is also an important factor to consider. Not all repellents are equally effective and depend on several things.
The strength of a spray or a granule will be different. But even between brand and brand, there can be a difference in performance.
The same is true for devices that may offer completely different coverage. Choose a product that can protect your entire garden or lawn. Feel free to read the product descriptions and reviews.
Weather factor
This is also an important thing to think about when you want to buy a cat repellent or deterrent. Because it is used outdoors, the deterrent will be exposed to weather conditions, such as rain, snow, and wind. You need to know how it can withstand these conditions.
Metal products must not rust. Respectively, the joints must also fit perfectly. Sprays and granules will inevitably come into contact with water. It is worth choosing one that lasts as long as possible in that situation.
Also, in the case of a scat mat, it is worth choosing plastic. On the one hand, it causes less injury and, on the other hand, it will not corrode due to the weather.
Frequently asked questions about cat repellents and deterrents
What smell will repel cats?
Oils such as citronella, lavender, peppermint, lemongrass and orange repel cats. These are good because they are not only effective but also natural and safe.
Do cat repellents really work?
Yes, cat repellents and deterrents really work. However, it is worth choosing well based on your individual circumstances. There are outdoor and indoor repellents. There are products that are good for both uses.
Does citrus spray deter cats?
Cats are much more sensitive to odors than humans. Therefore, certain essential oils repel them. Be aware that certain essential oils can be very harmful to cats.
---