Here is my detailed guide to the best diabetic dog treats in 2022.
The diet of diabetic dogs is different from normal. One of the most important goals is to stabilize their blood sugar. Therefore, you should look for foods and treats whose ingredients support just that.
I spent more than a day making your job easier. I selected 10 excellent diabetic treats from 10 excellent brands.
While I recommend each one with a calm heart, my favorite one is the Stewart Pro-Treat Beef Liver Freeze-Dried Raw Dog Treats.
In addition to the reviews, you can find out exactly what to look out for when you want to give treats to your diabetic dog in my article. I hope I can help you with these issues.
Let's start!
10 best diabetic dog treats
A good diabetic treat is good quality, easy to digest, and contains low glycemic carbohydrates and few of them. But I also really like treats that have no carb source, just animal meat and organs.
The list below will include products from both versions. I've put together the top 10 products to make sure you choose the one that works best for your dog.
Key features:
The only ingredient is 100% Pure Beef Liver

High-protein, low-fat dog treats

Made with Freeze-drying process

Made in the USA

Great for dogs with sensitive stomachs
At the top of my list is this Stewart product, which is extremely popular with dog owners. This is no coincidence as it contains a single simple, high-quality ingredient, beef liver.
This organ is rich in essential amino acids, healthy fatty acids, vitamins, and minerals. Due to the freeze-drying process, beef liver preserves flavors and nutrients to the maximum.
Amino acids are key to muscle building. Fatty acids play a key role in many bodily processes, such as maintaining skin and coat health. And vitamins and minerals make the immune system much more efficient.
If your dog eats this, his health will surely be well established.
Also, because the product does not contain carbohydrates, it does not raise blood sugar levels. That's why it's so ideal for diabetic dogs.
The manufacturer also omitted harmful ingredients such as fillers and artificial preservatives, colorants, and flavor enhancers from the recipe. This treat is an excellent choice for value for money anyway.
---
The next member on my list is also a treat that contains a single ingredient. And this is Cod skin.
Veterinarians often do not recommend rawhide as a treat. Cod skin, on the other hand, is a safe and enjoyable alternative.
The texture of the product helps prevent various dental problems, such as tartar or plaque.
The product has a high protein content and low carbohydrate and fat content. Due to its low carbohydrate, it is perfect for diabetic dogs.
Cod is a natural source of omega-3 fatty acids. It helps keep dogs 'skin and coat healthy and also has an anti-inflammatory effect.
There are also no artificial additives in this product that could be harmful to overall health.
---
Stella & Chewy's is one of my favorite brands when it comes to freeze-dried products.
This member of my list has more than one component. However, they are all of premium quality and maximize the health of your dogs. It is a topper but can be perfectly served as a complete meal or used as a treat.
The 44% protein content is of beef and beef organs, like beef heart, liver, kidney, and tripe. Not only do they provide the amino acids needed for muscle building, but they also contain plenty of vitamins and minerals. The purpose of the recipe is to give dogs the diet they would eat in the wild.
Beef bone is a great source of calcium. This is necessary for dogs to develop healthy bones and teeth.
The product also contains plenty of organic vegetables and fruits. Examples include Pumpkin Seed, Organic Cranberries, Organic Spinach, Organic Broccoli, Organic Beets, Organic Carrots, Organic Squash, and Organic Blueberries.
These are very nutrient-rich ingredients that underpin the functioning of your dog's immune system. And the benefits are not over here.
The added vitamins, minerals, and probiotics make the recipe even healthier, more balanced, and nutritious.
The proportion of macronutrients, the amount and quality of carbohydrates make this Stella & Chewy's product suitable for diabetic dogs.
---
Jerky treats are always good choices if you're looking for some delicacy for a diabetic dog.
Although this product contains carbohydrates, it comes from chickpeas. It is a high-quality, easily digestible legume that contains a lot of fiber. This will slow down the absorption, so your dog's blood sugar will rise less.
The protein content is given by beef and chicken, which are tasty and nutritious meats.
The product does not contain artificial chemicals. Both preservation and flavoring are solved with natural ingredients. Be sure to consider this product.
---
This impressive product is made from 100% human-grade beef liver. It is a nutritional organ that provides all the essential amino acids for your dog. Plus, it's full of vitamins and minerals.
Freeze-drying is a preparation process in which foods and treats retain all-natural nutrients.
A treat contains only 5 calories. After all, I don't think you should be surprised that this product is on my list. Feel free to give it to a diabetic or overweight dog.
This treat is also available in other flavors such as chicken or whitefish. It does not contain artificial additives, preservatives, or fillers.
---
This is another freeze-dried beef liver treat that is ideal for all canines with diabetes or overweight.
This is the only ingredient, so you can be sure that the product does not contain artificial preservatives, additives, or colors. Dogs can also consume it with sensitive stomachs as the beef liver is nutritious and easily digestible.
Due to the freeze-drying process, it retains all vitamins, minerals, and other nutrients. The result will be a healthy, safe, and delicious treat for your dog.
---
This treat contains carbohydrate sources, but they are all well digestible and high quality. Let's see the ingredients in a row.
The main source of protein is the duck meat. This is a so-called novel protein that experts often recommend for dogs with sensitive stomachs.
This is because such proteins very rarely cause allergies or intolerances in dogs. Besides, duck meat contains many vitamins and minerals, which is good for dogs' health.
The next ingredients are Yellow Peas, Dried Potatoes, and Whole Quinoa. These are sources of gluten-free carbohydrates that are very digestible and contain many fibers and other useful nutrients.
Fibers help slow absorption. This will make this treat really suitable for diabetic dogs.
Sunflower oil provides useful fatty acids that support skin and coat health.
The added fruits, vegetables, and dried kelp provide your dog with valuable vitamins and minerals essential for the proper functioning of the immune system.
The product does not contain any questionable fillers or artificial ingredients.
---
This treat is also made exclusively from beef. However, this is from the lungs, which is a very nutrient-rich internal organ.
This gives the product 72% protein, 13% fat, and 5% fiber content. The ratio of these macronutrients is appropriate for diabetic dogs.
During the processing, the manufacturer used an air-drying technique. It is a gentle preservative that allows any food to retain a significant portion of its nutrient content.
The beef used comes from the Americas and Canada. The product does not contain any questionable fillers or harmful chemicals.
---
This freeze-dried recipe is a special treat for your dog.
It has a protein content of 36% and a fiber content of 15%. Thus, carbohydrates are absorbed very slowly, which results in a much smaller increase in blood sugar levels. This makes this product suitable for overweight or diabetic dogs.
The source of protein is chicken, chicken bone, heart, and liver. These guarantee not only your dog the essential amino acids but also important vitamins and minerals.
Carbohydrates are provided by Dried Pumpkin, Sweet Potato, and Dried Chicory Root, which are complex and low glycemic sources. Also, they are gluten-free and grain-free so that dogs can consume them with sensitive stomachs.
The added probiotics give extra support to your dog's digestive system. With these in mind, I highly recommend this product.
---
This product is for those who like simplicity. If your dog is diabetic and you don't want to deal with carbs, you might want to consider meat-only treats.
This product is just like that. The only ingredient is freeze-dried chicken. This means 80% protein, 3% fat, and 1% fiber. You can be sure that your dog's blood sugar level will not rise too much from this product.
Besides, it does not contain any fillers, by-products, artificial preservatives, or dyes. Highly recommended product!
---
Finding the best diet for your dog is not easy. You have to consider several aspects, e.g., activity, breed, age, health condition, etc. If you want to make the best decision possible, check out my comprehensive guide on how to choose the best dog food.
What to look for when choosing the best diabetic dog treats?
The purpose of good diabetic dog treats is not to raise your dog's blood sugar. This is best achieved with the right ingredients. In addition, other conditions must be met. I would like to write about these below.
Quality ingredients
The ingredients determine the quality of a product and how it will affect the health of our dog. The desired ingredients are:
High-quality protein: I like it best if some protein source is the primary ingredient in terms of any dog food or treats. The first ingredient is usually most present in a particular product.

Proteins are an important part of a dog's diet because they provide energy and the amino acids that make up lean muscle mass. Also, they do not raise blood sugar levels as much as carbohydrates.

The best sources of protein are real animal meats and meat meals. The animal meats must be identified. The quality of unnamed sources is uncontrollable.


Fibers: Fiber is not an essential nutrient for dogs. However, bacteria living in the intestinal tract need it. Therefore, for healthy digestion, it is suitable for your dog's diet to contain fiber.

Moreover, fiber slows the absorption of carbohydrates, and this is beneficial for a diabetic diet.


A reasonable amount of complex carbohydrates: Carbohydrates increase blood sugar levels. Therefore, the treats we choose should contain little or no carbohydrates.

And not only quantity but also the quality is important. It would be best if you preferred complex, unprocessed, and wholesome carbohydrate sources. Starches are also worth avoiding because they are more easily converted to glucose in the blood.

The best carbs are veggies and berries.


Fats: Fats are important in a dog's diet. They are excellent sources of energy and contain amino acids that are essential for health. Also, the diet's fat content, like fiber, reduces the absorption of carbohydrates and, with it, the rise in blood sugar levels.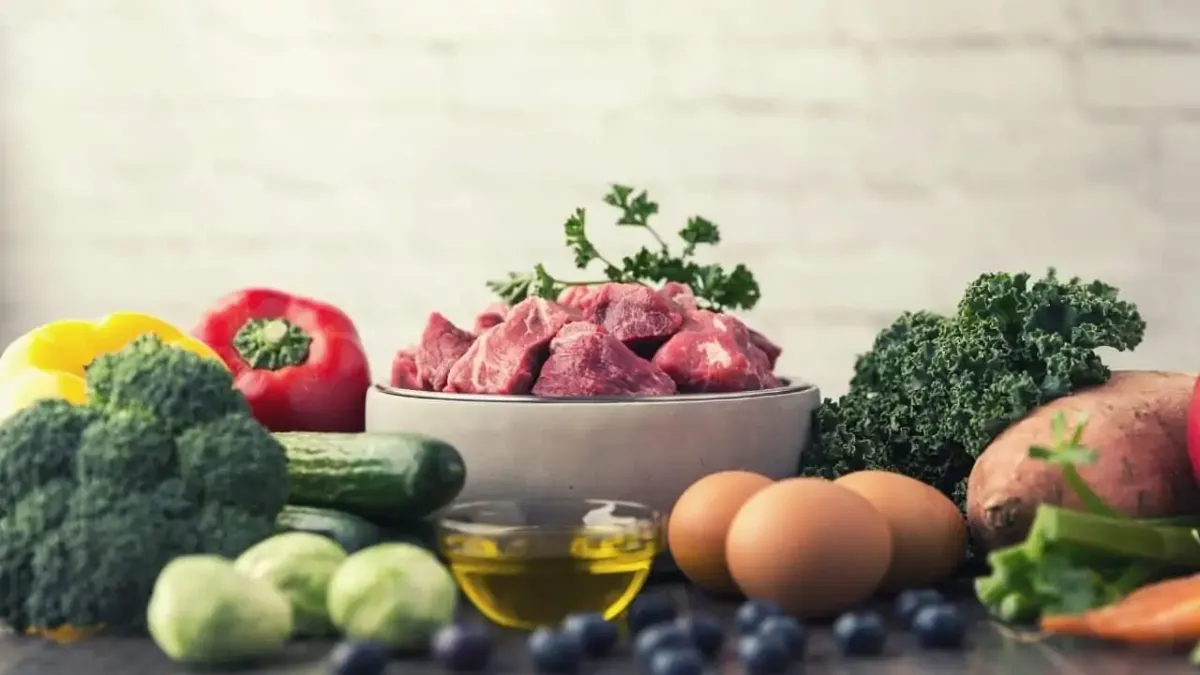 Ingredients to avoid
Of course, you should also pay attention to the ingredients to avoid when choosing. If any of the following occurs in the recipe, choose another product.
Carbs as the first ingredient: As I mentioned, it's not a problem if the recipe includes some complex low glycemic carbs. On the other hand, it is a problem if these are listed in the first place among the ingredients.

This means that the carb content of the product is much higher than optimal. In this case, it will be better to look for another formula.


Low-quality unnamed meats: These are not necessarily harmful to diabetic dogs. Nevertheless, I never recommend consuming them because their quality is uncontrollable.

Never buy dog ​​food that has, for example, poultry meat by-product listed as a source of protein. You will not know what meat and part of the animal the food or treat is made of.


Low-quality carb sources: Unfortunately, many types of carbs are bad for diabetic dogs. Different fillers, such as wheat or corn, are high in glycemic and should be avoided.

The same is true for processed forms of almost any carbohydrate source (e.g., meal or flour).

The various sugars and sweeteners do not contain any useful nutrients. However, they will greatly raise your dog's blood sugar levels. Therefore, if a product contains such ingredients, it is better to avoid it.


Artificial ingredients: Artificial preservatives are often used in lower-quality treats. However, they are extremely harmful in many cases. An example of a compound called BHA is a known carcinogen. Look for products that have been preserved with tocopherols or ascorbic acid.

The situation is similar to colorants and flavor enhancers. On the one hand, dogs do not need these at all. Your pooch will not be interested in the color of the treats. Also, keep in mind that if a product contains flavor enhancers, its base ingredients are certainly not of high quality.
Flavors
Of course, it's not just important that the product you choose is healthy for your diabetic dog. After all, the primary "task" of treats is to be delicious. Don't worry; all the members on my list are high quality, and dogs love them too.
I can confidently recommend the products I choose. However, talk to your veterinarian. He must tell you how many treats are allowed for your diabetic dog. 
Frequently asked questions about diabetic dog treats
What human food can I feed my diabetic dog?
The best diabetic treats for dogs are fresh vegetables. Best examples are bell peppers, broccoli, cauliflower, carrots, cucumbers, green beans, lettuce, pumpkin, and zucchini. Not only are they healthy, but dogs love them.
Can diabetic dogs have peanut butter?
Peanut butter in moderated amounts can also be a good treat for dogs. However, one thing is worth paying close attention to. Xylitol is extremely toxic to dogs. Therefore, look for a product that is not sweetened with it.
What should a diabetic dog not eat?
A diabetic dog should mainly avoid simple carbohydrates as they greatly increase blood sugar levels. Diabetic dog food or treat should not contain sugars, syrups, or honey.
Are carrots good for diabetic dogs?
Carrots are low-glycemic and low in calories. Therefore, it is suitable for diabetic or overweight dogs.
Can non-diabetic dogs eat diabetic treats?
Diabetic treats are high in protein and fiber. For this reason, they are also healthy alternatives for non-diabetic dogs.
Are there any signs of untreated diabetes in dogs?
Dogs with diabetes should be treated under veterinary guidance. Common signs of untreated diabetes include excessive drinking, loss of appetite, cloudy eyes, and various infections (skin and urinary). In the long run, more serious organ problems can occur.
When should I give my diabetic dog a treat?
The appropriate time to give the treat to your pooch may vary from dog to dog. But experience has shown that it is best after an insulin dose. This is when you can keep your dog's blood sugar levels under the greatest control. Of course, consult your veterinarian about this anyway.
My final verdict
Diabetes is a serious problem in dogs, and the diet should be chosen accordingly as best as possible. This includes treats too.
In my article, I have collected the best diabetic dog treats for your pup. Their low carbohydrate content and low glycemic index make them suitable for inclusion in a more serious diet.
My favorite is the Stewart Pro-Treat Beef Liver Freeze-Dried Raw Dog Treats. Feel free to choose this product if you get stuck in your research. These mouth-watering beef liver treats will be loved by your dog as well.
---
---