Most people think of walking out of time with dogs. However, dog strollers and this type of "walking" are more and more common. This is because there are life situations where these supplies are especially helpful. This will also be discussed in more detail in my article. As well as what the best dog strollers are. If you are interested in the topic, feel free to read the full article.
Let's start!
Product table for the best dog strollers
[wptb id=3806]
What are dog strollers?
Dog strollers are similar to human strollers. They essentially have wheels and we have to push them. Of course, they do not resemble the human version in every detail.
Because you will not attach your puppy with a harness in the same way as your baby. By the way, there are also securing methods in dog strollers. These are worth considering. In terms of variations, these products are very diverse. I will write about this later.
Why you should buy a dog stroller
If you haven't decided yet that you really need a dog stroller, then your question is really legitimate. We used to walk with dogs, didn't we? This is mostly true, but strollers can also have a number of benefits.
Transporting: In a lot of transporting situations, these supplies come in handy. For example, when you go to the vet with your puppy.


Less fatigue for your dog: You may have been walking your dog before and you don't want to bother him anymore. In this case, the dog stroller will give you and your dog the experience of spending time together without fatigue.


Easy to use: These supplies are often much easier to use than other carriers.


Great for older dogs: Older dogs also like to spend time outdoors. However, they may no longer walk as easily as their younger counterparts. Because of them, it is highly recommended to get a dog stroller.


Paw protection: In summer, the asphalt can become very hot. I guess I don't have to say how harmful this is to the paws of dogs. With a carrier such as a dog stroller, you can easily avoid these inconveniences.


Injured dogs: Like old dogs, injured or operated dogs need fresh air too.


Small or medium breeds: Most dog strollers are designed for these dogs. Because of this, they usually fit in them very comfortably. Be sure to pay attention to the dimensions, measure your dog properly.
Of course, the list can go on with a thousand more things depending on your individual circumstances. The point is that dog strollers can be used very widely.
What are the best dog strollers?
Below I will evaluate the best dog strollers on the market. And then I choose the one I like best.
In addition to the excellent storage space, there are other useful features. You can store treats or toys in the stroller. The carriage has two entries. One front and one rear.
Traveling in a stroller is smooth and comfortable. Because of the mesh window, you don't have to worry about proper ventilation.
The material of the product is made exclusively of high-quality plastic and nylon. It can be loaded up to about 30 lbs. It is collapsible, so it can also be used when traveling by car.
Pros
Three-wheel design
Cup holder
Affordable
Collapsible
High-quality materials
Ventilation
Comfortable
Cons
Not suitable for large pets
Zippers could be better
---
At the same time, nylon mesh windows guarantee that there is adequate ventilation and that beetles do not get inside. The manufacturer also thought about safety. This is because of the seat belt and rear security brakes.
The stroller has two cup holders and a very large storage space. This way you can be sure that you will not be hungry or thirsty along the way. Like the previous product, it has a front and rear entry.
Pros
High-quality and safe
Waterproof and insect-proof
Proper ventilation
Light and foldable
Cons
Front wheels could be better
---
Its wheels aren't too big, but they can pivot. This gives you more control and you can easily push it on uneven ground. Your dog can get in through the zippered front. This is safe anyway, and thanks to the mesh material, ventilation is provided here as well.
In addition to those listed so far, the product has a fully retractable hood and inner pad. The latter can be easily removed and washed.
Pros
Lightweight
Foldable
Pivoting front wheels
Safe and secure
Affordable
Cons
No storage for treats, toys and accessories
---
This member of my list is a less affordable stroller. However, its quality is excellent and you will see this soon.
This PetGear product is made with technology that will help your dog feel safe while he is with you.
The wheels can ride well on all kinds of terrain, be it marshy or rocky ground. The stroller remains easy to handle in all situations. The tires can easily be locked which provides more stability. It's also easy locking with no zipper design.
In short, it is a perfect product for dogs who need some rest in the open air. They can do all this without being disturbed by anything.
Pros
Safe and comfortable
Weather-proof
Provides relaxation
Ventilation
Air-filled tires
Cons
---
The wheels are high quality and air-filled with aluminum rims. This will make the ride comfortable, smooth, and safe. Otherwise, they are large enough to run well on any surface.
The rain cover and mesh screen provide a variety of uses and make this stroller suitable for any situation. You can choose from different colors if you want.
Undoubtedly, this is the best product on my list, although for those with a tighter budget, this will not be the right dog stroller.
Pros
Air-filled tires
Three-position canopy
Weather-proof
Safe secure and smooth ride
Cons
---
My pick
In this case, my decision was not easy at all. Based on value for money, the best dog stroller is the BestPet Dog Stroller. However, if you are looking for the best quality product overall and it doesn't matter the price, I recommend the Pet Gear No-Zip Pet Stroller. Click here to check the former and here to check the latter.
What to look for when choosing the best dog stroller?
I strongly recommend any of the strollers on my list. But if you're still not sure about your decision, here's a buying guide. The following things are worth paying attention to.
Size
Of course, this is the most important aspect. After all, if you buy such a product for your puppy, the size should be perfect. Your dog should be able to fit while standing inside. However, you should not choose a stroller that is too large, as it reduces your sense of security.
Another related aspect is weight capacity, which is how much weight a stroller can withstand. The thing is, you need to measure your dog's height, length, and weight.
Safety
Some dog strollers have safety features. Examples are safety flags, reflective stripes, which promote visibility. Easy-lock wheels can be a useful feature. The fabric must be properly durable.
Tires
Plastic wheeled products are cheap, but this is not the best choice. These are suitable for use on sidewalks, but not for other situations. Air-filled tires are of much better quality. Products with such wheels are more expensive and require slightly more maintenance. However, in return, your dog will have a much better quality stroller.
The size of the wheels is not a negligible consideration either. Strollers with larger wheels are easier to push.
Weather protection
Whatever the weather, the stroller should protect your dog from the sun, wind, and rain. The best quality products are of course capable of this.
Entry
If your dog is a relaxed type, you can safely choose a stroller with a zipperless entry. But if your puppy likes to run away, you may want to choose a safer version. Anyway, don't forget: zippers for cheap products tend to be of inferior quality.
Storability
Your dog stroller should be light and collapsible. This facilitates storage and transport.
Convertible
There are quite versatile dog strollers. Some can be converted into travel kennels or bike trailers, depending on the circumstances. But some are even suitable for storing multiple pets.
It is important to note that not all of the features listed here need to be met. These are just options for you to choose from. However, for example, the size obviously needs to be correct.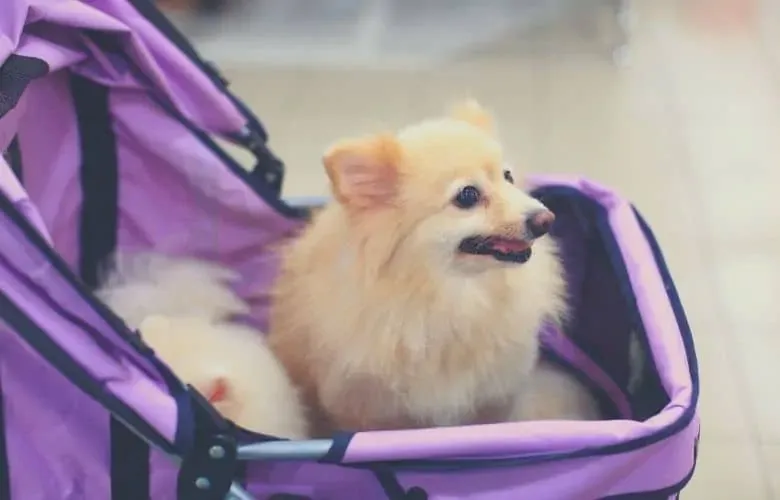 Frequently asked questions about dog strollers
---