If you are in a hurry and want to know right away:
I choose Litter Genie Plus Pail Silver as the best cat litter disposal system.
Anyway, you might want to read the full article because I put together some useful tips.
If your cat or your cats are not exclusively outdoor cats, then you are also facing the issue of cat litter. I hope I don't have to explain that dumping litter in the kitchen trash is not a safe and hygienic solution. What you need is a cat litter trash can, also known as a cat litter disposal system. In my article, I write about these products. There will also be reviews and buying guides.
Let's start!
Product table for the best cat litter disposal systems
Which are the best cat litter Disposal Systems?
If you've gotten this far, you'll definitely want to see my chosen ones. I strongly recommend the following six products. And at the end of the section, I choose my personal favorite.
The Litter Genie Plus Cat Litter Disposal System is made of BPA-free polypropylene plastic. In addition to the pail, there is also an odor-blocking trapper and lid.
The product has a two-stage odor control technology. Once the waste is inserted, the airtight lid does not emit odors. The same is true with bacteria.
Antimicrobial Microban coating provides additional protection against bacteria and odors. The effect of the layer lasts for about 8-12 months. Although the odor and bacteria control of this product is very good, you should use both hands when disposing of the waste.
The Litter Genie has a special cartridge with an 18-foot seven-layer liner roll. The pail is about four gallons in size. With this size, it can store 12-14 days of waste if you have one cat. The cartridge lasts for 8-10 weeks.
Not only is this cat litter trash can easy to use but also easy to clean. Just remove the refill cartridge and clean it with soap. Be sure to always wear gloves because of possible bacteria and parasites.
The product is available in two colors. Both look great.
You can buy the refills for this product here.
Pros
High-quality product with BPA-free safe plastic
Two-stage technology for the best odor control
Antimicrobial coating
18 feet long liner
Lifetime warranty
Cons
Requires two hands
Waste bags are not biodegradable
The costs can be a little bit high due to the cartridges
---
The Lucky Champ Litter disposal system container is made of very strong ABS plastic. An ABS resin has been applied as a cover, which also helps against corrosion and odors. The non-porous surface of the pail is very easy to clean.
The tank has a handle that makes many things easier. However, the antimicrobial coating is unfortunately missing. The product also comes with a scoop and a scoop holder, which are also made of ABS plastic.
What's positive about this product compared to Litter Genie is that it allows single-hand operation. The storage part of the product has a triple seal design. This keeps the odors properly closed.
The product has no odor-controlling trap door. Because of this, when you discharge the waste, you can smell the odors.
Litter Champ also has special cartridges. In the cartridges, you can find 21 feet long flexible, and resistant liners. The liners are scented, it helps a bit in odor control. They are 100% biodegradable which is positive for me.
What I also like is that a cartridge lasts up to 2-3 months for one pet. The product comes with a five-year manufacturer warranty.
Pros
High quality ABS plastic
ABS resin against odor and corrosion
Provides hand free and one-handed waste disposal
Triple seal design
21-feet long liners 
Handle
Five-year warranty
Cons
No odor-trapping door
Refill cartridges are difficult to obtain
---
The ergonomically designed box has a locking handle and a silicone gasket. This adequately prevents odors from escaping.
The contents of the product include five litter disposal bags. Each of these has a two weeks capacity of soiled litter.
What's nice about this product is that you don't have to use the included litter bags. It is also compatible with other bags. The disposal system comes with snaps. Those snaps will help you secure the litter bags.
This cat litter trash can features a non-toxic charcoal litter deodorizer. This deodorizer controls the odor for around six months.
You get a one-year warranty with the product.
Pros
The bags are biodegradable
Safe locking
The product is compatible with other bags
Non-toxic charcoal deodorizer
One-year warranty
Cons
---
Due to its shape and design, it is used by many not only as a disposal system but also as a versatile garbage can. This is mainly due to the triple odor reduction mechanism of the bucket.
The product is made of ABS plastic. Its dimensions are 22.2×13.5×9.8. The child-proof lock ensures that children in the household cannot access the content of the pail.
When ordered, the product comes equipped and ready for use with a refill cartridge. The cartridge lasts for about 8 weeks. You can easily reorder it, but pay attention to the timing.
This cat litter trash can is available in six colors. You get this trash can with a lifetime manufacturer warranty.
Pros
Six colors
Hands-free safe and convenient operation
Child-proof lock
Triple odor control mechanism
Lifetime warranty
Cons
Not the best odor control
little bit pricey
---
For a single cat, it can store two weeks of litter. It's cost-effective and you don't use as many plastic bags. This product also uses refill cartridges, which are sufficient for two months for a single cat.
This disposal system fits well in small spaces and is lightweight. It is available in white-gray and comes with a one-year warranty.
Pros
Great odor control
Easy to use
The bin can store two weeks of soiled litter
Cons
Experience has shown that the material of the product is not of the best quality.
Refill cartridges are expensive
---
Which is the best cat litter trash can?
The first two products are very sympathetic to me. However, my personal favorite is the Litter Genie Plus Pail Silver. Although it does not guarantee one-handed operation, in all its other features it perfectly meets the requirements for a proper cat litter disposal system.
Click here to get yours.
---
What are cat litter disposal systems, and why you should use them?
I have written in my previous articles that I have six cats in my household. Dealing with litter and waste is not an easy task. The smell is just one thing. Due to the chemical composition of the litter waste, care must also be taken when replacing it.
I am thinking, for example, of ammonia from pee and bacteria and other harmful organisms from feces. Because of these things, it is especially important that you handle litter waste with care.
The oldest urban method for this is to put the waste in a plastic bag and throw it in the trash. Needless to say, how environmentally unfriendly this solution is. Another solution is flushable litter, and I will write about that later in this article.
A sympathetic, simple, convenient, and effective solution is a cat litter disposal system. Cat litter disposal systems are practically containers. These containers provide a solution for disposing of used litter. They work similarly to diaper disposal systems.
These cat litter trash can usually consist of a container. This container closes airtight, so it does not let out odors.
Important parts of disposal systems are refill cartridges and waste bags. The latter are long-lasting, very strong, and biodegradable.
These devices are usually very easy to set up. All you have to do is open the cartridge, tie up the waste liner, and put the cartridge in place. You will not be able to spoil it with the instructions for use of the products.
Cartridges make cleaning cat litter convenient and safe. This will have some extra costs, but will not be significant spread over the year. After all, there are many more benefits to buying such a trash can. Especially if you're allergic to cat litter or just can't stand the smell.
All of the products I reviewed are excellent, so you can choose any of them.
How to choose the best cat litter trash can?
There are not too many such products on the market. However, you should choose wisely to have a cat litter disposal system that makes your job easier. Below I have gathered the aspects that are worth considering when making a purchase.
Material
Construction material is the primary aspect I tend to look at for products of this nature. You need to look at what the trash can pail is made of, the cartridge, and the liner.
It is best if the pail is made of BPA-free ABS or polypropylene plastic. The cartridge is also usually made of similar materials.
The polypropylene version is more environmentally friendly. However, ABS plastic is more durable and has better odor control. For this reason, my list will consist mainly of products made of this material.
There are very high-quality cat litter disposal containers that have been given Microban antimicrobial solution coating. This is very effective against the growth of bacteria. This coating lasts for about a year. You can then purchase a deodorizer spray separately.
You need to check the construction material of the products properly. This way you will be one step closer to safely dispose of the cat litter.
Odor control
Of course, this is related to the material, but I definitely need to mention it separately. After all, a perfect cat litter disposal system not only helps to make the replacement of cat litter safe. In addition, it is important to neutralize the odors that come from the cat's feces and urine.
There are some features to look for in this regard. One is that the construction needs to be airtight. With a sealed lid and odor trappers, this can't be a problem. The previously mentioned Microban coating also helps to neutralize odors.
A very important design feature for me can be if you can handle the pail with one hand. Some products also have a foot pedal, which makes the procedure even easier.
Always check the odor neutralizing ability of the products. You can find out from customer reviews. However, I also tried to select the best products.
Size
Whether a cat litter disposal system is right for you depends largely on the dimensions. Smaller and larger products also have their own advantages.
Smaller, compact cat litter trash cans will fit better in your home next to the litter box. However, you may want to choose one that can store several days of waste.
The smaller pail should be emptied more often. This is why you give up the comfort factor if you choose a smaller one. This is even more true if you have more cats in the household.
Maintenance
These devices are very comfortable to use. As I mentioned, they are not expensive. Using cartridges makes the whole operation easier as long as you dispose of the cat litter.
Operating costs may be higher due to these cartridges. There are products that do not need these things. This reduces the annual cost but is a less convenient solution.
Observe the size of the liners in the cartridges. The bigger or more of them, the longer they will last. And you have to spend less.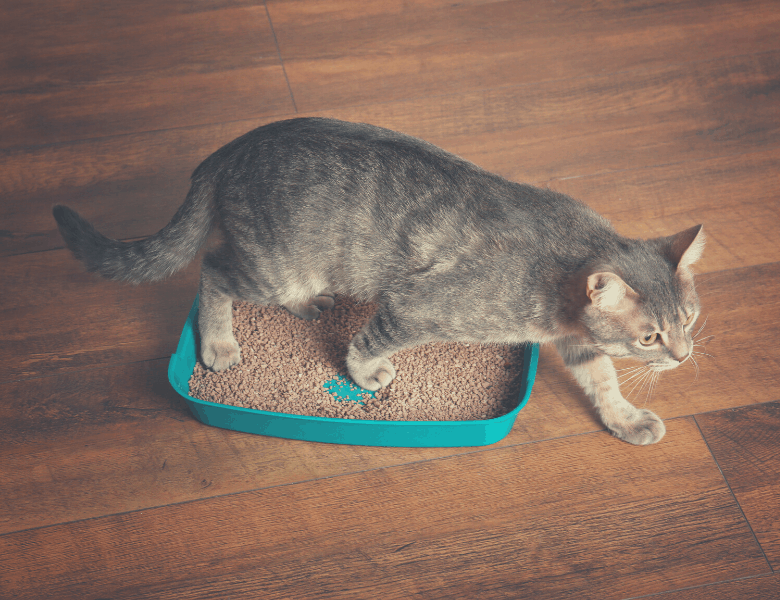 Additional items
The considerations mentioned above are the most important. Although there are a few things besides these. There are products that come with extra accessories. Examples are a spoon, and multiple cartridges or liners.
In this connection, it is also worth checking how easy it is to replace spare parts on the basis of availability. This is because there are products where this is a problem.
Don't make your decision based on these pros, but it's worth a look.
Color
You should never buy such important devices based on this. However, there are products on the market that look good and fit the rest of your furniture and other equipment in your house to the maximum.
Warranty
The last important consideration on my list is the warranty and of course the customer support that comes with it. This is one of the reasons why I tend to recommend products from the best brands.
I can be sure that these devices are of good quality. I don't have to worry about the warranty if something I order is faulty for example. Make sure you always buy from an authorized reseller.
If you follow the above considerations then you will probably buy a perfect cat litter disposal system. The products I list also meet these requirements.
Are there other options for cat litter trash cans?
If despite the benefits mentioned so far, you decide that you do not want to invest in a litter disposal system, there are other options.
For example, there are eco-friendly cat litter waste bags that you can put in marked trash cans. You may be able to do this if you live in a place where this is provided.
Earth Rated Poop Bags are my favorite biodegradable waste bag.
There are so-called self-composting devices, such as the Pet Waste Wizard BioBin Pet Waste Disposal Unit. I personally do not recommend using this. Cat feces contain the parasite Toxoplasma Gondii. This parasite is very difficult to kill by decomposing processes.
If you like DIY things (do it yourself), you can find instructions on how to do your own cat litter disposal system in the video below. Of course, it won't be as good as those on my list, but it works well too.
What about flushable cat litters?
Many companies now manufacture such cat litters. The idea is very sympathetic. It is simple, comfortable, and advertised as environmentally friendly.
Unfortunately, the above-mentioned Toxoplasma gondii is a problem in this case as well. This is because it has been observed several times that urban canals are not invented for cat litter (and the feces in it). For this reason, I do not recommend this possibility either.
A properly selected cat litter disposal system is the safest way to treat cat waste.
---
You Might Also Like