Diapers made for pets are becoming more and more popular. There can be several reasons why your dog needs these accessories. Among other things, I will write about this in my article. We will discuss the types of diapers and which one is useful in what situation. And, of course, I have now compiled the best ones in the market.
Let's start!
Product tables for the best dog diapers for poop or incontinence
Best full diapers for dogs
[wptb id=3445]
Best Wrap Diapers for dogs
[wptb id=3446]
When you should buy a diaper for your dog?
If you've already searched for this article, you're probably aware of why your dog needs a diaper. However, I would like to detail this in a few points.
Urinary or bowel incontinence: The former can occur due to bladder problems, for example. In the latter case, we may suspect the rectal disease. Otherwise, urinary and bowel incontinence are most common in older dogs.

Puppy training: Many people use a dog diaper during puppy training. Obviously, the goal is not to get your puppy used to this. However, if you are having a hard time with the training then this may be a good solution to avoid indoor accidents.

Female dogs in heat: A popular solution is to use a diaper for dogs in heat. This will prevent unnecessary mess and even incessant licking.
What should you look for when buying a dog diaper?
At first, you might think that all dog diapers are the same. Yet, there are aspects that are worth paying attention to.
Disposable or washable
Of course, based on their name, it goes without saying which one is for what. Disposable dog diapers should be thrown in the trash after use. They are cheaper in the short run, but if you want to use dog diapers for a long time, the situation is different.
For this reason, it is best to buy such disposable products if your dog only needs diapers for a short time. Nor should you forget that these diapers are less environmentally friendly.
Washable diapers differ in the aspects listed above. You can use them multiple times. This is why you should buy diapers like this if the problem you want to help with is long-term.
These diapers are usually more expensive. On the other hand, they are cheaper and more environmentally friendly in the long run.
Wrap or full style
From a design standpoint, these two versions exist. Wrap diapers are usually for male dogs, while full diapers are more for females.
The wrap diapers are wrapped around the waist of the dogs, covering their genitals. This will prevent them from peeing everywhere.
Full diapers are more useful for females. However, if your dog has fecal incontinence, be sure to buy this version, regardless of gender.
Sizing
As with any similar product, size is important with diapers. However, it is quite easy for you to choose the right one. Just measure your dog's back waist. Then compare the result with the product size chart. Choose a little longer one.
Layers
These are essential parts of a diaper. There can be three types of layers. There is one responsible for absorption. There is one that is waterproof so it prevents leakage. And there is a layer that is responsible for odor control.
Not all diapers have all three types of layers. Decide which ones you need.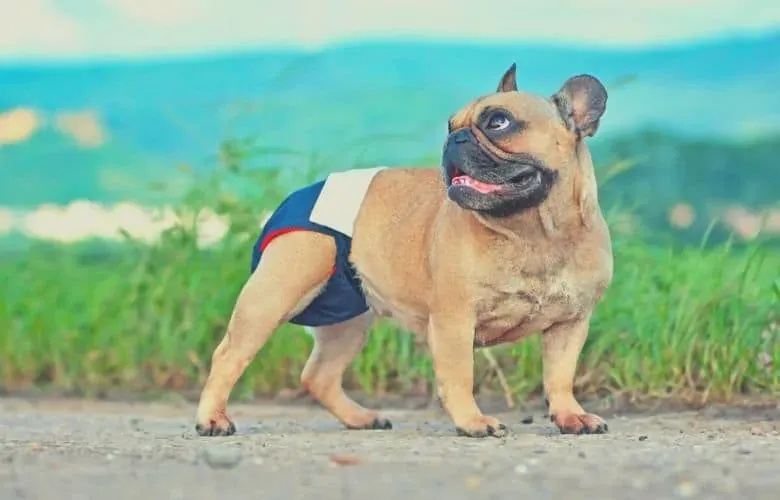 Bands
Bands are an important part of any diaper. After all, these allow for easy put. It is worth looking for strong velcro on the washable versions.
Washability
This does not apply to the disposable version. However, from the other version, it is better to choose one that is easy to wash.
Price
As I mentioned, washable versions cost more. However, you will get along better with them in the long run. So if your dog has a long-term problem, choose a washable one.
If you consider the above aspects, you can get closer to choosing the right product.
My top choices for the best dog diapers
If you have read through the previous headers, then you have enough knowledge to choose the right dog diaper. But here is my list. I think these are the best dog diapers for urinary incontinence or poop.
Below are the best full dog diapers!
This washable diaper is available in several sizes so you are sure to find the right one for your dog. It comes in a triple pack so you can wash the rest while one is in use.
Part of the product is an absorbent pad sewn into the liner. In addition, the outer layer is waterproof. This will minimize leakage if you may not change the diaper for an extended period of time.
The product is very comfortable, soft and the material is also excellent. There is no "crinkle." Your puppy will love it.
Pros
Lots of sizes available
Comfortable
Waterproof
Absorbent pad
Great material
Cons
>>Check the latest price on Amazon<<
---
The absorbency of the product is excellent. And even if that wasn't enough, there's one more thing. It converts urine into a gel. This further ensures that no leakage occurs.
The fasteners are very well adjustable, so you don't have to be afraid that the product you buy won't fit your dog. The three sizes are suitable for all types of dogs.
Pros
Well adjustable
Absorbent pad with additional gelling function
Comfortable
Three sizes
Cons
>>Check the latest price on Amazon<<
---
It has two microfiber layers in it, which ensures absorption. The non-denim versions are very similar to Pet Parents' diapers. However, they are not as durable and unfortunately do not have an outer waterproof layer on them. But they are a little more breathable.
The additional waistband helps with adjustability.
Pros
Great colors and design
Two absorbent layers
Waistband
Breathable
Cons
No waterproof layer
Not as durable
>>Check the latest price on Amazon<<
---
Although it is very good that these layers are included in this product. However, experience shows that this diaper is not very durable because of this.
But the material is very pleasant, comfortable. And it is available in several sizes and colors.
Pros
Odor control layer
Absorbent layer
Comfortable
Lots of sizes and colors
Cons
>>Check the latest price on Amazon<<
---
And now the best wrap dog diapers follow.
The diapers have a double layer of microfiber. This makes the absorption very efficient. The velcro strap is very stable and easy to put in the right place.
Microfiber pads absorb moisture very well, but unfortunately, there is no outer waterproof layer on the product.
This belly band stays on the dogs very stably.
Pros
Great colors
Fits well
Great absorbent
Many sizes
Cons
No waterproof layer
Runs a bit small
>>Check the latest price on Amazon<<
---
It fits perfectly, yet very comfortable. The elastic edges provide extra comfort and movement. Security is further enhanced by the wetness indicator.
So overall, this is an excellent disposable wrap diaper.
Pros
Gelling ability
Elastic edges
Easy to use
Wetness indicator
Cons
>>Check the latest price on Amazon<<
---
In addition to safety, the product is also very convenient. For this reason, it can be a good choice for dogs whose hair or skin is easily irritated.
The leakproof outer layer was a very good idea from the manufacturer as unfortunately the absorbency of the product is not the best. But it's not terrible anyway. It's doing its job properly.
You also have many choices in terms of sizing. You can buy this wrap diaper for any dog.
Pros
Waterproof layer
Comfortable
Many colors
Variety of sizes
Cons
Pricey
Not the best absorbent
>>Check the latest price on Amazon<<
---
The wetness indicator helps you figure out when a replacement is needed. However, unfortunately, it is not as comfortable as its competitors. And it doesn't include the gelling technology as similar types.
But all in all, it can be a useful and cheap diaper for your dog.
Pros
Affordable
Wetness indicator
Easy to use
Variety of sizes
Cons
No quick drying
Not as leakproof as competitors
>>Check the latest price on Amazon<<
---
My Picks

Of the full diapers, I think it's clear which one to choose. My favorite is Pet Parents Washable Dog Diapers. It is available in several colors and sizes. In addition, it is comfortable and completely leakproof. Perfect choice in every way!
Click here to get one for your puppy.
I chose a belly band from the other category. The JoyDaog Reusable Belly Bands for Dogs was the most liked product for me. It fits perfectly, is very absorbent, and is available in several sizes.
Click here to get one for your puppy.
Frequently asked questions about dog diapers
Are all dog diapers work for poop?
Usually, the best choice for poop is a full diaper. All of the full diapers on my list are suitable for dogs with fecal incontinence.
Are human diapers also suitable for dogs?
Of course, this thing can be solved. Full dog diapers are very similar to human diapers. However, you should drill a hole for the tail and pay attention to the securing as well.
Do dog diapers help with potty training?
As I wrote in my article, the answer is yes. A dog diaper can also help in this situation. However, be careful to take your dog out regularly. So he won't get used to doing his thing in the diaper.
How can I put a diaper on my dog?
Applying each variety is very simple. With the wrap diaper, all you have to do is wrap it around your dog. With the full diaper, you have to put it over the dog's tail, then complete the wrap. With washable diapers, you just need to attach the velcro. Disposable ones will come with adhesive strips.
How often do dogs poop?
Of course, this can vary from individual to individual. However, they should poop at least once a day. Note that the use of diapers may make some dogs less likely to poop. If this "event" does not occur by 48 hours, you may need to take your dog to the vet.
What if my dog wants to take off the diaper all the time?
In this case, you have several options. For example, you can use a belly band, onesie, or doggie suspenders.
What about dogs in heat? Can I put diapers on them?
Yes, just like with incontinence problems, dog diapers are good for dogs in heat too.
---