I don't think it's surprising that an old cat has different needs than a young one. The same goes for food. Fortunately, there are cat foods developed specifically for senior cats. Although there are plenty of varieties, this can make it difficult to find the top-rated senior cat food for your old cat.
In my article, I present what criteria are worth paying attention to. In addition, I will share some useful tips. Then I list five foods that are especially suitable for elderly cats.
Let's start!
Product Table for the Best Cat Foods for Older Cats
[wptb id=3428]
What should be the differences in feeding an elderly cat?
Like all living things, cats change as they age. They function biologically and physically differently after a certain age. It is important that they still receive all the necessary nutrients. However, some nutrient levels need to be adjusted for them. Below I show you what changes are needed in your older cat's diet.
More moisture
As cats get older, their energy levels get lower and lower. Because of this, they will also be more exhaustible. Because of fatigue, they may be less willing to drink or search for water.
You may notice that your cats do not regularly drink from the water you have placed in front of them. In that case, you should look for another solution. Dehydration can cause serious illnesses in cats such as constipation or liver failure.
You might want to try a cat water fountain. Cats love to drink from running water, so you may want to invest in a product like this.
Or, make sure your old cat gets not only dry but also wet food. This will help you prevent the older cat from becoming dehydrated.
Soft wet food
As I mentioned above, wet food will help your cat get enough moisture. Besides that, it is easy to chew and consume. Old cats often struggle with dental problems. This can often make it quite difficult and painful for them to eat dry food. There should be no such problem with wet food.
Often, these foods are much tastier than dry ones. If your senior cat has appetite problems, this can solve it.
More fiber
Fiber is essential for proper digestion. As cats age, it becomes increasingly difficult to digest food. Because of this, they do not have access to the nutrients they need. Higher fiber content can not only help with this but also alleviate the symptoms of inflammatory bowel disease.
Adequate fiber content is mostly found in dry foods. So if your cat doesn't have tooth problems, be sure to give him dry food as well.
Less fat
Fat is a difficult-to-digest macronutrient. And old cats have slowed digestion. Not to mention that as they get older, their activity also decreases. This increases the chances of obesity.
Choose foods that have less fat content. It will also be good for your cat's digestion and weight.
How you should choose the best food for your older cat?
Although old cats are no longer as active as young ones, they can also be great friends of ours. One of my cats, Nelly, is 15 years old this year. She is in very good condition, playing, running, and really likes to cuddle up to me.
Cats can live many beautiful years even over the age of 10. I believe, and know that paying close attention to their nutrition helps a lot in this. To do this, choose food of the right quality for senior cats.
It is important to first clarify what should NOT be included in such cat food. Artificial flavors, dyes, and preservatives should be avoided even in young cats. But, this is even more crucial for aging cats.
You better avoid foods that contain corn, wheat, and soy. They don't feed your cat properly, nor can be digested well. And in some cats, these ingredients can cause sensitivities or allergies.
Let's see what ingredients a good cat food should contain for old cats.
High-quality animal-based protein
The right quality of animal protein is the most important ingredient in a cat's diet. Cats are carnivorous animals, meaning their bodies have adapted to eating meat.
They are less able to utilize nutrients from plant-based foods. Red meats, poultry, and fish are great nutrient-rich sources of protein for your cat.
Digestible Carbohydrates
Although protein is the most important, a good quality cat food should also contain carbohydrates. This will provide your cat with the necessary fiber and other essential nutrients. These carbohydrates need to be easily digestible and healthy.
Excellent sources of carbohydrates are legumes, sweet potatoes, and grains. Of course, if your cat is sensitive to grains, you should avoid that.
Healthy fat
Fat is a concentrated source of energy for your cats. Besides, they need a good kind of fat for the health of their skin and fur. It is very good if these fats are of animal origin (fish oil is the most excellent).
But there is also no problem with animal and vegetable fats being mixed in the diet. The point is to get our kitten access to essential fats.
Fruits and vegetables
In addition to animal sources, it is recommended to think of plants as well. This is because your cat gets the necessary vitamins and minerals. Of course, it is not necessary to overdo it.
But a properly selected cat food contains exactly as many of these as it needs. And don't forget: vitamins from a natural source are always better than those produced artificially.
Added vitamins and minerals
There are manufacturers that add vitamins and minerals to their products too. This can often be beneficial for older cats, as their vitamin levels are inherently lower than those for younger ones.
The added probiotic and dried fermented products provide beneficial bacteria. This has a very good effect on digestion.
So we already have some idea of ​​what makes a cat food suitable for old cats. If these key requirements are met, you can rest assured that your old friend will be properly nourished.
However, each product is unique, as is every cat. Read the feeding guidelines on your cat food. Yet, these are only recommendations. Watch your cat's reaction, weight, and activity. Make sure he or she does not eat too much or too little.
How much food does my senior cat need?
As I mentioned earlier, always check the food guide first. However, the dosage may depend on the weight, breed, and activity of your cat.
If you are worried about your cat's weight, consult with your vet first. He will be able to tell you what to do if your cat is losing or gaining too much weight. The caloric density of cat food can vary greatly. If you switch between foods, the same amount may be too much or too little.
If your cat is obese and the goal is to lose weight, then there are foods designed for that. The same is true if the goal is for your senior feline to gain some weight.
Foods that help with weight gain have a higher caloric density. In the case of foods for weight loss, care must be taken to ensure correct dosing.
There are times when your old cat can't eat enough because a younger cat or a dog steals food from it. Selective pet feeders help a lot with this problem. With their help you can prevent unauthorized animals from eating feline's food.
Some of the best selective pet feeders are also suitable for monitoring your pet's eating habits. It will also send you feedback.
What about supplements for older cats?
Of course, there are dietary supplements for aging cats. However, keep in mind that the digestive system of old cats is poorer in performance. It is possible that the supplement contains strong compounds that put a strain on their liver or other organs.
Make sure to do your research about supplements, before you buy one. A properly selected product can help a lot, but it can also do the same harm.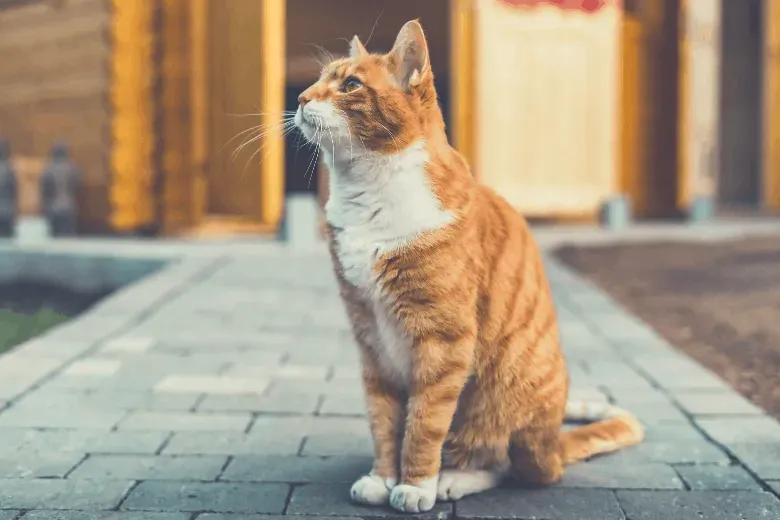 What else you can do?
Also, to providing the right food and nutrients for your senior cat, you can make other differences. There are cat beds that provide comfort for the tired joints of the old cat.
You can also make changes to the different furniture your cat uses. For example, you can add steps or a ramp to them.
Another important thing to look out for is dental health. Over the age of 4, more than half of cats develop some form of gum problem.
Of course, you should start dental care when your kitten is still young. However, it is never too late, and if you have not thought about this before, consult your veterinarian. He will then examine the condition of your feline teeth.
---
Pet insurance is becoming more popular thes days. You should know that you you have options for cat insurance too.
My top choices
The above may provide some clues about what to look out for when choosing food for your old cat. However, there are still plenty of options. Below are my top choices. There will also be dry and wet food.
Please note that each of the foods below may contain something that your cat may be sensitive to. So if your feline is sensitive to chicken, choose a version that has a different source of protein. So let's start the cat food advisor section in this article.
In addition, the manufacturer added vitamins, minerals, and antioxidants to the product.
This cat food is a good choice for aging cats as it contains high-quality animal protein, healthy grains, and vegetables. It is easy to digest, so you can give it to a cat that has stomach problems.
In addition to the deboned chicken, due to the additional concentrated chicken meal, this food contains the right amount of protein.
The carbohydrate source is brown rice, which is considered safe and easy to digest. And because of the flaxseed, it also contains healthy fats.
Pros
Excellent quality
Great protein and carbohydrates source
Vitamins, minerals, antioxidants
Easy to digest
Cons
Although it is rare, there are cats who don't like it.
Not recommended for cats sensitive to chickens
>>Check the latest price on Amazon<<
---
Dried potatoes and peas provide a healthy, easy-to-digest, grain-free source of carbohydrates and fiber. Ingredients also include essential vitamins, minerals, and antioxidants.
It does not contain any artificial substances, dyes, flavor enhancers, or preservatives. In turn, a natural and balanced healthy fat blend was put into it. This is important for the health of your cat's skin and fur.
Pros
High-quality protein sources
Grain-free and easily digestible carbohydrate source
Vitamins, minerals, antioxidants
Natural ingredients
Cons
Not recommended for cats sensitive to chickens
>>Check the latest price on Amazon<<
---
Whole-grain brown rice was added as a carbohydrate.
Vitamins, minerals, and antioxidants could not be left out of this food for old cats either. Just like healthy fats.
Nutro wholesome essentials does not contain any artificial substances, dyes, flavor enhancers, or preservatives.
The product contains 36% crude protein, 17% beneficial fat, and 6% fiber. An excellent choice for old cats, at an affordable price.
Pros
Good price
High-quality macronutrient sources
Vitamins, minerals and antioxidants
Cons
Not recommended for cats sensitive to chickens
>>Check the latest price on Amazon<<
---
This recipe has been compiled specifically for senior cats, and it's inspired by the diet of the wild lynx. In addition to fresh chicken, it also has chicken broth for moisture.
Another source of protein in it is chicken liver. It provides other nutrients to your aging feline.
The product does not contain gluten, grains, by-products, or artificial additives. Potatoes provide the source of carbohydrates and flaxseed provides healthy fats. It is an excellent choice of wet foods for senior cats.
Pros
Fresh chicken as a protein source
Free of gluten, grains, by-products and artificial additives
Omega fatty acids for skin and fur
Cons
Not recommended for cats sensitive to chickens
It contains carrageenan, which, although natural, has questionable efficacy in terms of dental health.
>>Check the latest price on Amazon<<
---
Of course, vitamins, minerals, and antioxidants were also included in this recipe. And needless to say, your old friend also gets healthy fats because of tuna and salmon.
Its protein content is not as high as the other foods on the list. Although this is not necessarily a problem. This amount of protein is still sufficient. However, it may not be ideal for a cat that needs to eat a lot of calories.
Pros
Tuna and salmon are excellent and delicious sources of protein
Vitamins, minerals, antioxidants
Adequate moisture content
Cons
Some say it smells too strong
>>Check the latest price on Amazon<<
---
My choice
I personally find each product excellent. But if I have to choose anyway, I choose Blue Buffalo Freedom Grain-Free Indoor Mature Recipe Wet Food as my favorite wet food. It is made up of only natural ingredients, and all of them contribute to the health of your elderly cat.
Click here to get one for your cat.
If you also want dry food for your old feline, I recommend Merrick Purrfect Bistro Healthy Senior Recipe Cat Food. In addition to quality protein and vitamins, it also contains easily digestible carbohydrates.
Click here to get one for your cat.
If for some reason your cat can't eat chicken, then I definitely recommend Purina Pro Plan Senior 7+ Canned Wet Cat Food. In addition to high-quality ingredients, it provides a chicken-free source of protein for your cat.
Click here to get one for your cat.
---
Did you know?
Nowadays, it is becoming more and more common to take out pet insurance. This process protects both your furry friend and you. You can also take out insurance for your old cat.
---