Fish are simple but very special animals. Anyone who has any fish at home for any purpose knows that feeding them is a special feeling. If you're in such a lucky position to have a garden pond or a huge aquarium, that's even better. However, in this case, you will need a feeder with a larger capacity. In this case, automatic pond fish feeders may come into play.
Let's start!
Product Table For The Best Automatic Pond Fish Feeders
[wptb id=3038]
What is an automatic pond fish feeder?
These are devices that dispense fish food in a predetermined way. By this I mean that a specific dose is delivered to the water at a specific time. They usually run on battery or electricity. These devices can be used for all types of pond fish.
You can mount these pond fish feeders on the edge of the pond. Or they are hanged with a proper hanging arrangement. Both solutions are appropriate. The first is used more for smaller indoor ponds or breeding tanks. Here, it is important for the fish to go where the feeder is.
In the other solution, the feeder is suspended over the water. This way you can easily get the fish food into the water. This is a fairly convenient and fast solution. However, since the hanging feeder spreads the food from a relatively high height, it works best with pellets.
With an automatic pond fish feeder, you can set the frequency and the portions. For those who have a very large pond in the garden, this will make their life extremely easy. It is also useful while traveling when someone is away from home for a while. This is because regularity is important for fish. They feel much better if they are fed at the same time every day.
As I mentioned, automatic pond feeders are excellent for all fish species. However, pay attention to what kind of food your fish eat. This is because some feeders are more suitable for dispensing smaller pellets, while others are suitable for dispensing food of other sizes and shapes. Pay attention to the right capacity. Rather, buy something that is greater than necessary and go for sure.
My top choices
An automatic pond fish feeder can be a very good investment. I will write more about this later. However, it is worth choosing from the best quality products. Below you can see my four choices.
The Fish Mate P70000 Pond Fish Feeder is made of high-quality ABS plastic. The product's hopper is air-tight and weatherproof. So, you can even use it in smaller outdoor ponds.
The feeder has an LCD control panel. This allows you to select the feeding time and portion sizes. It can feed up to 3 times a day and portion size can be set between 0.1 and 0.5 cups. The hopper has a capacity of 6.5 lbs. This means that it can feed a pond with 15-20 fish for two weeks. There is also a manual feeding function in the device.
The feeder has a chute through which it dispenses the feed into the water. Because of this, it doesn't happen in a large area. The feeder works best with pellets and mini-sticks. Do not use it with flakes or crisps.
The Fish Mate P7000 feeder also has other good features. It's weather and moisture-proof, in addition, the top shelf is dishwasher safe.
You can use the product primarily for ground mounting. However, you can also hang over the water.
Besides, it comes with a three-year warranty, which is quite impressive.
Pros
ABS plastic body
Up to three meals per day
The batteries last long
Dishwasher safe
Weather and moisture-proof
Three years warranty
Cons
Chute is small
It should take time to get used to using it
>>Check the latest price on Amazon<<
---
The product runs on a 6-volt rechargeable battery that lasts quite a long time. The machine can operate for several months without recharging. With the programmable timer you can set up to four feeds a day. You can also set the exact dosage. It also works with small to medium-sized pellets and sticks.
The product is relatively easy to program, but you may have to spend some time getting used to it.
The Wildgame feeder can deliver food to your fish up to 30 feet away. Of course, it depends on what height you installed the product. The feeder has a durable steel tripod which is rustproof too.
If the lake is in a bright sunny area, you have the option of solar power.
The only real downside to the product is that it is very noisy. Therefore, if you install it near your house, be careful not to set the feeding time too early or too late.
Pros
Large capacity
Solar power (purchase here)
Can distribute far distance
Long last battery
Sturdy and durable
Cons
>>Check the latest price on Amazon<<
---
You can program up to four feeds a day on it. Works perfectly with sticks, pellets, crisps, and flakes. You can set the dosages accurately on it.
Unfortunately this feeder is not suitable for outdoor use as it is not weatherproof.
Available with a one-year manufacturer's warranty.
Pros
Easy to program
Durable material
Although it is an indoor feeder, it still has a large hopper.
Up to four feeds a day
Cons
>>Check the latest price on Amazon<<
---
. But it is possible to mount it on a different type of stand. The mounting accessories are included with the product. A 40 lb. capacity is quite sympathetic. As well as working with all kinds of food.
While it doesn't include that many fancy programmability options, this product can be an affordable alternative to feeding fish.
Pros
Affordable
Durable plastic
Simple
Works with all kinds of food
Easy to mount
Cons
The lid doesn't always fit well
It's not squirrel-proof
>>Check the latest price on Amazon<<
---
Benefits of having an automatic pond fish feeder
Automatic pond fish feeders have several advantages. Let's look at these:
Comfort
If you don't have time to feed your fish regularly, these feeders are very useful. But if you just don't want to deal with it that many times, you can still buy one. After all, you only need to refill the fish feeder if there is little food left in it.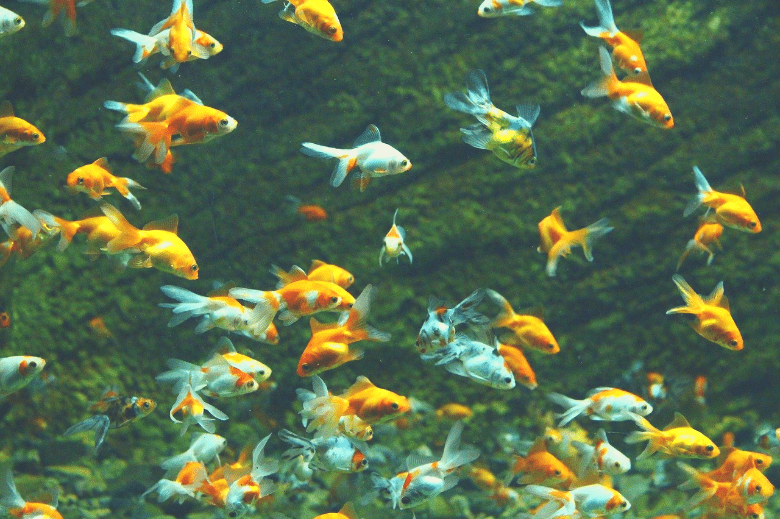 Heavy stock
There are fish that are better affected if they are fed several times a day than if they are only in the morning and evening. Examples are koi, Panda Loach, and goldfish. A lot of feeding is accompanied by heavy fish stock. Automatic fish feeders also take this burden off your shoulders.
Money-saving
You can save money in the long run as less food is wasted. You can program the feeder to provide only a certain amount of food to the fish. This not only prevents the formation of waste, but less uneaten pellets remain in the water. So you also need to clean the water less often. Not to mention that the ideal amount of food helps with ideal growth and promotes health.
Easy to set up
These automatic fish feeders are designed to use easily. You can install and set them up quickly. It does not require expertise.
Disadvantages
Although we have seen the many advantages of automatic pond fish feeders, I must also mention the disadvantages:
Feeling of feeding
I definitely have to talk about this as one of the disadvantages. Anyone who has had a fish knows exactly that hand feeding is a special feeling. It's practically the only way to interact with your fish. And if you meet enough near them, they will get used to you and get to know you. I suggest that if you have an automatic feeder, feed them sometimes by hand too. Or at least be there with them when the feeder feeds them. Of course, if you have time for that. This advice only applies to your own fish. If you breed fish for sale, the situation may be quite different.
Expensive
I mentioned above that you can save money with these devices in the long run. At first, however, this seems like a pretty big investment. You can also have a greater energy bill. But like I said, it won't show up in the long run.
Focus
At first, you may often feel that you need to pay close attention to everything about the product. After all, if you set something wrong, it will have a bad effect on your fish. However, experience has shown that it is easy to learn how to use automatic feeders.
How to choose the best automatic pond feeder?
As you can see, automatic pond feeders provide a simple and convenient solution in case you need to regularize your fish's feeding. These devices are also useful when you are away from home for several days. However, this is a serious decision and a serious investment. There are some important aspects you need to think through before making a final decision.
Capacity
This is one of the most important aspects. Make sure the automatic pond fish feeder of your choice can store enough food for at least 2-3 days.
Frequency, portion size, timer
As I mentioned above, it is much better to feed fish several times a day than less often in larger portions. Choose a product that can be programmed to feed at least three times a day. Some feeder also provides portion control.
If you feed your fish several times a day, it is very important that these feeds take place at the same time. Programmable timers help with this. At first, it can be hard to learn to set them up, but it's worth taking the time to do so.
Material
The material of the product you choose is a very important consideration. Especially if you plan to buy such a feeder outdoors. Pond feeders are usually made of ABS plastic or all-metal steel. The former is much lighter, waterproof, and stainless.
Metal versions are heavier, more expensive, and more easily rusted. On the other hand, with proper maintenance, they have a much longer lifespan and better weather resistance.
So overall, the plastic version is more for indoor use while the other is for outdoor use.
Dispense features
The casting mechanism of the feeders may be different. Some products deliver food to the water through an opening. Because of this, the food of the fish is concentrated in one place. However, they can handle many types of food (flakes, pellets, sticks).
There are feeders that can use a motor to deliver food to a larger area. These feeders are excellent for outdoor ponds. However, they are only suitable for delivering one type of food (round pellets).
Moisture
You may want to choose a product whose feed hopper is moisture resistant and air-tight. This is especially true if you are buying an automatic pond feeder for outdoor use.
Mounting
Automatic pond fish feeders can be ground-mounted or suspended over the water. The former version is cheaper. If you want to hang it somewhere to feed your fish this way, it will definitely be a more expensive solution.
Warranty
As with any appliance, these feeders may malfunction for some reason. In this case, it is good to have a warranty with the product. Always buy from an authorized seller.
DIY pond ideas
If you have koi fish, a koi pond in the garden is a perfect choice. It doesn't matter if you build it yourself or hire someone. You can gather the perfect inspirations from this article.
Can I use my pond fish feeder for tanks?
The short answer: it depends. If you have a large aquarium or tank, some of the options listed here may be appropriate. Otherwise, I recommend a regular automatic fish feeder for you.
My choice
For me personally, each product won my liking. I found positive in all of them. For indoor use, I think the best choice is the Fish Mate P7000 Pond Fish Feeder. Of course, as I wrote, it works great outdoors as well, as it's weather and moisture-proof.
Click here to buy one.
If you are looking for a feeder for outdoor use only, I recommend the Wildgame Innovations Tri-Pod Deer Feeder. It has a huge capacity and what I like best about it is that it can also be powered by solar energy if you buy the necessary equipment.
Click here to buy one.
---